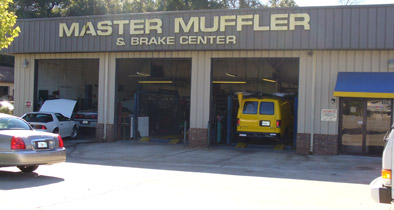 If you're like most of the working class in America today, you know a lot of time is spent in your vehicle.
It's the hectic schedules and commuting to work that keeps people on the road five to six days a week. It's important to make sure your vehicles are being maintained properly. The last thing you want is to break down and find yourself stranded in some unknown or unsafe place. You want to make sure your repair work is done by someone you can trust and who has the experience to properly maintain your vehicles.
"Knowing that your vehicle is in good hands and having someone that has your best interest in mind is so important. Master Muffler & Brake Center is a local auto repair shop that has been trusted for over 34 years. And finding a good auto repair shop is imperative to keep your car running smoothly," stated owner Scott Smith.
Master Muffler & Brake Center believes the best way to maintain your vehicle is to have service work performed by a professional technician trained to identify potential problems. This helps prevent breakdowns and often saves money by allowing you to make a small repair now rather than a much bigger one later.
Their mission is totally quality oriented. They are dedicated and honestly motivated to provide you with the best quality service. Master Muffler & Brake Center knows that not everyone is automobile savvy, so they take their time and educate you in why and how to keep your wheels rolling for years to come.
Master Muffler & Brake Center understands that your automobile is one of your bigger investments. That's why they're a customer-driven company and want to help you feel safe knowing you're getting the best quality of service for your vehicle. They know customers need dependability from their cars and that customers work hard for their money.
Master Muffler & Brake Center has built a trusted and respected business over the past 34 years in Apopka. The years alone show the dedication they have to their customers.
Scott Smith, owner, oversees the work done at his shop to make sure the service and workmanship are up to standards. All work at Master Muffler & Brake Center is guaranteed, so you know you can put your trust in them.
Master Muffler & Brake Center realizes that your repair needs extend past mufflers and brakes, and they offer complete repair services on things such as air conditioning, CV joints and boots, suspensions, tune-ups, general repairs, starters, alternators, radiators, alignments (two wheel and four wheel), and front-end work, and they make sure the battery is fully charged.
Master Muffler & Brake Center can usually spot the problems in advance, advise you on how long you can delay a repair, and what the consequences of not immediately repairing your car may be.
At Master Muffler & Brake Center, they know that gaining the customer's confidence is important therefore, having a neat and clean shop is important. Most decisions are based on first impressions and having a clean shop is putting their best foot forward. Satisfied customers keep coming back and that is Master Muffler & Brake Center's goal.
Master Muffler & Brake Center is open Monday through Friday, from 8 a.m. to 5 p.m., and Saturdays, from 8 a.m. to noon.
So, give them a call at 407-884-8060, or visit them at 1000 E. Semoran Boulevard (Hwy. 436) in Apopka if you have any questions or concerns about your vehicle.
Put your trust in a company that makes YOU, THE CUSTOMER, NUMBER ONE!
Advertisement