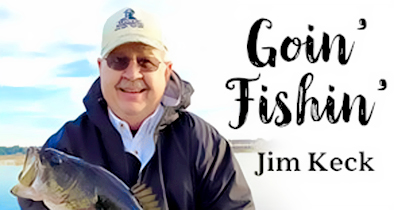 Hello Folks,
I hope everyone had a safe and great Labor Day weekend. We did get some afternoon showers and that helped cool things down a little at night. The fishin' is still good in some areas and not so good in others. Not so good means they ain't jumpin' in the boat. You can still catch 'em but it's a little slow.
The one thing that's not slow is the specks. Kyle at Bitter's Bait and Tackle reports that folks are still catchin' their limits of specks in Lake Jesup. The specks are bein' caught on minners under the State Road 417 bridge. As I mentioned last week, the specks have been bitin' all summer long out there. All I can say it's 2020 and everything is different.
The panfish bite is still goin' on in West Lake Toho. I was out there last week and folks were fishin' in deep water and catchin' a few. Mark at Big Toho Bait and Tackle reports that folks are catchin' a few nice bluegills on red worms. Mark reports that the bass fishin' is a little slow but the bass have been bitin' better in the evenin' after the rain showers with top-water baits early in the mornin' and Senko-type baits later in the day.
Lake Maitland is still producin' some nice bass on shiners free-lined behind the boat. You can catch a few bass on Flukes or Bitters' Skip Shads fished over submerged hydrilla and eel-grass beds.
I got a chance to go fishin' with my buddy Rich Niles from Tangerine. Rich has a club tournament comin' up next week and he wanted to get in some practice, so I went along. You never want to miss a chance to go fishin' even if it's for a little while. We got on the water at 6:30 a.m. and fished until about 1:30 p.m. It was hot, steamy, miserable, and no wind to speak of while we were fishin'. The fishin' was kinda tough for us, but we did manage to catch five bass up to 2.5 lbs. each. As I mentioned earlier in my article, the bite has been better at night after the afternoon showers.
That's it for this week. We will see ya next week and good luck on the water. 
Tip of the week: go early or after the rain showers.
Save a few and good luck!