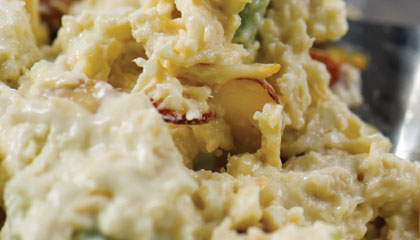 As many local cookbooks' recipes as can be fit into this space is Kitchen Kapers' goal again this week.
Enjoy this week's recipes from the great home chefs of this great city of Apopka.
SHARON NEWBY'S 
TEXAS TACO DIP
Recipe from The New Good Ole Boy's Cookbook
1 can refried beans
1 avocado
1 package taco seasoning
6 large black olives
1 large tomato
3 green onions
1 small package sour cream
Mix half package of taco seasoning with beans. Make thin layer in plate. Top with sour cream mixed with remaining seasoning. Chop all other ingredients and put on top of sour cream.
EUNICE FORCE'S 
ASPARAGUS ONION PIE
Recipe from 
Church of Holy Spirit's 
Taste And See
1 nine-inch frozen pie crust
2 slices bacon, cooked and chopped (reserve the fat)
1 medium onion, chopped
1 bunch asparagus, cooked and cut into small pieces
1/2 cup Ricotta cheese
1/4 cup milk
2 eggs, lightly beaten
1 tablespoon fresh parsley leaves, chopped
1 small can tomatoes
1/2 teaspoon salt
1/2 teaspoon fresh Basil leaves, chopped
1 teaspoon balsamic vinegar
Preheat oven to 375 degrees. Prick bottom of frozen pie crust and bake for 10 minutes. Saute bacon, remove from skillet and break into small pieces, reserving fat. Add onions and asparagus to bacon fat and cook for approximately five minutes. Drain onion and asparagus.
In small bowl, mix ricotta cheese, milk, eggs, chopped parsley leaves, small can tomatoes, salt, chopped basil and balsamic vinegar. Set aside. In pie shell, add onion, bacon pieces, and asparagus. Add egg/milk etc. mixture.
Bake at 350 degrees 30-40 minutes until inserted knife comes out clean.
EMILY RAAEN'S 
CHILLED AVOCADO SOUP
Recipe from Episcopal Church of the Holy Spirit's 
Let's See What's Cookin'
2 cans Consomme Madrilene
1 large avocado, peeled and coated with 1/4 teaspoon lemon juice
1 cup sour cream
1 tablespoon scraped onion
Salt and Cayenne pepper, amount to your taste
Fresh dill or dried dill weed
In blender, puree the Consomme and avocado. In separate bowl, combine sour cream, salt, cayenne pepper and onion. Combine pureed mixture and sour cream mixture. Chill until mixture thickens. Garnish with fresh or dried dill. Recipe serves six to eight.
SPAGHETTI AND VEGETABLES
Recipe from 
Habitat for Humanity's 
Partners In The Kitchen
1/3 cup chopped walnuts
2 tablespoons margarine
2 to 3 teaspoons olive oil
1 cup cherry tomato halves
1/4 cup chopped fresh parsley
1/4 cup chopped fresh basil
1 clove of garlic, minced
1/3 cup chicken broth
8 ounces thin spaghetti
3 cups chopped broccoli
1/3 cup Parmesan cheese
Spread walnuts on baking sheet. Toast at 350 degrees for five minutes. Heat margarine and olive oil in skillet until margarine melts. Stir in tomatoes, parsley, basil and garlic. Add broth and mix well. Simmer for two to three minutes, stirring frequently.
In skillet, combine spaghetti with enough water to cover. Bring to a boil. Boil for five minutes. Add broccoli. Cook for five to six minutes longer or until spaghetti is tender and broccoli is tender crisp. Drain. Spoon spaghetti mixture onto serving platter. Top with tomato mixture. Sprinkle with walnuts and cheese.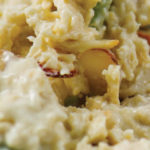 BERNIE MORO'S 
GERMAN POTATO SALAD
Recipe from St. Francis of Assisi Catholic Church's 
A Book of Favorite Recipes
2 pounds potatoes, cooked in jackets, cooled and diced
3/4 cup chopped green pepper
1/2 cup chopped onion
1-1/2 teaspoons salt
1/2 pound bacon
1/2 cup cider vinegar
1/2 teaspoon sugar
Combine potatoes, green peppers, onion and salt. Fry bacon. Heat half a cup of bacon drippings, vinegar and sugar together in skillet. Pour over potatoes. Top with crumbled bacon. This is also great reheated.
TERRI ROSE'S 
VANILLA CAKE
Recipe from 
Old Timers Athletic 
Association's Best Recipes
1 cup margarine
2 cups sugar
6 eggs
4 cups crushed vanilla wafers
1/2 cup milk
1 teaspoon vanilla
1 (3-1/2 ounce) can coconut
1 cup nuts, chopped
Cream margarine and sugar. Add beaten eggs and wafers together and then add milk, vanilla, coconut and nuts. Mix and pour into greased tube pan or Bundt pan. Bake at 350 degrees for one hour.
BERNICE ANDERSON'S 
SWEET LEMON BREAD
Recipe from 
The New Good Ole Boy's 
Cookbook
1 cup butter, softened
2 cups sugar
4 eggs
1 cup buttermilk
1/2 teaspoon salt
1/2 teaspoon baking soda
3 cups flour
1 lemon rind, grated
1 cup chopped pecans
1 cup sugar
Juice of three lemons
Preheat oven to 325 degrees. Cream together the butter and two cups sugar. Add eggs, one at a time, beating after each addition. Add salt, baking soda and flour to sugar mixture, alternating with buttermilk. Stir in lemon rind and pecans. Pour into two greased and floured bread pans. Bake for one hour.
Mix lemon juice with one cup sugar and stir until sugar dissolves, making a glaze. Spoon the glaze over top of bread as soon as it comes from the oven.
MARGARET COLLETTE'S 
PEANUT BUTTER 
CREAM CANDY
Recipe from Episcopal Church of the Holy Spirit's 
Let's See What's Cookin'
2 cups white sugar
1/2 cup milk
1 tablespoon butter
2 tablespoons peanut butter
2 tablespoons marshmallow fluff
1/2 teaspoon vanilla
Boil sugar and milk until it forms a soft ball in cold water. Remove from heat and add butter, peanut butter, marshmallow fluff and vanilla. Cool slightly. Beat well and pour into buttered pan. Cut into squares when cool.