Calvary Church of the Nazarene's cookbook entitled A Harvest of Recipes, one of our so many Apopka-area locally produced community cookbooks, is the much appreciated provider of this week's local recipes for Kitchen Kapers as it has frequently been for almost a decade now.
This excellent cookbook was published in 2007, but it still seems like only yesterday, back when we were all so eagerly looking forward to and so excitedly awaiting this cookbook's completion and first appearance of some of its recipes here in The Apopka Chief. Hard to believe that was eight years ago!
That church and all of our so very many other local churches, schools and local community groups have via their cookbooks shared some of their best recipes with this column's readers. That has always been a much appreciated kindness.
Those local churches, schools and community organizations also have similarly created such an equally wonderful abundance of many additional Apopka-area cookbooks
as well, all together establishing a very nice rare and wonderful collection of this community's best local recipes.
Such a fine collection of locally produced community cookbooks as Apopka has is a treasure that probably not a lot of towns have.
If your church or group still has copies of any of our Apopka community cookbooks available for purchase please let us know so we can share that great news with Kitchen Kapers' readers.
Enjoy this week's Apopka-based Calvary Church of the Nazarene's fine recipes below and look forward in future to, as always, lots more great recipes from our so many other equally wonderful community churches and other local groups.
ANNABELLE ESCRIBANO'S CHEESE BALL
Recipe from 
Calvary Church of the Nazarene's A Harvest of Recipes
1 (eight-ounce) package Cheddar cheese
1 (eight-ounce) package cream cheese
1/8 to 1/4 onion, chopped
Pineapple jam (amount to your liking
Mash together the cheeses and the onion, until well mixed, and form that mixture into a ball. Pour pineapple jam on top.
DONNA PUTERBAUGH'S 
RAISIN-PEANUT-BROCCOLI 
SALAD
Recipe from 
A Harvest of Recipes
1 head broccoli
1 small box raisins
Peanuts (amount not listed in recipe, so your choice)
1/2 cup mayonnaise
1/4 cup sugar 
1 teaspoon vinegar
Cut broccoli into small pieces. Add raisins and peanuts. Cover mixture with dressing. Make the dressing by thoroughly combining the mayonnaise, sugar and vinegar. Chill salad before serving.
ANGELA HOUSE'S 
YUMMY STICKY BREAD
Recipe from 
Calvary Church of the Nazarene's A Harvest of Recipes
1 (24-ounce) bag of Bridgeford or Rich's frozen rolls
1/2 cup sugar
1/4 cup brown sugar
1 heaping teaspoon cinnamon
1 cup chopped pecans
1 small box butterscotch pudding (regular, not instant)
1/2 cup (1 stick) butter, melted
Lightly grease a Bundt pan. Fill with frozen rolls. Mix all dry ingredients together and sprinkle the mixture over the rolls. Drizzle with melted butter.
Cover with foil and place in cold oven overnight, then bake at 350 degrees for 25-30 minutes. Remove and immediately turn onto a buttered serving plate that has a rimmed edge. Recipe yields 8-10 servings.
JOYCE COTTERMAN'S 
SUGAR-FREE CHINESE SALAD
Recipe from 
A Harvest of Recipes
1 package sugar-free orange Jell-O
3/4 cup boiling water
1/2 cup cold water
Ice cubes
1 tablespoon soy sauce
1 tablespoon lemon juice
1/2 cup shredded carrots
1/2 cup chopped celery
1/2 cup canned bean sprouts, drained
1/4 cup sliced water chestnuts
Dissolve Jell-O in the 3/4 cup of boiling water. Combine half-cup of cold water and the ice cubes to make one cup. Add soy sauce and lemon juice. Stir until ice is melted. Add remaining ingredients. Chill until set, for at least 30 minutes. Recipe makes about five servings.
FRANK RIEVES' 
HUSH PUPPIES SOUTHERN STYLE
Recipe from 
Calvary Church of the Nazarene's A Harvest of Recipes
1 cup pancake mix
1/3 cup plain cornmeal
1/2 teaspoon garlic salt
1/2 teaspoon baking powder
1/2 teaspoon black pepper
1 cup finely chopped onion
1 egg, beaten
1/3 cup buttermilk
Sift first five ingredients. Mix in last three ingredients just prior to frying. Drop by teaspoonful into heated deep fryer. Fry on all sides until golden brown. Drain on paper towels.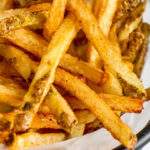 BARBARA HALL'S 
NO-FRY FRENCH FRIES
Recipe from 
A Harvest of Recipes
2 large baking potatoes
1/4 cup grated Parmesan cheese
1/2 teaspoon paprika
1/8 teaspoon pepper
1 can of non-stick spray
Slice potatoes into wedges. Spray wedges with non-stick coating so seasoning will stick. (This also helps potatoes crisp in the oven.)
Lightly coat a 15- x 10- x 1-inch baking sheet with non-stick spray. Combine cheese, paprika and pepper. Put mixture into a plastic baggie. Add potato wedges and shake well until potatoes are well coated. Arrange potato wedges in a single layer on prepared baking sheet. Bake at 425 degrees for 30 minutes or until crisp and fork tender, turning once. Season with salt when potatoes are done if you wish.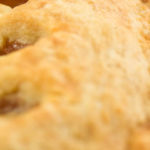 JOYCE COTTERMAN'S 
SUGAR FREE LOW FAT 
APPLE COBBLER
Recipe from 
Calvary Church of the Nazarene's A Harvest of Recipes
Cobbler filling:
6 cups sliced apples
1 cup frozen apple juice, thawed
1 tablespoon lemon juice
1 tablespoon cornstarch
1 teaspoon cinnamon
1 teaspoon ginger
2 cups pitted frozen cherries
Cobbler topping:
1 cup whole wheat pastry flour
1/2 cup skim milk powder
1 teaspoon baking powder
1/4 teaspoon baking soda
1/3 cup rolled oats
3 egg whites
1/2 cup frozen apple juice, thawed
Mix apples with apple juice and lemon juice. Mix together cornstarch, cinnamon and ginger and combine that mixture with the apples mixture. Place in 8- by 11-inch dish and bake at 425 degrees for 25 minutes. Remove from oven and stir in cherries. Set aside. Reduce oven temperature to 350 degrees.
For topping, mix dry ingredients. Beat egg whites until soft peaks form. Add apple juice. Beat until stiff. Fold flour mixture into egg white mixture. Drop by large spoonsful over cobbler filling.
Bake at 350 degrees for 25-30 minutes, until knife comes out clean.