Here we are again at perhaps the best time of every year for getting out and enjoying our great outdoors, relishing the comfort of another nicely cooled down but rarely freezing Florida-style winter season.
This time of year's pleasant weather may inspire more energy and more creative cooking time in our kitchens as well as the joy of sometimes taking our meals outdoors to a nearby park table or just your back yard, wherever the winter sun feels comfortably warm and nice.
Happily, our community cookbooks are filled with tasty foods perfect for these occasions. Enjoy your Apopka-area friends' and neighbors' best and favorite recipes below next time you're looking for something really nice, interesting and special to cook, serve and enjoy.
SARA KELLY'S 
GREEN ENCHILADAS
Recipe from 
First United Methodist's
Feeding The Flock
1 pound ground beef
1 teaspoon salt
1/4 teaspoon garlic, minced
1 can cream of chicken soup
3/4 cup evaporated milk
1/2 pound Jack cheese
1 package green onion dip mix
1 small can chopped green chilies
1 small jar pimientos
1/2 pound longhorn cheese
1 dozen corn tortillas
1/2 cup corn oil
To the ground beef add salt and garlic, then lightly brown the ground beef. Heat the soup, milk and grated jack cheese until the cheese is melted. Add the onion dip mix, the green chilies and the pimientos to the soup mixture.
To the meat mixture, add the grated longhorn cheese and the onions. Mix well.
Soften the tortillas in hot oil just for a few seconds, then fill the softened tortillas with the meat mixture and roll tightly. Place these enchiladas into a casserole dish and cover them with the soup mixture. Cover the dish with foil and bake in 350-degree oven for 30 minutes. Recipe serves eight. The cookbook's recipe contributor in a footnote says, "This is a creamy delicious alternative to typical enchiladas."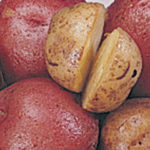 APOPKA HISTORICAL
SOCIETY'S ROASTED POTATOES
Recipe from
Preserving The Big Potato
5 large potatoes
1 cup chicken stock
1 teaspoon garlic powder
Pepper (amount to your taste)
4 tablespoons butter or margarine
Place the sliced potatoes in a greased 13- by 9-inch baking pan. Combine the chicken stock, garlic powder and pepper; pour over the potatoes. Dot with butter. Cover with foil and bake at 400 degrees for one hour. Remove cover and bake for another 15 minutes. Recipe yields four to six servings.
CHRIS RUCKER'S AND
JAN HOFFMAN'S
EARLY MORNING 
OATMEAL SPECIAL
Recipe from
The Seventh Day Diet
2-1/2 cups water
1/2 teaspoon salt
1 cup rolled oats
1/2 cup raisins
1 large apple, peeled and shredded (OR half cup unsweetened crushed pineapple, drained)
1 ripe banana, mashed
1/4 cup finely shredded unsweetened coconut (optional)
1 teaspoon vanilla extract
1 teaspoon ground coriander
1/2 teaspoon lemon extract
Milk, soy milk or apple juice
1/4 to 1/2 cup chopped pecans
Bring water to boil. Add salt and stir in the rolled oats. Cook over low heat, covered, for 15 minutes.
Stir in fruit, coconut and flavorings. Simmer, covered, for 10 more minutes. If mixture thickens too much, it may be necessary to stir in a little more water.
Spoon into bowls and cover with the milk or soy milk or orange juice or apple juice. Garnish with chopped pecans and serve. Recipe makes six servings.
SANDRA INGRAM'S
BREAKFAST COOKIES
Recipe from Apopka First
Presbyterian Church's
Treasures and Pleasures
1 cup firmly packed brown sugar
1/2 cup margarine, softened
1/2 cup oil
2 teaspoons lemon juice
1 egg, well beaten
1-1/2 cups flour
1/2 teaspoon cream of tartar
1/2 teaspoon baking soda
1/ 4 teaspoon salt
2 teaspoons allspice
1 cup rolled oats
1/4 cup wheat germ
1 cup Rice Krispies
Mix all ingredients and drop by tablespoon  on ungreased cookie sheet. Bake at 350 degrees for 10-12 minutes. Cool cookies for one minute, and then enjoy!
OLD TIMERS'
MICROWAVE PEANUT
BUTTER FUDGE
Recipe from Old Timers Athletic Association's Best Recipes
1 (12 ounce) jar crunchy or smooth peanut butter
1 (12 ounce) package chocolate chips
1 can condensed milk
In microwave, heat the peanut butter and chocolate chips for six minutes. Stir if thoroughly melted. If not, return to oven for several minutes. When chocolate chips are smooth, stir in condensed milk. Blend well. Pour into eight-by-eight pan which has been buttered. Set in refrigerator several hours. ("Yummy!" promises this recipe's provider in bottom line.)
BEULAH DOTSON'S
STIR FRY THE DOTSON WAY
Recipe from
Calvary Church of the Nazarene's
A Harvest of Recipes
1 package Stir Fry Vegetables
1 pound ground beef
1 can diced tomatoes
1 small can tomato sauce
1 onion, diced
Brown the beef and onion. Add stir fry vegetables. Let vegetables cook, then add can of diced tomatoes and the tomato sauce. Cook until all blended.
LIZ WILLIAMS'
WALNUT DATE BARS
Recipe from
First Presbyterian Church's
Treasures and Pleasures
1 cup sifted flour
1/2 teaspoon baking soda
1/2 teaspoon cinnamon
1/4 teaspoon nutmeg
1/4 teaspoon salt
1/3 cup butter
3/4 cup brown sugar
1 egg
1/2 teaspoon vanilla
2 cups confectioner's sugar, sifted
2 teaspoons orange juice and rind
3/4 cup chopped walnuts
1/2 cup chopped dates
Sift together the first five ingredients. Cream the butter with the brown sugar until light and fluffy. Add egg, orange juice and rind. Beat well. Stir in the dry ingredients, blending until smooth. Mix in the dates and walnuts.
Spoon batter into a greased and floured 11- by 7- by half-inch pan and spread evenly. Bake at 350 degrees for 20-30 minutes. Cool in pan for a few minutes before removing and cooling completely on cake rack. The walnut-date bars may be iced with a frosting of butter mixed with sugar and orange juice to a spreading consistency.