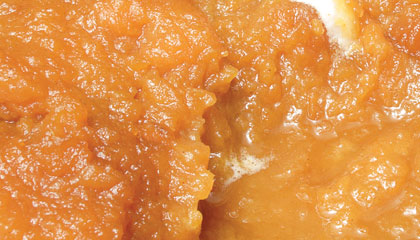 We are going to have some fun here in the near future in our Kapers column by highlighting foods popular with inhabitants of the southern United States. This is a wonderful opportunity for you to share with readers of The Apopka Chief and The Planter your favorite recipes. You can email your recipes to: news@theapopkachief.com or mail them to The Apopka Chief, P.O. Box 880, Apopka, 32704-0880. And send us not only your recipes but ideas for future recipe columns as well.
There are numerous categories of foods that have been handed down in our families or made up by us when we decide to throw certain ingredients together and see what happens when presented to our (captive at the supper table?) audience. Or they simply may be variations of recipes found in cookbooks or on the Internet or even from our friends when we decide we might like to use buttermilk and baking soda instead of baking powder as a leavening agent.
These foods include: beverages, breads, cakes, cookies, candies, cobblers, frozen desserts, pies, puddings, and pastries. There are soul foods, Louisiana Creole cuisine, soups, stews and boils, side dishes and condiments. Of course, one of the largest categories is meat, which includes poultry, seafood, beef and pork, and miscellaneous (mystery?) meats (alligator, possum, etc.), and last, but not least (by a vast number), are vegetables and salads.
LORENA DEWITT'S 
PORK CHOPS AND RICE
Recipe from 1990 Presbyterian Women First Presbyterian Church of Apopka,
Treasures and Pleasures cookbook
1 cup raw brown rice
6 to 8 pork chops or pork steaks, cut thin
1 package uncooked frozen peas
3 cups chicken broth (bouillon cubes and water may be used)
Spread rice in bottom of 13 x 9 x 2-inch baking pan. Layer pork chops on top. Add chicken broth and peas. Seal with foil and bake at 350 degrees for two hours. Check 1/2 hour before done to see if more liquid is needed.
CATHERINE PARTEN'S 
OKRA AND TOMATOES
Recipe from 1990 Presbyterian Women First Presbyterian Church of Apopka,
Treasures and Pleasures cookbook
1 15-ounce can tomato sauce
1/2 pound smoked sausage, sliced
1 16-ounce can tomatoes, undrained
1 large bag frozen okra
1 large onion, chopped
Zaarain's Creole seasoning, to taste
Put all ingredients in saucepan and pour in 1-1/2 to 2 cups of water. Stir and cook until done.
LAURIE ANDREWS AVERA'S SOUTHERN BRUNSWICK STEW
Recipe from 1990 Presbyterian Women First Presbyterian Church of Apopka,
Treasures and Pleasures cookbook
1 chicken, about 4 pounds, cut up
4 cups water
4 slices bacon
1/2 pound beef chuck, cut into 3/4-inch cubes
1 small onion, minced
1-1/4 teaspoons salt
1 teaspoon paprika
1 teaspoon thyme
1 1-pound can crushed tomatoes
1 10-ounce package frozen lima beans
1 12-ounce can whole kernel corn
3 medium potatoes, diced
Seasoned salt and pepper
All-purpose flour
Cover chicken with water, bring to boil and cook covered for one hour or until tender. Cool chicken. Remove meat from bones, reserving broth, and cut into bite-sized pieces. Dice bacon and brown in kettle. Remove bacon and brown beef and onion in remaining fat in kettle. Add bacon, chicken broth, salt, paprika, thyme and tomatoes. Bring to boil, cover, reduce heat and simmer for one hour. Add remaining vegetables and chicken and simmer for about 30 minutes longer. Season to taste with seasoned salt and pepper. If desired, thicken slightly with a flour and water paste.
SIS PITMAN'S BOURBON PECAN POUND CAKE
Recipe from 1990 Presbyterian Women First Presbyterian Church of Apopka,
Treasures and Pleasures cookbook
Pound cake:
1 cup solid shortening
2-1/2 cups sugar
6 eggs
3 cups sifted flour
2 teaspoons baking powder
1 teaspoon salt
1/2 teaspoon nutmeg
1 cup sour cream
1/2 cup bourbon
1 cup finely chopped nuts
Preheat oven to 325 degrees. Grease and flour 10-inch tube or Bundt pan. In large mixing bowl, beat shortening and sugar til light and fluffy. Add eggs, one at a time, beating until very smooth. Meanwhile, sift flour, baking powder, salt and nutmet. Add to sugar mixture, alternating with sour cream and bourbon, beginning and ending with flour. Beat just till well blended. Fold in pecans. Turn mixture into prepared pan and bake for 1 hour and 15 minutes, then turn out on a wire rack to cool. Pour glaze over cake. Decorate with pecan halves, if desired.
Bourbon glaze for pound cake:
2 cups sifted confectioner's sugar
1 tablespoon bourbon and enough water (about 2 tablespoons) to make a pourable glaze. Beat until very smooth. Pour over cake.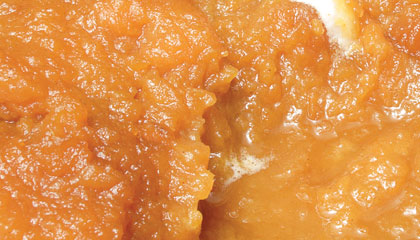 BELLE GILLIAM'S 
GLAZED SWEET POTATO
CASSEROLE
Recipe from 
Apopka Historical Society's
Preserving the Big Potato – A Collection of Potato Recipes
1 cup corn syrup
1/4 cup butter or oleo
1/3 cup pineapple juice
8 to 10 canned or baked sweet potatoes, halved
3/4 cup (9-ounce can) pineapple tidbits, drained
1/3 cup pecan halves
Combine syrup, butter and pineapple juice in a saucepan. Place over medium heat and simmer five minutes. Place potatoes in greased 13 x 9-inch baking dish. Sprinkle with pineapple tidbits and pecans. Add syrup mixture. Bake at 375 degrees for 40 minutes. Baste every 10 minutes. Serve hot. Six to eight servings.
ROASTED GARLIC 
AND POTATO SOUP
Recipe from 
Apopka Historical Society's
Preserving the Big Potato – 
A Collection of Potato Recipes
1 tablespoon butter
2 tablespoons roasted garlic
1 10-ounce package frozen diced onions
2 tablespoons flour
2 cups reduced fat milk
1 14-ounce can chicken broth
2 teaspoons Montreal steak seasoning
2 teaspoons chicken base
1 teaspoon garlic powder
1 to 2 fresh chives, rinsed
1/2 cup sour cream, optional
Preheat large saucepan on high one to two minutes. Add butter and roasted garlic. Saute one minute. Add onions. Cover and cook four minutes, stirring occasionally, until onions are tender.
Stir flour into garlic mixture. Cook one minute, stirring frequently. Stir in remaining ingredients (except chives and sour cream) until well blended. Cover. Reduce heat to low and simmer 10 to 12 minutes, stirring often.
Chop chives finely and stir into soup. Cover and simmer four minutes, stirring occasionally, until flavors are blended. For added richness, stir sour cream in just before serving.
ZUCCHINI CASSEROLE IMPERIAL
Recipe from Florida Federation of Garden Clubs 
Paths of Sunshine Cookbook
4 cups sliced zucchini
1 cups boiling water
2 eggs
1 cup mayonnaise
1 chopped onion
1/4 cup chopped green pepper
1 cup Parmesan cheese
Salt and pepper to taste
1 tablespoon butter
2 tablespoons buttered bread crumbs (optional)
Cook zucchini in water until just tender, then drain. In a large bowl, beat eggs, stir in mayonnaise, onion, green pepper, cheese, salt, and pepper. Add zucchini. Turn into a greased 1-1/2 quart baking dish. Dot with butter and sprinkle with bread crumbs. Bake at 350 degrees for 30 minutes or until bubbly. Serves six.