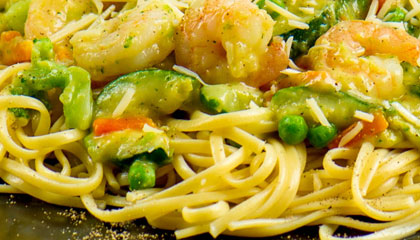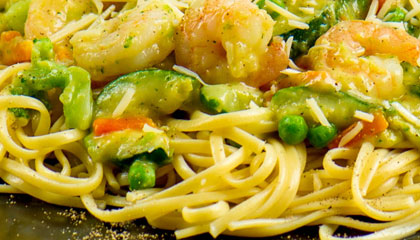 This week, we have two recipes from readers. Thank you very much, Susan of Winter Garden for your Shrimp Scampi recipe. Susan has loaned us a cookbook that was compiled and printed by her large family. And it is filled with all manner of wonderful recipes.
Hint, hint! Okay, all you procrastinators who keep promising to send in your recipes or cookbooks. Get busy. It doesn't have to be pretty. Your recipes can even be handwritten! Stick them in the mail. Or drop them by the office. We are right across from the Apopka Memorial Middle School at 400 N. Park Avenue. We will type them up and make them look beautiful for you. You can then cut them out and paste them into your personal recipes!
Sally (Thomas) Benton, who graduated from Apopka High School in 1968 and currently lives in Melbourne, is famous for her, "Hmmm. Wonder how A plus B plus C would taste if I put it together with X plus Y plus Z seasonings." And it almost always comes out tasting delicious. She has contributed her Vegetable Medley this week. Sally laughs and says, "Any time I wanted to 'perpetrate' a culinary adventure on my family, I would identify it as 'Such-n-Such Medley.' My husband and kids would give me the 'fish-eye' but we usually enjoyed it."
Chuckie's chuckwagon stew sounds interesting and delicious. It sounds like Chuckie (from Punta Gorda) has a lot of fun while he is cooking, too, as it should be. Cooking should be an enjoyable adventure!
The Mexican black bean salad (another Punta Gorda contribution) will be a wonderful dish for summer weather or for any time, actually.
The Calico salad is a combination of wonderful raw vegetables and has a tangy sweet and sour dressing. This salad is meant to marinate in its dressing for a while before serving.
And we can finish up with a blueberry dessert from our friends at The Apopka Woman's Club!
Please email your recipes to: news@theapopkachief.com or mail them to The Apopka Chief, P.O. Box 880, Apopka, 32704-0880. And send us not only your recipes but ideas for future recipe columns as well.
SUSAN NETHERCOTE'S
SHRIMP SCAMPI
Recipe from Reader of The Apopka Chief and The Planter newspapers
1 cup butter
1/4 cup olive oil
1 tablespoon parsley flakes
3/4 teaspoon basil
1/2 teaspoon oregano
1 clove garlic (minced or garlic powder)
3/4 teaspoon salt
1 tablespoon lemon juice
1 pound shrimp (medium is best, but any will do)
Preheat oven to 450 degrees. Melt butter, add oil, parsley, basil, oregano, garlic, salt and lemon juice. Mix.
Peel and devein shrimp. Remove tails. Split shrimp down the middle lengthwise so it will lay flat. Place in shallow pan. Pour sauce over and bake for five minutes. Then place under broiler for five minutes to brown.
Makes two servings as entrée, or more if used for appetizer.
SALLY (THOMAS) BENTON'S
VEGETABLE MEDLEY
Recipe from Reader of The Apopka Chief and The Planter newspapers
2 or 3 each zucchinis and yellow squash
2 fresh vine-ripe tomatoes, diced…
OR… 1 pint of grape tomatoes, whole…
OR… a can of diced tomatoes
3 slivered garlic cloves
thin sliced onion
Bell pepper
Broccoli
Cauliflower
2 teaspoons basil
1 teaspoon tarragon
1/3 to 1/2 cup lemon juice
1/2 teaspoon sugar (optional)
1/2 teaspoon salt (to taste)
Pam Spray (or other cooking spray)
Any other spices you prefer in addition to or as replacement for the ones suggested here. For instance, some Mexican spices like cilantro, cumin, chili powder, etc., might be fantastic… OR… Italian spices… OR… Asian spices such as Oriental 5-spice, soy sauce, etc.
If you like, add whatever YOU enjoy: green beans, edamame, celery, baby raw spinach, mushrooms, and water chestnuts. Get wild with it!
Sliver the garlic, onion, and bell pepper. Spray them lightly with Pam Spray. Spray a frying pan lightly. Heat pan. Sauté. While they are sautéing, cut squashes into small chunks. Squashes will cook faster than more solid veggies, so if you're adding broccoli or raw cauliflower, thin-slice them as well and toss in at end of sautéing.
Turn down heat. Add a tablespoon or two of water to deglaze the bottom of pan and to steam the veggies. Add the herbs and any spices you might want. Add a little salt and sugar to taste, if desired. Add lemon juice. Cover with lid. When the steaming veggies are to your desired tenderness, throw in tomatoes. They don't have to cook.
Preparation time is 30 to 45 minutes.
Note: Sally says she just throws stuff in and is guessing at the amounts, so use your best judgment.
CHUCKIE'S
CHUCKWAGON STEW
Recipe from First Presbyterian Church, Punta Gorda, Florida
A Taste of Heaven
2-1/2 pounds beef cubes (5 cups)
2 tablespoons flour
1 tablespoon paprika
1 teaspoon chili powder
2 teaspoons salt
3 tablespoons lard (or any shortening)
2 onions, sliced
1 clove garlic, minced
1 (28 ounce) can tomatoes
3 tablespoons chili powder
1 teaspoon cinnamon
1 teaspoon ground cloves
1/2 teaspoon dry crushed red pepper
2 cups potatoes, chopped
2 cups carrots, chopped
Coat beef in a mixture of flour, paprika, salt and 1 teaspoon chili powder. Mix well before coating meat. Brown in hot fat in a large Dutch-oven or roasting pan.
Add onions and garlic and cook until onions are soft.
Add tomatoes, chili powder, cinnamon, cloves and red pepper.
Cover and simmer for about two hours.
Add potatoes and carrots and cook until vegetables are done, about 45 minutes. Feeds six cowboys or eight city slickers.
SUSIE SAMS'
MEXICAN BLACK BEAN SALAD
Recipe from First Presbyterian Church, Punta Gorda, Florida
A Taste of Heaven
1 (8-ounce) carton sour cream
1/4 cup chopped fresh cilantro
1 tablespoon taco seasoning
1 large head green leaf lettuce, torn (about 10 cups)
2 cups (8-ounces) shredded cheddar cheese
1/2 cup chopped purple onion
2 (15-ounce) cans black beans, drained
2 large tomatoes, chopped
Corn chips, crushed
Combine sour cream, cilantro, and taco seasoning in a large bowl, stirring well. Add lettuce, then cheese, onion, black beans, and chopped tomatoes. Toss well. Sprinkle with crushed corn chips and serve immediately. Yield: 6 servings.
JEANNINE TAGGERT'S
CALICO SALAD
Recipe from Apopka Citizen Police Alumni Association,
Sharing Our Finest Cookbook
1 head green cabbage, shredded
1 green sweet pepper, chopped
1 red sweet pepper, chopped or pimiento
1 red onion, chopped
1 cup vinegar
3/4 cup oil
1 cup sugar
1 tablespoon salt
1 tablespoon celery salt
1 tablespoon dry mustard
Mix cabbage, green and red pepper and onion in large bowl. Mix remaining ingredients together. Pour over vegetable mixture. Let blend 24 hours. Will keep in refrigerator for one week.
JOSEPHINE RYAN'S
BLUEBERRY DESSERT
Recipe from
The Apopka Woman's Club,
Apopka, Florida, What's Cookin'
Graham crackers
1/4 cup melted butter
1/4 cup sugar
8 ounces cream cheese
2 eggs
1/4 cup sugar
Milk
Whipped cream
1 can Comstock blueberry mix
Make a pastry of crushed Graham crackers, 1/4 cup melted butter and 1/4 cup sugar. Reserve a little for topping. Press mixture into pie plate.
In mixing bowl, mix together cream cheese, add 2 eggs, 1/4 cup sugar and enough milk to make it soupy. Spread on top of crust and bake 15 minutes in 325-degree oven.
Cool and add 1 can Comstock blueberry mix (any flavor does well, too). Top with whipped cream, sprinkle on reserved Graham crackers. Put in refrigerator overnight or for at least 2 hours.