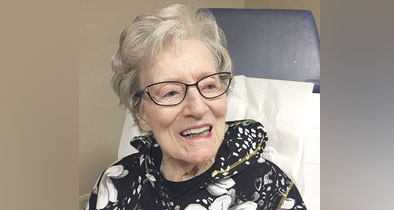 Editor's note: The following was written by Apopkan Phyllis Page about her sister, Doris Huggins, and the health issues that Doris, who recently died, had in the later years of her life, along with Doris' desire that her brain be studied after her death. Both ladies have been longtime residents of Apopka.
There is a famous children's book named "The Giving Tree" that teachers love to read to their students. I titled this story The Giving Teacher.
My sister, Doris Huggins, was a wonderful teacher. She loved teaching so much she taught at Dream Lake Elementary School for 34 years. After retirement, she continued to substitute teach, teach Sunday School, and Vacation Bible School. It is only fitting she continues to teach after her death. She made the decision to be a brain donor. It was her desire to help researchers to understand the neurodegenerative disease that caused her death. It is my privilege to share her story with the hope others will learn and want to help others.
Doris Huggins believed in helping people. She loved her family, friends, school, and community. She believed that upon her death researchers could study her brain to understand neurodegenerative disorders. A neurodegenerative disorder can be Parkinson's disease, multiple system atrophy, Alzheimer's disease, or related neurodegenerative conditions that affect the brain.
Doris had a mild stroke in 2009. The main symptom was one side of her tongue was numb. Following the stroke, she slowly developed orthostatic hypotension causing major blood pressure fluctuations. Mayo Clinic in Jacksonville diagnosed her problem. Her primary care doctor had concerns that she could have multiple system atrophy. Her cardiologist managed blood pressure problems.
In 2014, she had a second stroke and once again one side of her tongue was numb. She even diagnosed herself and said, "Let's go to ER, I'm having a stroke." Six hours after the stroke, her hand began to move rapidly high in the air. Her right side had developed a movement disorder that was involuntary. She was diagnosed with hemiballismus as a result of having a stroke in the cerebellum/pods of the brain. This required acute rehabilitation and medications.
We traveled to Johns Hopkins in Baltimore, Maryland. The doctor decided she had Parkinson's disease. While there, we learned that the University of Florida has an outstanding movement disorder clinic.
Dr. Hess, a neurologist, prescribed Parkinson's medications. She did not respond well to those medications. Therefore, there were questions about her diagnosis. There was a possibility she had (MSA) multiple system atrophy. She was an interesting patient for every doctor. During all these doctor's appointments, she was positive and willing to try anything they suggested.
Doris was very brave and realistic during her years of treatment. Being a determined lady, she wanted to know more so she made the decision to donate her brain for research. She often said she wanted to help solve these health questions.
Together, Doris and I began to talk and researched how to be a brain donor. There are several excellent organizations that accept brain donations. Brain Support Network, Parkinson's Foundation, Multiple System Atrophy, Alzheimer's Association, and universities are well-established organizations.
I located phone numbers and addresses on the Internet by searching for brain donations. I spoke with many people. I asked questions.
We chose the University of Florida, McKnight Brain Institute, for Doris' donation. The university has a very organized program. They were very professional and sensitive to our questions and requests. The coordinator provided important paperwork. Advanced planning eases the family responsibility and ensures your wishes are followed during a stressful time.
We were treated with respect and care. Directions were given on communicating with our hospice social worker, funeral home staff, and university.
Communication is the most important part of being successful in brain donation. Our family understood Doris' desire to help others through brain research. Because of her love of learning and believing that God was in control of her life, I was able to fulfill her wishes. I believe she loved the idea of returning to school so research could be done.
The University of Florida Center for Translational Research in Neurodegenerative Disease will give our family a report of their findings. There are no costs to the family associated with the donation. The collection must be within 24 hours after death.
The family can have an open casket after the brain tissue has been collected. I encourage people to consider the value of brain donation.
* Tell your doctor that you want to be a brain donor
* Select the organization to begin discussions
* Discuss the legal requirements
* Complete all required paperwork
* Communicate with all local support – hospice, and funeral home
* Post all directions, names, and phone numbers in central locations.
This story appears in full starting on page 1A of the Friday, January 31, edition of The Apopka Chief. Subscribe today!