Hello Folks,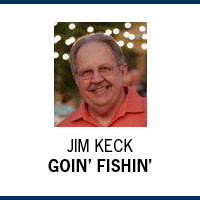 On Monday mornin', I went out to get the paper and did we ever get a weather change. It sure was nice to see some cooler weather come to town this week. It's gonna warm up, but at least it's cooler than it was last week. I hope everyone had a great Thanksgivin' and you didn't eat too much turkey or pumpkin pie.
The cooler weather will help cool the lakes down and that should get those ol' specks to bitin'. Some folks are catchin' some specks in most of the major chains in our area. I'm sure the cooler weather and the bluebird skies will change how the specks will bite. You may have to do some lookin' for 'em and they may not bite until the weather stays consistent for a few days. You just need to get out there and troll all your favorite spots where you have caught specks in the past.
You may find 'em movin' closer to shore or they could still be holdin' in deeper parts of the lake. I would try driftin' or trollin' with brightly colored jigs tipped with a minner; the brighter the better. If you use multiple poles, try riggin' 'em at different depths. The rig that gets the most hits you need to put all the jigs at the same depth. Look for any changes in the bottom to see if the specks are close to the bottom or just off the bottom. Once you get the depth right and locate the specks, you should be able to catch a few.
The bass fishin' is gonna change this week. We had a full moon on Wednesday and with the cooler weather, it's gonna take a few days for the bass to get acclimated to the different water temperature. You should be able to locate some bass feedin' on bait-fish along the grass line. I would start out with top-water bait and then try a plastic worm. If you find the bass bustin' on bait-fish in back of the grass line, try a swim-bait, plastic frog, or toad. Make sure it's weedless so you can swim it back to the boat through the grass. While you are retrievin' your lure and there is an openin' in the grass, let your lure fall down in the hole. Sometimes those ol' bass will be a little lazy while they are waitin' for an easy meal. Make sure you watch your line. A big bass will suck in your lure and swim off with it and you will never know he has it. Also be on the lookout for some schoolin' bass in the area. They may not be as active as they were the past couple of weeks, but always be ready in case they do come up while you are fishin'.
I have told everyone about the Trophy Catch Program we have here in Florida. If you have a chance, the FWC will have a special Hall of Fame for these anglers who caught and released a bass weighin' more than 13 lbs. The celebration will be held at Bass Pro Shops in Orlando on December 11 at 5:30 p.m. This is the third season for the Trophy Catch program here in Florida. The biggest bass weighed in durin' season three weighed 15 pounds, 11 ounces. That's not only the biggest bass for season three, it's the biggest bass that has been weighed in for all three seasons.
I hope you get a chance to do some fishin' over the weekend and I'll see ya next week.
Tip of the week: keep fishin'.
Save a few and good luck!