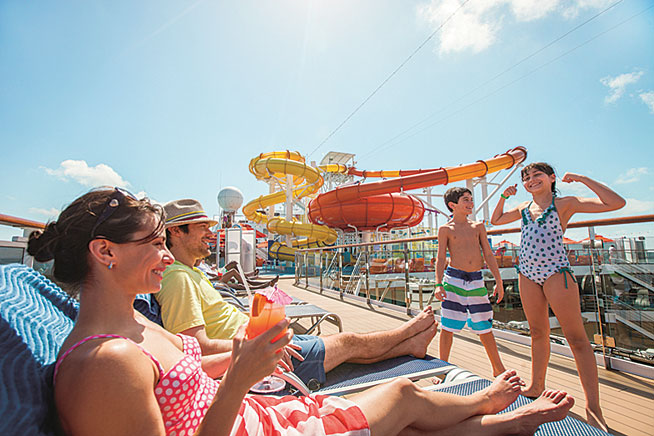 Have you ever wondered why so many people return home raving about their latest cruise vacation? If you're among those who are considering a cruise, but haven't yet taken the leap – take a look at these five reasons why a cruise can be the perfect vacation for anyone.
It's practically all-inclusive! Your upfront cruise fare includes:
Delicious meals – breakfast, lunch, dinner, and snacks. Most cruise lines include room service
Fabulous entertainment – Broadway-style production shows, comedy acts, live bands,
and more
Cozy accommoda-
tions – Choose from balcony staterooms, suites, family-friendly rooms, and
ocean-view staterooms
It's a floating hotel. Travel from port to port without having to carry your suitcase from city to city and unpack each night. The best part is you can tour all day, have fun on board, and wake up the next day in a new country!
Fun for the whole family. From tots to teens to grandparents, there is something for everyone. Children can have fun in the kids' clubs while mom and dad relax by the pool. With large groups, people can choose to do different shore excursions during the day and then all meet up back on board for dinner.
Or fun for just the adults. While some ships specialize in family fun with water slides and amazing children's programs, others cater to just adults with a more sophisticated and upscale ambiance, letting you take a break from the kids (and everyone else's kids too).
Relax…or go crazy!
Pamper yourself at the spa, shop the duty-free boutiques, or try your luck in the casino. If you're the active type, workout at the gym or during one of the workout classes. Sip daiquiris by the pool, join in a wine tasting with a sommelier, sing karaoke, or just read a book on your balcony. The possibilities are endless!
Let Cruise Planners' Travel Adviser Lee Boughan assist you with your cruise vacation. Lee is a longtime resident of Apopka and has spent most of her life running a small successful business, but now she's found her true calling with the purchase of a Cruise Planners franchise. "I love to travel, and have visited over 47 different countries and spent almost 500 days at sea on assorted cruise lines," stated Lee.
Travelers can save time, money, and a whole lot of headaches by using a travel advisor. Cruise Planners can provide everything you need to book a perfect vacation: packing necessities, various modes of transportation, early booking discounts, special fares, hotel deals, and, most importantly, be your personal advocate.
Are you ready to book your cruise vacation or want to learn more about what cruise is the best for you? Call Cruise Planners' Travel Advisor Lee Boughan at 407-814-8283. You'll be glad you did.
Advertisement