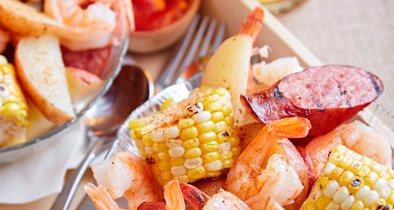 From our dear friend, Susan, who gave us a copy of her family's book of recipes and family lore, we have her sister's Gourmet Sirloin Tips.
Dry rubbed ribs from Palmetto Creek Farms comes from the book titled From Field to Feast. This is simple to prepare and absolutely delicious. The ribs are oven baked in heavy-duty foil packets you make and seal around the ribs, great for folks who don't want to fool around with a grill or smoker. I saw the temperature, "250 degrees" and thought I must have made a mistake. But no, the book really says "250 degrees for 2- to 2-1/2 hours."
Charlie Milliken submitted his Frogmore Stew recipe for publication in the Northside Baptist Church cookbook. They, in turn, gifted us with a copy of this treasure. You will note Charlie gives credit to the Beaufort, S.C., Public Library for the recipe. The stew looks like a wonderful feast for a crowd and we like to let you review it in the summertime.
From Sally Benton who attended Apopka Memorial High School, graduated in 1968, married and moved to Melbourne, we have Vegetable Medley. This is delicious as I can attest. Sally says she just throws stuff in the pot and is guessing at the amounts, so use your best judgment.
Jean Juckette's Corn Fritters are terrific and a treat for any occasion. This is a recipe from Treasures and Pleasures, a cookbook published by The First Presbyterian Church of Apopka.
Sis Pitman's Granny's Relish is a wonderful condiment that you can make up in your own kitchen, and the main ingredient can be found in your garden or at the local farmer's markets. It is one of the great 'treasures' in Treasures and Pleasures cookbook
Verlina's Calamondin Pie recipe came from one of our readers about four years ago. Our contributor, Verlina Keener said, "This is in response to your encouraging Apopkans to send in their traditional family recipes." She adds, "The Calamondin is a small citrus fruit that is a cross between a lime and mandarin orange. It is grown in Southeast Asia and the Philippines. They were imported from China and have been grown throughout Florida since the early 1900s. Growing season is in the early spring and summer months. I get mine from my father's tree or the Asian supermarket (Dong Ah Supermarket on Mills Avenue). I am part Filipino and make this traditional pie for my family."
SANDRA JOHANSEN'S
GOURMET SIRLOIN TIPS
Recipe from
The Jones-Morris Family Treasury
1-1/2 pounds sirloin tips
2 tablespoons oil
1 clove garlic – minced
1 cup ketchup
3 tablespoons Worcestershire sauce
1/2 cup melted butter or margarine
1 tablespoon lemon juice
Salt and pepper to taste
Saute garlic in hot oil until cooked. Add meat and brown on all sides over medium heat. Mix other ingredients and pour over beef. Simmer one hour or bake in 350 degree oven for one hour or until tender.
Serve with rice and broccoli or with rice and just a salad.
PALMETTO CREEK FARMS, AVON PARK,
DRY-RUBBED BABY BACK RIBS
Recipe from Field to Feast
1/4 cup packed dark brown sugar
1/4 cup paprika
1/4 cup ancho chili powder (dark
   Mexican chili powder)
4 teaspoons coarse salt
4 teaspoons smoked paprika
4 teaspoons cumin
4 teaspoons cayenne
4 (2-pound) slabs loin back ribs,
     membrane removed (ask your
     butcher to do this for you)
For the rub:
Mix brown sugar, paprika, ancho chili powder, salt, smoked paprika, cumin, and cayenne in a small bowl, making sure to break up chunks of brown sugar.
Put ribs bone side up on sheet pan. Season each slab with rub on both sides. Refrigerate at least 1 hour, loosely covered.
Heat oven to 250 degrees Fahrenheit. Cut four (12- by 12-inch) square sheets of heavy-duty aluminum foil. Put a slab of ribs, meat side up, on a sheet of foil. Fold ends to make loose packet around each slab; seal. Put packets on sheet pan. Bake 2- to 2-1/2 hours. Check ribs for doneness by gently pulling on bones. When they begin to pull away from meat, they are ready to serve.
CHARLIE MILLIKEN'S FROGMORE STEW  (VIA BEAUFORT, SC, PUBLIC LIBRARY)
Recipe from
Northside Baptist Church's cookbook
10 pounds smoked beef sausage in
   long links
2 dozen ears shucked, cleaned,
   broken into one-inch pieces
1/2 bushel crabs, more or less as desired; cleaned. Whole crabs are OK but take up more room in pot and are messier to eat
15 pounds shrimp, headed, and/or       shelled, again easier to eat
2 small boxes of seafood seasoning,    packed into cloth bags
Use a big, 20-gallon pot filled to about half full with water. Cut sausages into one-inch sections. Bring water to a boil, put sausage and seasoning bags in water and let boil for about 10 minutes or so. Put the corn in and bring back to a boil. Put the crabs in and bring back to a boil. Finally, add the shrimp, and when the water comes back to a boil, pour off the water.
Serves 30 people. Less can be made by cutting all ingredients in half or fourths.
SALLY THOMAS BENTON'S
VEGETABLE MEDLEY
Recipe from Reader of The Apopka Chief and The Planter newspapers
2 or 3 each zucchinis and yellow squash
2 fresh vine-ripe tomatoes, diced…
   OR… 1 pint of grape tomatoes, whole…
   OR… a can of diced tomatoes
3 slivered garlic cloves
Thinly sliced onion
Bell pepper
Broccoli
Cauliflower
2 teaspoons basil
1 teaspoon tarragon
1/3 to 1/2 cup lemon juice
1/2 teaspoon sugar (optional)
1/2 teaspoon salt (to taste)
Pam Spray (or other cooking spray)
Any other spices you prefer in addition to or as a replacement for the ones suggested here. For instance, some Mexican spices like cilantro, cumin, chili powder, etc., might be fantastic… OR… Italian spices… OR… Asian spices such as Oriental 5-spice, soy sauce, etc.
If you like, add whatever YOU enjoy: green beans, edamame, celery, baby raw spinach, mushrooms, and water chestnuts. Get wild with it!
Sliver the garlic, onion, and bell pepper. Spray them lightly with Pam Spray. Spray a frying pan lightly. Heat pan. Sauté. While they are sautéing, cut squash into small chunks. Squash will cook faster than more solid veggies, so if you're adding broccoli or raw cauliflower, thin-slice them as well and toss in at the end of sautéing.
Turn down heat. Add a tablespoon or two of water to deglaze the bottom of pan and to steam the veggies. Add the herbs and any spices you might want. Add a little salt and sugar to taste, if desired. Add lemon juice. Cover with lid. When the steaming veggies are to your desired tenderness, throw in tomatoes. They don't have to cook.
Preparation time is 30 to 45 minutes.
JEAN JUCKETTE'S CORN FRITTERS
Recipe from First Presbyterian Church of Apopka, Treasures and Pleasures
1 cup flour, sifted
1-1/2 teaspoons baking powder
1 tablespoon sugar
1 scant teaspoon salt
1 egg
1/4 cup milk
1/2 cup whole corn, canned
Deep fat for frying
Confectioner's sugar (hold aside for finish)
Resift flour, baking powder, sugar and salt together. Add egg, milk, and corn. Stir until well blended. Bring fat to 350 degrees and drop batter into fat by the teaspoon full. Fry until golden brown, turning once to cook evenly. Drain fritters on paper. Place on serving platter and sprinkle with confectioner's sugar. Makes 16 fritters.
SIS PITMAN'S GRANNY'S RELISH
Recipe from First Presbyterian Church
of Apopka, Treasures and Pleasures
11 cups ground green tomatoes
4 cups ground green peppers
2 cups ground onions
4 tablespoons salt
3 cups vinegar
6 cups of sugar
1 tablespoon dry mustard
1 tablespoon celery seed
Mix tomatoes, peppers, onions and salt together and let stand one hour. Drain and transfer to a large kettle. Add vinegar, sugar, mustard, and celery seed. Bring to a boil, lower heat and simmer, uncovered for 20 minutes. Seal in sterile jars.
VERLINA'S CALAMONDIN PIE
Recipe from Reader of
The Apopka Chief and The Planter
5 egg yolks, beaten
1 can of condensed milk
1/2 cup freshly squeezed Calamondin      juice
1 pre-made graham cracker crust
Preheat oven to 375 degrees. Mix first three ingredients together. Pour into graham cracker crust. Bake for 15 minutes. Cool to room temperature and then refrigerate until chilled. Our contributor, Verlina Keener says, "This is in response to your latest issue encouraging Apopkans to send in their traditional family recipes.