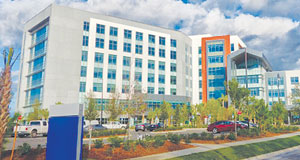 After more than two years of construction, members of the community will be able to visit $203-million Florida Hospital Apopka at the intersection of Harmon Road and Ocoee-Apopka Road near State Road 429 and State Road 414.
An open house event will be held at the new Florida Hospital Apopka on Sunday, November 26, from 1-4 p.m. at 2100 Ocoee-Apopka Road, Apopka.
The public will be able to tour the facility that is expected to bring 300 additional jobs to Apopka, as well as view several firsts in Apopka, including two catheterization labs, four operating rooms, and a recovery room.
The 300 additional jobs will be for registered nurses, pharmacists, and other clinical professionals. Non-clinical opportunities will include security, clerical and housekeeping.
December 5 is the hospital's official opening when patients will be transferred from the current North Park Avenue campus to the new site.
"We want to give the community a chance to see the hospital before it actually opens," said hospital spokesman David Breen in an email.
Besides the hospital tour, the November 26 event will offer face painting, balloon animals, touch-a-truck with Florida Hospital ambulances, and a pumpkin patch. A health expo will give out the latest health information and offer a variety of free health screenings.
The new Florida Hospital Apopka is a 70-acre site with a seven-story, 600,000-square-foot hospital building, a 200,000-square-foot medical office building and a helipad. There will be 120 in-patient rooms (compared to the current 50-bed facility), additional surgical services, an expanded women's center, an outpatient rehabilitation program and an intensive care unit (ICU) that will have 19 beds and 24-hour critical care coverage.
The hospital will have two catheterization, or "cath," labs in adjacent rooms that will perform interventional radiology procedures that will open up blocked vessels and perform biopsies.
The new facility will also have four operating rooms with state-of-the-art technology, a recovery room, and ICUs with bathrooms and showers not only for the patients but also for their families spending long visits.
The recovery room, also known as the post-anesthesia care unit (PACU), is where patients will go after surgery. The 16-bay PACU is the only place in the hospital where curtains will separate patients. All other rooms in the building will be enclosed by walls.
Brasfield and Gorrie, a construction firm with offices in Winter Park, Jacksonville and out of state, is the project contractor.
Breen, the Florida Hospital spokesman, issued the following statement about the current Florida Hospital Apopka campus on Park Avenue.
"Florida Hospital's plans for the Park Avenue hospital site include a senior living component as well as health-care services. We have now broadened our original vision and are exploring additional uses for the property that will provide a more diverse, mixed-use, and active development plan that will contribute to the health and well-being of Apopkans of all ages.]
"We have partnered with the Ustler Group of Companies on master-planning efforts to ensure we achieve these goals. We are in an initial phase of assessing the site and how it can be redeveloped. Once that's complete in approximately mid-2018, we will seek input from the entire Apopka community to create a plan in collaboration with the city, its residents, and other stakeholders."