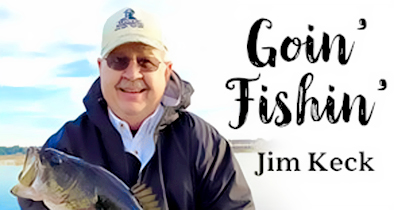 Hello Folks,
Well, we just got used to some great winter weather and then, bam, we go back to the 30s and 40s. I don't mind the cold but just not this cold. These cold fronts and the wind we have been havin' have kept a lot of folks bundled up and sittin' by the fire. I really don't blame folks for not wantin' to get out and go fishin' with the wind blowin' and these bluebird skies.
If the fish ain't bitin', it makes for a miserable day on the water. We had some days this week that weren't bad, but this weekend it's gonna be tough again with another cold front movin' into town.
If you do get a chance to do some speck fishin', the best place to catch 'em has been Lake Monroe and Lake Jesup. Most of the specks are bein' caught on minners. It's gonna be a little slow but, hopefully, you will catch enough specks for supper.
The bass fishin' is doin' pretty good in most of the major chains in our area. Kyle at Bitter's Bait and Tackle reports that folks are catchin' bass on shiners and top-water baits. Kyle has a buddy who guided some clients on the Butler Chain last week and they caught a nice bass that weighed in at 10.2 pounds. Believe it or not, that bass was caught on a Top-Water Popper. I know my neighbor John and his nephew Chet are still catchin' bass on the Butler Chain. They fished there last week and caught and released 19 bass up to 2.5 pounds each. Most of their bass were caught on top-water baits, slow-sinkin' Senko-type baits, plastic worms, and jigs.
The bass fishin' on the Harris Chain is still doin' pretty good. It's still takin' more than 20-pound bags to win tournaments on the weekends. The American Bass Anglers held a tournament on the Harris Chain on Saturday, January 15. The winnin' stringer was caught by Frank Oliva. Frank made the run from Lake Harris to Lake Apopka. He had only three bites in Lake Apopka, but they were all good ones. He finished up his day in Lake Eustis and caught two more bass for his five-bass limit. Frank's five bass weighed in at 26.17 pounds. He also had a nice kicker bass that weighed in at 7.34 pounds. He caught his bass flippin' in Lake Apopka and his last two bass on a Rat-L-Trap in Lake Eustis. The biggest bass of the tournament was caught by Marlon Crowder of Tampa. Marlon caught and released a nice 9.74-pounder. Marlon said he fished Lake Dora and Lake Beauclair all day draggin' a worm along the bottom. I would have to say the bass are bitin' in the Harris Chain.
Well, that's it for this week. I hope the weather settles down just enough so you can get on the water and catch a few fish. See ya next week.
Tip of the week: good weather.
Save a few and good luck!