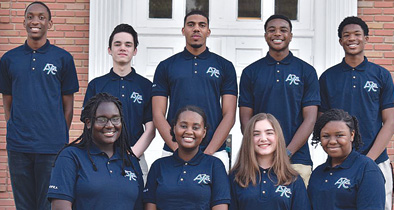 The city of Apopka launched its youth-oriented leadership program that will equip high school students with leadership skills, a deeper knowledge of civics and government, and community service experience.
City grant writer Shakenya Jackson introduced Apopka Youth Council's student members at the Wednesday, November 20, City Council meeting. Out of a pool of 15 applicants, four students from Wekiva High, four from Apopka High, and one from a private school were accepted into the program.
"The selected members are all currently active within the community. I believe that serving on the Apopka Youth Council will only strengthen their leadership skills," said Jackson, who interviewed all the students for the program, in an email to The Apopka Chief on Tuesday, November 26. "I was truly impressed by the applicants. They truly want to make an impact in their community. The council members are current members of their respective basketball teams, Beta Club, National Honors Society, and JROTC."
The first Apopka Youth Council meeting was held on November 6. The city of Apopka will accept new applicants in September 2020.
As part of the Apopka Youth Council, members shadow various employees and volunteer at community events.
"The students will visit first with the (Apopka) fire department on December 4," Jackson said in her email. "The students are still determining the group vision. They will collectively decide on the community events that they want to participate in."
The city of Apopka contributed $2,000 to support Apopka Youth Council, according to Jackson.
The full story appears on page 1A of The Apopka Chief's Friday, November 29 issue. Subscribe today!