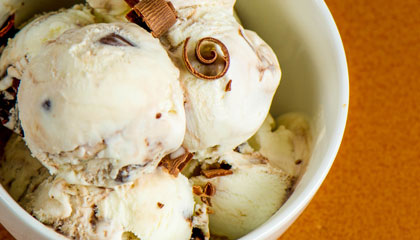 We have borrowed a book of recipes from Rebecca Scott Ryan of Long & Scott Farms in Zellwood. The book is entitled Field to Feast, Recipes Celebrating Florida Farmers, Chefs, and Artisans, by Pam Brandon, Katie Farmand, and Heather McPherson, published by University Press of Florida. Their recipe for Zellwood sweet corn chowder is printed in this lovely book.
Also from the book, we have recipes for mahi mahi with longan ceviche, pesto-stuffed eggplant, ranch hand hamburger casserole and chocolate-chip ice cream.
Please email your recipes to: news@theapopkachief.com or mail them to The Apopka Chief, P.O. Box 880, Apopka, 32704-0880. And send us not only your recipes but ideas for future recipe columns as well.
LONG & SCOTT FARMS' 
ZELLWOOD SWEET
CORN CHOWDER
Recipe from Field to Feast
Long & Scott Farms in Zellwood, begun in 1963 by Billy Long and Frank Scott, childhood friends from Virginia, is the location of Scott's Country Market. "You can see the stuff growing as you drive up," says Frank's son Hank, a third generation farmer, who manages the farm. This is Long & Scott Farms' recipe for corn chowder.
Be sure to capture the milk from the sweet corn when you cut the kernels from the cob and don't be quick to toss it out. Put it in the soup pot for additional flavor and remove before serving.
4 slices bacon, finely diced
1/2 cup diced onion
1/2 cup diced red bell pepper
2 cups sweet corn kernels cut from cob, cobs reserved
3 tablespoons flour
3 cups chicken or vegetable stock
1 cup medium-diced russet potatoes
1 cup heavy cream
1 tablespoon chopped fresh parsley
Coarse salt and freshly ground black pepper, to taste
1. Cook bacon in a large saucepan over medium-high heat until crisp. Add onion, peppers, and corn, stirring for 2 minutes. Add flour, stirring 1 minute.
2. Add stock and stir until smooth. Bring to a boil and add potatoes and corncobs, Simmer 25 to 30 minutes, or until soup reaches desired consistency.
3. Add cream and simmer 2 minutes. Season with parsley, salt, and pepper. Remove corncobs before serving.
CHEF ALLEN SUSSER'S 
MAHI MAHI AND LONGAN CEVICHE
Recipe from Field to Feast
Miami Chef Allen Susser arrived in South Florida in the 1980s and discovered the joy of working with the bounty of Florida's farms and waters. The clean tang of this lime-laced ceviche gets a sweet counterpoint from longans, a small fruit with translucent white, juicy-soft pulp that is delicately flavored.
8 ounces mahi mahi, sliced into thin 2-inch-long pieces
1 cup fresh lime juice
1/2 cup fresh orange juice
1 small sweet onion, cut into thin strips
4 large plum tomatoes, peeled, seeded, and diced
1 medium jalapeno, seeded and diced
12 medium longans, peeled and seeded, divided
2 tablespoons chopped fresh cilantro, plus 4 sprigs
2 teaspoons coarse salt, plus additional to taste
2 tablespoons extra virgin olive oil
1. Combine mahi mahi, lime juice, and orange juice in a small stainless steel bowl, tossing to coat evenly. Cover and refrigerate for 1 hour, or until fish turns opaque, stirring occasionally.
2. Combine onion, tomatoes, jalapeno, 6 longans, and chopped cilantro in another stainless steel bowl; season mixture with 2 teaspoons coarse salt. Refrigerate.
3. Just before serving, strain almost all juice from fish. Stir fish into vegetables; season to taste with salt. Refrigerate at least 20 minutes or up to 2 hours.
4. To serve, drizzle the fish with olive oil, toss lightly, and spoon into 4 chilld martini glasses. Garnish with cilantro sprigs and remaining longans.
TANIA BRUSCHI'S 
PESTO-STUFFED EGGPLANT
Recipe from Field to Feast
From the Bruschi family's D&D Farms U-Pick in Palm City, we have pesto-stuffed eggplant. Tania Bruschi plans her meals around what's fresh from their fields.
PESTO:
1/4 cup pine nuts
2 to 6 garlic cloves, to taste
2 cups of loosely packed basil leaves
1 teaspoon coarse salt
1 teaspoon freshly ground black pepper
1/2 cup extra virgin olive oil
STUFFED EGGPLANT:
4 small eggplants
1/2 cup light cream cheese, room temperature
1/2 cup light ricotta cheese
2 to 3 tablespoons pesto
PREPARE PESTO:
Process pine nuts and garlic in the bowl of a food processor for 15 seconds. Add basil, salt, and pepper. With processor running, slowly pour olive oil through feed tube and process until pesto is pureed.
STUFF AND BAKE EGGPLANT:
1. Preheat oven to 350 degrees Fahrenheit. Oil a baking dish large enough to hold eggplant. Set aside.
2. Cut a wedge out of each eggplant from stem to base with a sharp knife. Scoop out center of flesh with a spoon, leaving 1/2-inch thick shell so that it will hold its shape when baked. Discard scooped-out flesh.
3. Mix cream cheese, ricotta, and pesto in a medium bowl. Evenly divide filling among scooped-out eggplants. Place in prepared baking dish and bake for 30 minutes or until fork tender.
ROY AND WENDY PETTEWAY'S RANCH HAND 
HAMBURGER CASSEROLE
Recipe from Field to Feast
"When my mother died, my father had to do everything," Roy, of Petteway Citrus & Cattle in Zolfo Springs, says. "This dish was a ranch staple. It was something he could put in the oven, then get back to ranching and have a meal on the table for us. We still make it to this day."
1 pound ground beef
1-1/4 teaspoons coarse salt, divided
1/2 teaspoon freshly ground black pepper, divided
1 cup heavy cream
1/2 cup whole or 2% milk
1 egg
4 to 5 Yukon Gold potatoes, sliced very thinly
1-1/2 cups sliced crimini mushrooms
1 large sweet yellow onion, sliced very thinly
8-ounce block sharp cheddar cheese, shredded
1. Preheat oven to 350 degrees Farenheit. Brown ground beef in a large skillet. Strain and discard excess fat. Season with 1/4 teaspoon salt and 1/4 teaspoon pepper.
2. Whisk cream, milk, and egg in a large bowl until slightly thickened. Whisk in 1/4 teaspoon salt until it dissolves. Set aside.
3. Place browned beef in the bottom of a Dutch oven. Top with sliced potatoes and sprinkle with 1/2 teaspoon salt and 1/4 teaspoon pepper. Pour half of milk mixture over potatoes.
4. Top with mushrooms. Sprinkle with 1/4 teaspoon salt. Arrange sliced onion and cheese on top. Pour remaining milk mixture over top.
5. Bake, uncovered, for 1-1/2 to 2 hours, or until potatoes are soft and onions are tender.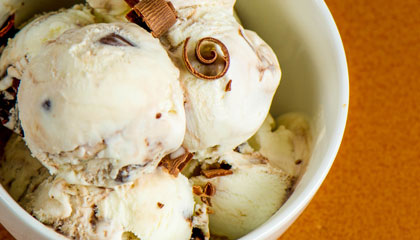 MARY LOU WESSELHOEFT'S 
CHOCOLATE-CHIP ICE CREAM
Recipe from Field to Feast
Mary Lou Wesselhoeft who, along with her husband Paul, owns Ocheesee Creamery in Grand Ridge in the panhandle of Florida, shares this recipe for a quart of ice cream. It contains four teaspoons of vodka which helps keep the ice cream soft in the freezer. The liquor can be omitted if you eat the ice cream within a day of making. That shouldn't be too hard to do!
6 egg yolks
1/2 cup sugar
Pinch of salt
2 cups heavy cream
1 cup whole milk
1 vanilla bean, split lengthwise
1 tablespoon plus 1 teaspoon vodka
6 ounces semisweet or dark chocolate, finely chopped
1. Whisk together egg yolks, sugar, and salt in a large bowl. Set aside. Combine cream and milk in a small saucepan. Use the back of a small knife to scrape seeds from inside the vanilla bean. Add seeds and bean to milk mixture and place pan over medium heat. Heat until tiny bubbles just begin to form around edges. Remove from heat for 5 minutes.
2. Fill a large bowl with ice and a bit of water. Set aside.
3. Slowly ladle 1 cup of hot cream mixture into egg yolks, whisking constantly. Pour egg-cream mixture back into the saucepan and cook, stirring occasionally, until mixture coats the back of a wooden spoon, about 4 minutes.
4. Discard vanilla bean. Pour custard through a fine-mesh sieve into a medium bowl and set the bowl in the ice bath, adding water if needed to reach halfway up sides of bowl. Stir until custard is cool. Add vodka. Remove from ice bath and refrigerate for 2 hours, or until cold.
5. Freeze in an ice-cream maker according to manufacturer's instructions. When ice cream has the consistency of soft-serve, transfer to a freezer-safe container and stir in chopped chocolate. Freeze until firm.