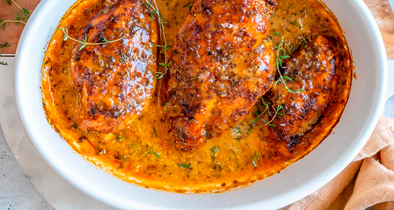 Mrs. Morris' Crockpot Roast With Noodles takes six hours in the slow cooker and is terrific for the busy person who wants to have a lovely meal at the end of the day. You only need to add the noodles at the end of cooking, and that might take 15 minutes.
Jennifer Broussard's Honey Glazed Chicken from Treasures and Pleasures cookbook looks to be quite simple, ideal for the busy homemaker. Stick the dish in the oven and go about your other chores. Or… put your feet up and relax!
Charleston Receipts shares Mrs. Cain's Baked Rice. This puts a new spin on our favorite old staple: rice!
And for you okra lovers, Okra Creole is from Southern Living All-Time Favorites. Fry up some bacon, drain it, crumble it all up and set it aside. You use frozen okra for this recipe and combine canned diced tomatoes, corn, onions, and seasonings and cook it in the bacon drippings and a little water for 15 minutes or so. Serve this lovely stuff over rice and top it with crumbled bacon.
A delightful recipe from Southern Living's All-Time Favorites is Crispy "Fried" Onion Rings. They are fried for only a minute or so, then finished in the HOT oven. There is also a version for Beer Battered "Fried" Onion Rings. Who doesn't love onion rings?
Mrs. Harrison Smith shares a different slant on biscuits with her Crisp Cheese Biscuits. She leaves with us this caution: "Don't let them get too brown." We found this recipe in Plains Pot Pourri, shared with us by our friends in Plains, Georgia.
From Betty Moss, we have Mississippi Mud Pie, a recipe she shared in Plains Pot Pourri.
And if it seems we are picking out recipes especially from Plains Pot Pourri, it just seems to be working out that way this week.
MRS. KAYE MORRIS'
CROCK POT ROAST 'N NOODLES
Recipe from PLAINS POT POURRI, Food Favorites of Plains, GA
2- to 3-pound beef roast
1 can Golden Cream of Mushroom    Soup
1 soup can of water
4 ounces uncooked noodles
Salt and pepper to taste
Put seasoned roast, after being browned on each side in a frying pan, into the crock pot. Pour soup over the roast and add the water. Cover and cook on high until it comes to a good simmer. Turn to low and cook for 4 to 6 hours. About 15 minutes before serving, add noodles to BOTTOM of crock pot and cook on high.
JENNIFER BURGUST BROUSSARD'S HONEY GLAZED CHICKEN
Recipe from 1990 Presbyterian
Women First Presbyterian
Church of Apopka,
Treasures and Pleasures cookbook
1 whole chicken, cut up
1/2 cup butter, melted
1/4 cup mustard
1/2 cup honey
Mix butter, mustard and honey. Pour over chicken in baking dish. Cover and bake at 350 degrees for one hour. Bake uncovered for an additional 15 minutes.
MRS. FRANK CAIN's
(PARHAM ATKINS) BAKED RICE
Recipe from Charleston Receipts, America's Oldest Junior League
Cookbook in Print,
a Cookbook by The Junior League of Charleston, Inc.
1/2 pint (1 cup) rice
1 dessert spoon* (2 teaspoons) butter
1 pint (2 cups) milk
1 egg
1 teaspoon salt
Cook rice dry and fluffy; put in quart baking dish with butter and milk, a beaten egg and salt. Bake 1/2 hour in moderate (350 degrees) oven. Serves 4.
* 1 dessert spoon equals two teaspoons whereas a tablespoon is three teaspoons.
OKRA CREOLE
Recipe from Southern Living
All-Time Favorites
3 bacon slices
1 (16-ounce) package frozen
   sliced okra
1 (14-1/2 ounce) can diced
   tomatoes
1 cup frozen onion seasoning blend
1 cup frozen corn kernels
1/2 cup water
1 teaspoon Creole seasoning
1/4 teaspoon pepper
Hot cooked rice (optional)
Cook bacon in a Dutch oven until crisp; remove bacon, and drain on paper towels, reserving drippings. Crumble bacon, and set aside.
Cook okra and next 6 ingredients in hot drippings in Dutch oven over medium-high heat, stirring occasionally, 5 minutes. Reduce heat to low, cover and simmer 15 minutes or until vegetables are tender. Top with crumbled bacon. Serve over rice, if desired.
Makes 4 servings.
CRISPY "FRIED" ONION RINGS
Recipe from Southern Living
All-Time Favorites
1 large sweet onion
1/2 cup low-fat buttermilk
1 egg white
1/2 cup all-purpose flour
2 tablespoons olive oil
Vegetable cooking spray
1/2 teaspoon coarse kosher salt
Cut onion into 1/4-inch thick slices, and separate into rings. Select largest 12 rings, reserving remaining onion slices for another use.
Whisk together buttermilk and egg white in a small bowl until blended.
Dredge onion rings in flour; dip into buttermilk mixture, coating well. Dredge again in flour, and place on a baking sheet.
Heat 2 teaspoons oil in a 10-inch skillet over medium-high heat. Tilt pan to coat bottom of skillet. Add 4 onion rings to skillet, and cook 1 minute on each side or until golden. Wipe skillet clean. Repeat procedure twice with remaining onion rings and oil.
Place fried onion rings on an aluminum foil-lined baking sheet coated with cooking spray.
Bake at 400 degrees for 3 minutes. Turn onion rings, and bake 3 more minutes. Remove from oven, and sprinkle with salt. Serve immediately.
BEER-BATTERED
"FRIED" ONION RINGS:
Prepare as directed through the first step. Reduce buttermilk to 1/4 cup, and whisk together with 1/4 cup light beer and 1 egg white. Proceed with the rest of the directions as directed.
Makes 3 servings.
MRS. HARRISON SMITH'S
CRISP CHEESE BISCUITS
Recipe from Food Favorites of Plains, Georgia, PLAINS POT POURRI
1 stick butter
1 stick margarine
1/2 pound New York sharp cheese
1/2 teaspoon red pepper
1 teaspoon salt
2 cups plain flour
2 cups Rice Krispies
Cream butter, margarine, cheese, salt and red pepper. Add flour which has been sifted and measured. Dip in Rice Krispies by hand. Roll to size of marbles. Put on ungreased baking sheet. Dip table fork in ice water and mash flat. Bake at 325 degrees for 15 to 20 minutes. Don't let them get too brown.
BETTY MOSS'
MISSISSIPPI MUD PIE
Recipe from Food Favorites
of Plains, Georgia
Plains Pot Pourri
2 cups sugar
2 sticks margarine
4 eggs
1-1/2 cups plain flour
1/3 cup cocoa
1/4 teaspoon salt
1 cup chopped nuts
3 teaspoons vanilla
1/2 of a 10-ounce package miniature marshmallows
Cream sugar and margarine. Add eggs. Sift flour, cocoa, and salt together. Add to creamed mixture. Mix well. Add nuts and vanilla. Bake in a 13 x 9 x 2-inch pan for 35 minutes at 300 degrees. Remove from oven. Pour marshmallows over top and return to 350-degree oven for 10 minutes.
Cool 1 hour, and then frost.*
FROSTING:
1 box confectioners sugar
1 stick (1/4 pound) margarine
1 teaspoon vanilla
1/4 to 1/3 cup evaporated milk
1/3 cup cocoa
1 cup nuts
Mix well and spread on cake.
*This tastes as good as it smells.