How can we get kids to eat their vegetables and actually get them to like and maybe even to ask for more health building veggies, especially if they now will not happily or willingly bite into any kind of a vegetable, not even for just an exploratory taste?
There are lots of ways to add more flavor and a great taste to carrots, cabbage, corn, spinach and all the other greens and other vegetables which some young children and maybe adults, too, just haven't seemed interested in trying but might if just the right recipe comes along, maybe with a kids' attention grabbing title like Impossible Green Bean Pie (they'll
like that pie's name) or Shepherd's Pie.
Our Apopka-area cookbooks are abundantly filled with lots of all kinds of great tasting veggie dishes which can take on a whole new character when combined with various other great tasting ingredients so they're not anymore just a plainly cooked carrot or spinach leaf or beans.
You will enjoy the variety and difference as much as the kids and
the more vitamins-rich vegetables
we eat the more we'll all stay lots healthier.
Enjoy your veggies via your fellow Apopkans' recipes below. Let us know how the kids at your house regard and respond to them.
If you see any of the providers of this and every week's Kitchen Kapers recipes, be sure to tell them thanks for providing them and for all the various groups and churches who gathered all these recipes in the past years and decades for our Apopka-area cookbooks collections.
Pass the potatoes, carrots, cabbage, spinach and other veggies here below and enjoy some delicious tastes!
Enjoy these veggies, including some you can even sugar-sweeten to catch kids' interest!
SHERI BAILEY'S 
CINNAMON-AND-SUGAR 
CARROT CASSEROLE
Recipe from 
First Baptist Church of Apopka's Taste & See
2 cups mashed carrots, cooked in salted water
1 cup sugar
3 tablespoons flour
1 teaspoon baking powder
1/2 cup butter
3 eggs, well beaten
Dash of cinnamon
Grease a 2-quart casserole dish. In order listed, combine all ingredients. Preheat oven to 400 degrees. Bake the casserole for 15 minutes, then reduce temperature to 350 degrees and bake for 45 minutes longer.
LINDA HUCKEBA'S 
SWEET POTATO CASSEROLE
Recipe from 
New Vision Community Church's 
Feeding The Flock
3 cups cooked mashed sweet potatoes
1 teaspoon vanilla
1 cup sugar
2 large eggs, beaten
1/2 cup melted margarine
Topping:
1/3 cup melted margarine
1/3 cup flour
1 cup brown sugar
1/2 cup chopped nuts (walnuts or pecans)
Mix together all casserole ingredients and blend well. Pour into 9- by 13-inch pan. Make topping for casserole by mixing together the margarine, flour, brown sugar and nuts. Spread evenly over casserole and bake at 350 degrees for 30 minutes.
ELLEN CARLTON'S 
SWEET AND SOUR RED CABBAGE
Recipe from 
New Vision Community Church's 
Feeding The Flock
4 cups shredded red cabbage
1/2 cup water
4 slices cooked, diced bacon (reserve drippings)
1 small onion, sliced
2 tablespoons brown sugar
1 tablespoon flour
1/3 cup vinegar
Cook cabbage in water until tender. Add bacon and onion to cabbage. Add brown sugar, flour and vinegar to drippings and heat until smooth. Add to cabbage and stir until well mixed.
FRAN FORREST'S 
BEANS AND FRANKS
Recipe from 
Grace United Methodist Church's 
Treasures from Heaven
3 one-pound cans pork-n-beans, drained
4 to 8 Oscar Mayer beef hotdogs, cut 1/4-inch thick
3/4 cup ketchup
1/2 cup dark brown sugar
1 tablespoon prepared mustard
Dissolve sugar in ketchup and mustard. Add beans and hot dogs and mix well. Pour into a casserole dish and bake at 350 degrees for 20 minutes. Stir beans and cook for another 10-20 minutes or until sauce is thick.
PEARL SUMMERLIN'S SHEPHERD'S PIE
Recipe from Lake Hill Baptist Church's Treasures from Heaven
1 pound cooked ground beef
1 can cream of mushroom soup
1 can whole kernel corn
Instant mashed potatoes, cooked
Shredded cheese (optional)
Mix mushroom soup with ground beef and put in baking pan. Top with corn and spread mashed potatoes on top. Sprinkle with cheese if you wish. Bake at 350 degrees until lightly browned.
IMPOSSIBLE GREEN BEAN PIE
Recipe from Favorite Recipes of Sweetwater Oaks
8 ounces fresh green beans, cut lengthwise into strips
1 (4-ounce) can mushroom stems and pieces, drained
1/2 cup chopped onion
2 cloves garlic, crushed
1/2 cup chopped onion
2 cloves garlic, crushed
1 cup shredded Cheddar cheese, about four ounces
1-1/2 cups milk
3/4 cup Bisquick baking mix
3 eggs
1 teaspoon salt
1/4 teaspoon pepper
Heat the oven to 400 degrees. Lightly grease pie plate (10- by 1-1/2-inches). Heat to boiling point the green beans in one inch of salted water (1/2 teaspoon salt to 1 cup water). Cook uncovered for five minutes. Cover and cook until tender, 5-10 minutes. Drain.
In a pie plate, mix the beans, mushrooms, onion, garlic and cheese. Beat remaining ingredients until smooth (15 seconds in blender on high speed or one minute with hand beater). Pour into pie plate.
Bake until golden brown and knife inserted halfway between center and edge comes out clean, about 30 minutes. Let stand five minutes before cutting. Refrigerate any remaining pie.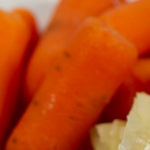 HABITAT FOR HUMANITY'S 
HONEY GLAZED CARROTS
Recipe from 
Partners In The Kitchen
2 pounds carrots, thinly sliced
1/2 cup water
3 tablespoons honey
2 tablespoons brown sugar
2 tablespoons margarine
Place carrots with water in saucepan. Bring to a boil and reduce heat. Simmer, covered, for eight minutes or until carrots are tender-crisp. Drain. Stir in honey, brown sugar and margarine. Cook over low heat until brown sugar is dissolved, stirring constantly.
TEXAS SALAD WITH FRITOS, LETTUCE AND BEANS
Recipe from Calvary Church of the Nazarene's A Harvest of Recipes
1 head of lettuce
2 tomatoes, chopped
1 onion, chopped
2 cans chili beans, drained
1 large bag Fritos or corn chips
Catalina dressing
Mix together the lettuce, tomatoes, onion and chili beans. Just before serving, add the Fritos or corn chips and enough dressing to coat salad lightly.