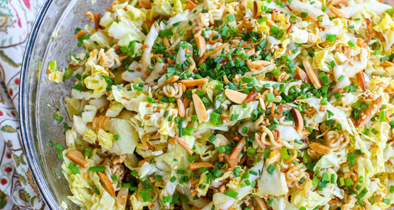 "Could classic chicken and rice be one of the most beloved comfort dinners to ever hit the plate? We think so. And to blow your mind even more, this version is made in just one skillet. Here we use bone-in, skin on chicken thighs which cook up in exactly the same time as the rice to guarantee juicy chicken. A quick broil at the end creates the perfect crispy skin and gives a little crunch to the rice and vegetables." That is Food Network's comments on this recipe.
Food Network says, "When summer nights call for a grilled burger, this one (The Best Grilled Burgers) is our go-to. We season only the outside of each patty right before grilling to help a build a nice crust. Our trick for forming the patties is a real time saver, especially if you are cooking for a crowd. You can also form them the day before; place in an airtight container with parchment paper in between to help with party-day prep." Terry Mehlhorn who rated the recipe a 5 out of 5, said, "I love thick slices of red onion on my burgers… both hot and sweet and the added crunch makes for a perfect burger!"
Also from FoodNetwork.com, we have Roasted Potato Wedges from Eddie Jackson. They were rated 5 out of 5.
From New Vision's Feeding the Flock, there is cabbage slaw with crunchy Ramen noodles and browned sesame seeds and almonds, topped with a whip-up yourself dressing. We can thank Pat Jania for this delicious slaw.
Next, from FoodNetwork.com, we have a recipe, courtesy of Ree Drummond, for Crazy Brownies. They are rated 4.6 out of 5 stars. These are easy, and yield 18 brownies. A note from one of the bakers: Delicious! Note to self… parchment your pan after your spray! I couldn't get it out of the pan without making a mess!
THE BEST CHICKEN AND RICE
FOODNETWORK.COM
2 tablespoons canola oil
4 to 6 bone-in, skin on chicken thighs    (about 6 ounces each)
1/2 teaspoon paprika
Kosher salt and freshly ground
   black pepper
4 medium carrots (about 12 ounces),    sliced into 1/4-inch rounds
3 stalks celery (about 9 ounces),    sliced 1/4-inch thick
2 large shallots (about 4 ounces),
   finely diced
2 cloves garlic, minced
1 tablespoon fresh thyme leaves,    chopped
1 tablespoon fresh oregano leaves,    chopped
2 teaspoons finely grated lemon zest    plus 1 tablespoon lemon juice
1 cup long-grain rice
4 cups low-sodium chicken stock
1 tablespoon chopped fresh chives
     1. Preheat the broiler. Heat 1 tablespoon of the oil in a large skillet over medium-high heat. Toss the chicken with the paprika, 1 teaspoon salt and a few grinds of pepper in a large bowl. Place the chicken skin-side down in the skillet and cook undisturbed until the skin is golden but not too dark, 4 to 5 minutes. Remove the chicken to a plate using a metal spatula and add the remaining 1 tablespoon oil to the skillet.
     2. Add the carrots, celery and shallots to the skillet and cook, stirring occasionally, until softened but not yet turning golden, 4 to 5 minutes. Stir in the garlic, thyme, oregano, lemon zest, lemon juice, 1/2 teaspoon salt and a few grinds of pepper and cook just until you begin to smell the garlic, about 1 minute. Stir in the rice and cook undisturbed until lightly toasted, about 2 minutes. Pour in the broth, add 1/2 teaspoon salt and stir to combine, then add the chicken thighs back to the pan, skin-side up. Bring the liquid to a boil then cover, reduce the heat to a simmer and cook until the rice is tender and the chicken is cooked through, 15 to 20 minutes.
3. Remove the lid from the pan and broil until the chicken skin is crispy and golden, 2 to 3 minutes. Sprinkle with the chives.
The Best Grilled Burgers
RECIPE COURTESY OF
FOOD NETWORK KITCHEN
2 pounds ground chuck (80/20)
Kosher salt and freshly ground
   black pepper
Vegetable oil, for the grates
Four 1-ounce slices Cheddar
   (optional)
1 large red onion, cut into four
   1-inch thick rounds
4 leaves green leaf lettuce
4 slices beefsteak tomato
4 seeded hamburger buns
Mayonnaise, mustard and ketchup,    for serving
8 dill pickle chips
Prepare a grill for medium-high heat.
1. Form the ground beef into four 8-ounce patties. A quick and easy way to do this is to divide the meat into 4 piles. Place a pile on the top of a deli container lid. Take a second deli container lid and place the top of it against the meat. Press down evenly and firmly and watch as a perfect patty forms. Repeat with the remaining meat. Make an indentation in the middle of each patty with your thumb to keep the burger from shrinking as it cooks.
2. Sprinkle each patty on both sides with 3/4 teaspoon salt and 1/4 teaspoon pepper. Lightly brush the grill grates with oil. Grill the patties, indentation-side up, until marked on the bottom, about 4 minutes. Flip and cook until marked and slightly firm, about 4 more minutes for medium-rare. For cheeseburgers, top with 1 slice cheese during the last minute of cooking if desired; cover the grill to melt. Remove to a plate and let rest for 5 minutes.
3. While the burgers cook, place the onion slices on the grill (try to keep them together in a disk). Cook until they are golden on one side, about 4 minutes, then flip with a metal spatula and sprinkle generously with salt. Cook on the other side until the onions are lightly charred and softened through, about 4 minutes, and transfer to a plate.
4. Right before serving, toast the buns cut-side down on the grill. Top the bottom bun with a burger patty and layer with grilled onion, lettuce and a slice of tomato. Spread the inside of the top of each bun with some mayonnaise, mustard and ketchup. Arrange the pickle chips on top. Flip over to top the burgers and secure with a toothpick if desired.
EDDIE JACKSON'S
ROASTED POTATO WEDGES
RECIPE COURTESY OF
FOODNETWORK.COM
2 large russet potatoes
4 tablespoons (1/2 stick) butter
1 teaspoon chopped fresh parsley
1 clove garlic, finely minced
Kosher salt and freshly ground black pepper
1. Preheat the oven to 450 degrees F. Line a baking sheet with parchment paper (or use a nonstick baking sheet).
2. Cut the potatoes into 8 wedges each and arrange on the prepared baking sheet. Melt the butter over low heat, add the parsley and garlic and give the mixture a quick whisk. Brush the butter mixture over all sides of the potato wedges. Reserve the remaining butter mixture. Season all sides of the potato wedges with salt and pepper.
3. Bake until the potatoes are golden brown and easily pricked with a fork, 40 to 50 minutes. About halfway through the cooking time, be sure to flip the potatoes over.
4. Drizzle the remaining butter mixture over the cooked potatoes and serve.
PAT JANIA'S
CABBAGE CRUNCH SLAW
Recipe from New Vision Community Church's Feeding the Flock
Slaw:
4 tablespoons sesame seeds
1 cup slivered almonds
1 head cabbage, grated
4 green onions, sliced
2 packages chicken Ramen noodles,    dry, without seasoning packets
In pan without oil, brown sesame seeds and almonds. Be careful not to burn. Toss salad ingredients together, add browned sesame seeds and almonds.
Dressing:
1/2 teaspoon salt
1 teaspoon pepper
4 tablespoons sugar
6 tablespoons vinegar
1 cup oil
1 package chicken flavor Ramen
   noodles seasoning mix
Mix dressing ingredients together and pour over salad. Toss well. Serve.
REE DRUMMOND'S
CRAZY BROWNIES
RECIPE COURTESY OF
FOODNETWORK.COM
1 stick (8 tablespoons) butter, melted,    plus more for greasing pan
1 box chocolate cake mix (18 ounces)
1/3 cup evaporated milk
9 peanut butter cups
12 chocolate-covered caramels, such    as Rolos
1/2 cup finely chopped pecans
1/3 cup candy-coated chocolates,    such as M and Ms
1/4 teaspoon salt
Powdered sugar, for sprinkling
1. Preheat the oven to 350 degrees F. Grease an 8-by-8-inch baking pan. Put the dry cake mix in a large bowl and stir in the evaporated milk. (The mixture will still be dry.) Next, pour in the melted butter, stirring gently until the mix just comes together (don't over-mix).
2. Divide the mixture in half and press half of it in the bottom of the prepared pan. Lay the peanut butter cups over the top. Peel the caramels and place them in the spaces between. Sprinkle the nuts into the cracks, followed by the chocolate candies. Finally, sprinkle the salt all over. Put the other half of the batter on a cutting board and press it into a square a little smaller than the pan (it will be very sticky). Transfer it to the pan and lightly press it to cover all the ingredients.
3. Bake until the batter is fully baked, 22 to 25 minutes. Allow to cool completely, then place the pan in the fridge, covered in foil, for a couple of hours.
4. Remove the brownies from the pan in one piece, then sprinkle on plenty of powdered sugar. With a sharp serrated knife, cut into small squares.
5. Gobble 'em up!