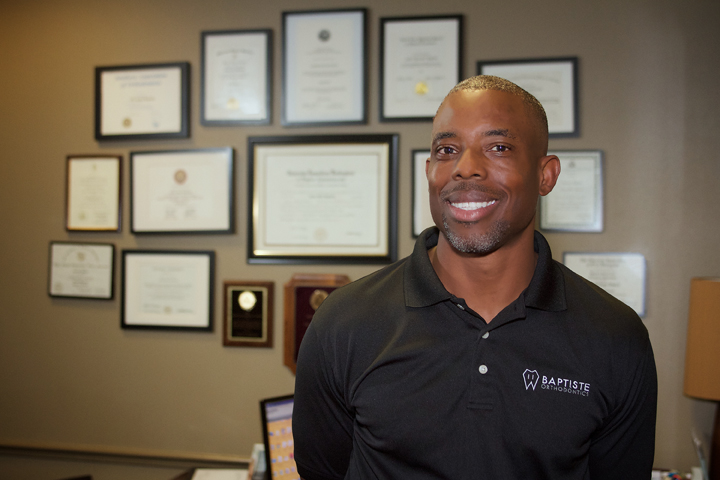 Great News Apopka! Baptiste Orthodontics is so excited to announce that the final touches are being put on their new office at 12 S. Park Avenue in Apopka (across from Kit Land Nelson Park).
Patients are now being scheduled at the new office for September appointments. Plans for the third office of Baptiste Orthodontics started in 2017 with the purchase of the property.
Since then, Dr. Baptiste and his staff have been busy working with contractors and the City of Apopka in order to create an orthodontic practice that will be welcoming to all their patients and provide the best and latest technology the orthodontic health sector has to offer.
When Dr. Baptiste decided it was time to grow his practice from his two current offices in the Windermere/Dr. Phillips area and the Orlando office on West Colonial and Hiawassee, he quickly turned his attention to the Apopka area. He found Apopka attractive because of the community feeling and the relationship he had already established with Wekiva High School.
Throughout this year, Dr. Baptiste and his staff have had the pleasure of meeting and working with several wonderful people from Apopka. The Apopka Area Chamber of Commerce has been a great resource.
The City of Apopka and its many departments have worked along side the contractors to get the office ready and open for patients. Dr. Baptiste and his staff have already participated in community functions, including several school functions at Dream Lake Elementary, Apopka Elementary, Clay Springs Elementary, Apopka Memorial Middle, Apopka High School and of course Wekiva High School, home of the Baptiste Orthodontics Stadium.
Baptiste Orthodontics offers braces for all ages. Dr. Andre Baptiste, D.D.S. offers a range of options for his patients: traditional braces, clear and ceramic braces, clear aligners such as Clear Correct, and Invisalign.
Dr. Baptiste feels that each person's case is unique and requires a personalized treatment plan.  He meets with each of his patients to determine what would work best for them, taking into account time, their special circumstances, and budget.
Dr. Baptiste completed his residency in general dentistry at Howard University in Washington, D.C., from which he also received  his certificate in orthodontics. He grew up in Toronto, Canada. He is married and has two sons.
When he is not creating beautiful smiles for his patients, he enjoys volunteering at the local public schools, fishing, hunting, golf, and basketball.
You may visit the Baptiste Orthodontics website at www.baptisteorthodontics.com or call them today at 800-300-7755.
Advertisement