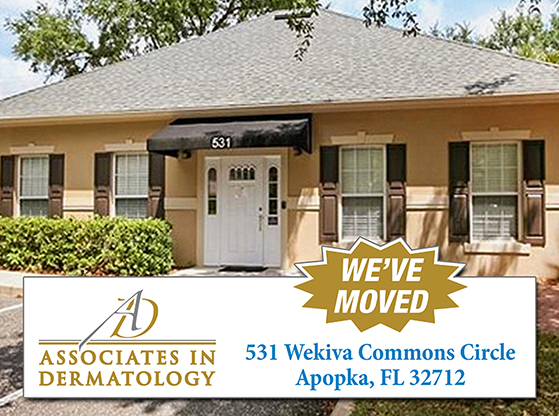 Associates in Dermatology has served the medical, surgical, and cosmetic dermatology and skin care needs of Central Floridians for over 25 years.
Its professional staff of skilled and dedicated board-certified dermatologists, physicians, physician assistants, nurse practitioners, paramedical clinical estheticians, and support team members take great pride in exceeding patient expectations. Their unparalleled patient-focused customer service and state-of-the-art technologies enhance patient care.
In addition, the Associates in Dermatology team has extensive experience treating a wide range of skin conditions including psoriasis, acne, eczema, allergic dermatitis, and diseases of the hair and nails. Services include excisions of skin cancers, moles and skin lesions, and various cosmetic procedures.
Nearly 8 million Americans have skin cancer, the most common form or cancer, but only 4.4 million of these people have actually been diagnosed and treated. Because of this, Associates in Dermatology continues its focus on both skin cancer prevention and early detection of skin cancer and pre-cancerous growths. Their goal is that every person has access to these critical and often life-saving services.
Associates in Dermatology's president and medical director, Michael W. Steppie, M.D., is a board-certified physician with residencies in Internal Medicine, Dermatology,  and Dermatologic Surgery. He and other members of his team have extensive experience with MOHS micrographic skin cancer surgery, the most precise method currently available to remove skin-cancer tumors, with a documented cure rate of 99% for Basal Cell Carcinoma, the most common form of skin cancer.
In addition to surgical excisions of melanoma, the deadliest form of skin cancer, and other skin cancers, skin tumors, lesions and benign moles, Associates in Dermatology also treats other skin conditions including allergic dermatitis, psoriasis, acne, eczema, and diseases of the hair and nails. Cosmetic services such as Botox®, Juverderm®, and laser treatments including Candela V Beam to treat vascular lesions including rosacea and port wine stains, and Dot Therapy to remarkably rejuvenate the skin are also available.
Associates in Dermatology accepts most health plans and its laboratory services, supporting all locations, and has been inspected and certified as fully compliant with stringent quality control standards and personnel/process oversight requirements by both Clinical Laboratory Improvement Amendments of 1988 (CLIA) and the College of American Pathologists (CAP).
Their Apopka office, which used to be next to the hospital, moved last year to 531 Wekiva Commons Circle. They also see patients in 14 other Central Florida locations, including Mount Dora and Sanford. Call them at 800.827.SKIN or visit them at DermOrlando.com.
Advertisement