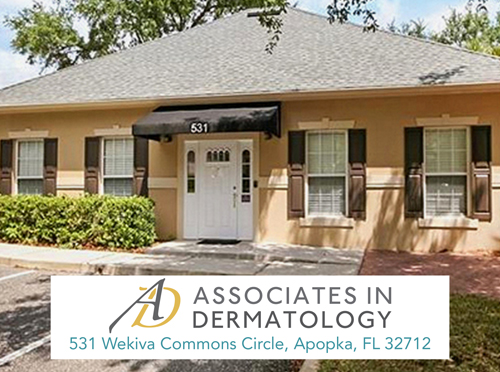 "From practice to research and outreach, I've devoted my career to one goal," says Dr. Steppie, a board-certified physician with residencies in internal medicine, dermatology, and dermatologic surgery.
     That goal? To raise awareness about skin cancer.
     Dr. Steppie's practice, Associates in Dermatology, has provided medical, surgical, and cosmetic dermatological care to Central Floridians for more than a quarter of a century, reflecting his combined focus on research and patient care.
     "From our experienced physicians to our highly trained professional staff, every member of my team takes pride in providing outstanding results," Dr. Steppie says. "Whether treating skin cancer or providing esthetic services, each one puts the patient first."
     Each practice offers comprehensive dermatologic and cosmetic services, including treatments for non-cancerous skin conditions such as psoriasis, acne, eczema, allergic dermatitis, and diseases of the hair and nails. Especially crucial are cutting-edge treatments for skin cancer.
     "MOHS micrographic surgery is one of the most effective skin cancer treatments we offer," Dr. Steppie says. "This procedure can cure up to 99 percent of basal cell carcinomas, the most common form of skin cancer."
Research with Results
     Dr. Steppie goes beyond clinical practice to pursue dermatologic research that may advance skin cancer detection. One of his lines of research, in collaboration with Sanford Burnham Prebys Medical Discovery Institute at Lake Nona, involved identifying biomarkers that may predict susceptibility to melanoma.
     "The promise of finding cancer early, when it can be most effectively treated, is really exciting," Dr. Steppie says. "Identifying melanoma biomarkers could be the first step in developing earlier, more reliable diagnostics that could, in turn, reduce deaths."
Services & Awareness
     "Our mission statement is 'high-quality care,' so we work diligently to ensure unparalleled patient care and excellent customer service. We treat our patients just as we would members of our own family," said Dr. Steppie.
     At any of Associates in Dermatology's locations, patients will find various services to support whatever skin issue they may have, all with a service-before-self mentality. From surgical to medical to cosmetic, each location houses dedicated dermatology professionals such as board-certified dermatologists, nurse practitioners, physician assistants, paramedical estheticians, and staff members who are passionate about their life-saving mission.
     Eric Michaelis-Woodard, PAC, MPAS, an Apopkan himself, is a skilled and very personable physician assistant, who has been part of the Apopka team of providers for the last three years. He specializes in the treatment of skin cancer and diseases of the skin, hair, and nails. His passion is in medical dermatology, and in treating acute and chronic dermatological conditions.
     Michaelis-Woodard's practice involves careful and thorough consideration to the specific needs of his patients. He obtained his Master's degree in Physician Assistant Studies from the University of Florida College of Medicine, and is a member of the American Academy of Physician Assistants and the Florida Academy of Physician Assistants.
     The Apopka office is located at 531 Wekiva Commons Circle. Associates in Dermatology accepts most health plans and also sees patients in 14 other Central Florida locations including Mount Dora, Ocoee, and Sanford.
     Call 800.827.SKIN or visit DermOrlando.com to schedule an appointment.
Advertisement