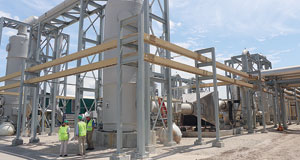 While the city of Apopka's meeting with Zellwood fertilizer manufacturer Anuvia over the ongoing wastewater plant issues didn't immediately solve the situation and Anuvia still cannot send its water to the city's wastewater plant, Anuvia's business won't be affected – at least in the short term.
Amy Yoder, Anuvia's chief operating officer, said the 90-minute meeting on Wednesday, March 8, between representatives from her company, the city of Apopka, and the Florida Department of Environmental Protection was beneficial even if no permanent solution was found.
"It was a very productive meeting," Yoder said. "We discussed options and opportunities to go forward. We'll have to meet a little bit more in the future to get the details hashed out but it was actually very productive."
Anuvia utilizes biosolids to produce a unique fertilizer and ships its wastewater byproduct to the city. The company built a $98-million facility on Jones Avenue in Zellwood that went online last spring. Anuvia employs about 50 people when operating at full capacity, which is 24/7.
Apopka ordered Anuvia to stop sending its wastewater to the city's plant on Monday, March 6, when it sent a letter to the company.
"As you are aware, the City of Apopka's Water Reclamation Facility has been experiencing seemingly continuous plant upsets as a result of what has been determined to be the high organic loading in the effluent discharge from Anuvia's facility," wrote Kevin Burgess, the city's assistant public services director.
"The City's Water Reclamation Facility has reached a critical point that it is in jeopardy of major violations of its DEP Operating Permit," Burgess wrote.
The issue started late last year when DEP sent a letter to the city citing 14 potential violations at the wastewater plant.
At its last City Council meeting on March 1, the city decided to spend $63,400 to pay Shelley's Septic Tanks to remove and dispose of 100,000 gallons of liquid biosolids at the wastewater plant. Shelley's, which is located near Anuvia's plant in Zellwood, estimates the job will take about 16 hours to complete.
Shelley's will also remove about 60 truckloads of dewatered sludge from the plant. That part of the project is expected to take about 12 weeks to remove.
Read more of this story in the Friday, March 10, edition of The Apopka Chief.