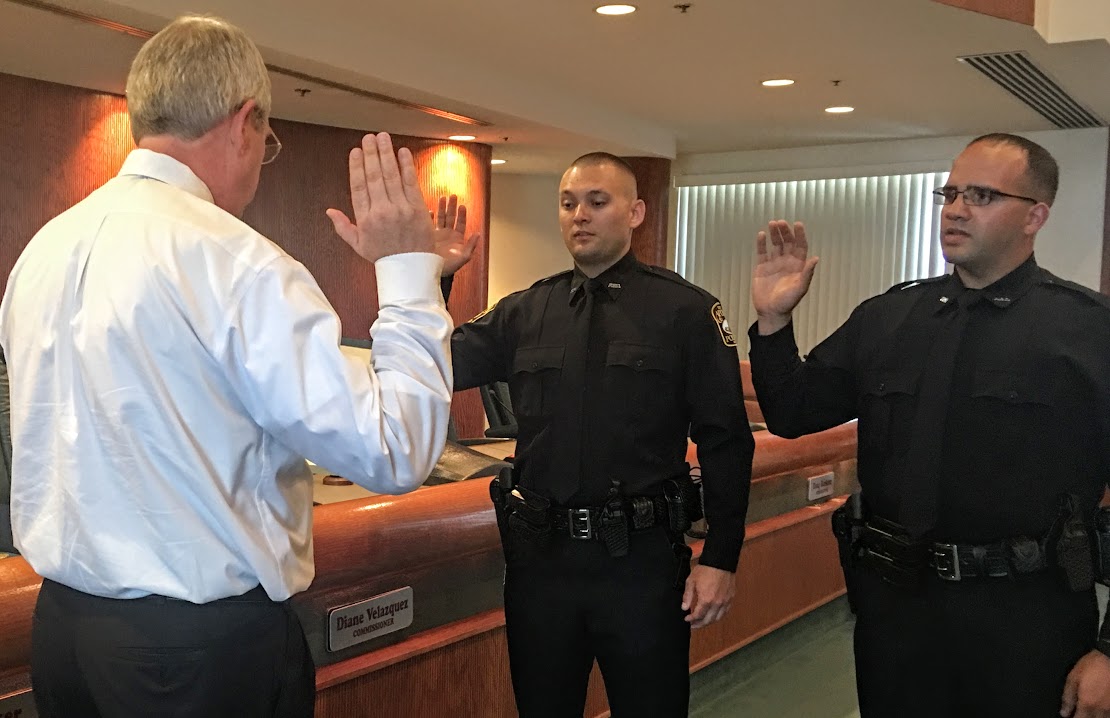 The city of Apopka swore in two new police officers on Friday, May 12 at City Hall, making them the final two of the five additional officers hired using the $625,000 federal Community Oriented Police Services (COPS) Hiring Program grant.
The COPS grant is helping the city to ease heavy demands on the police department in keeping up with a growing community of over 46,000 residents and businesses spread across 33 square miles of northwest Orange County. The grant required a match from Apopka for $339,800, according to city officials.
During the 2017 fiscal year, an additional five officers will be hired with money from the city budget.
According to Police Chief Michael McKinley, the city is currently filling those five positions that have been budgeted.
Irvin Jerez, 23, was born on Long Island, New York, and moved to central Florida in 2006. Having been in the Marine Corps Reserves for 5½ years, Jerez is still in it. He graduated from University High School in 2011. He is married with no children.
"You see the difference that you make because you deal with people on a daily basis and it's people you can possibly see later on. You can see how you are impacting their lives," Jerez said about being a law enforcement officer. "Whereas in the Marines Corps, they say you make an impact, but it's more of a broader aspect."
Kenneth Lucas, 26, grew up in central Florida and is a former auto mechanic. He graduated from Lake Brantley High School in 2008 and is single.
Lucas said that though he had a "great career" as an auto mechanic, working with his father Kenneth Lucas Sr. at the family-owned Certified Auto Repair in Orlando, the younger Lucas' lifelong dream lied in law enforcement.
"I'm 26 years old, and I didn't want to be to the point where I was too old to do something along this line," Lucas said. "I always wanted to pursue my dream while I could."
An expanded story will appear in the Friday, May 19, edition of The Apopka Chief.