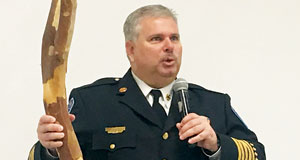 With a ceremony, Apopka Elementary School and the community recognized the 100th anniversary of a 1918 tornado that flipped over the school building back when it was Apopka Union School, wrecked 35 homes, and left 10 injured as well as $125,000 in damages.
The event remembering the tornado was held at the school Thursday, January 11, and included guest speakers, a slideshow history of the tornado, a chorus performance, and the planting of a new sycamore tree on school grounds near the bus loop off Old Dixie Highway.
Students from each grade, as well as Orange County School Board member Christine Moore, read original poems about the tornado. Moore said the poems will be edited and then compiled into a booklet.
Slamming the area at 9 p.m. on January 11, 1918, the very wide tornado left much destruction in its wake at an estimated maximum wind of 113-157 mph but no deaths, according to the National Oceanic and Atmospheric Administration. Coming out of a storm cell from the southwest, the storm brought a freeze with it.
Built in 1896 and 1897, Apopka Union School was located where now present-day City Hall stands. In the late 1960s, Apopka Elementary moved to its current location at the corner of Old Dixie Highway and what is now known as Vick Road. The school was rebuilt a few years ago at the same location.
"That there was no loss of life is considered marvelous," a January 13, 1918, Tampa Tribune article about the tornado reported.
Special guests at the ceremony included Mayor Joe Kilsheimer, Fire Chief Chuck Carnesale, Moore, Area Superintendent Dr. Anna D. Diaz, and city commissioners Diane Velazquez and Doug Bankson.
The full story appears on page 1A of the Friday, January 12, issue of The Apopka Chief.