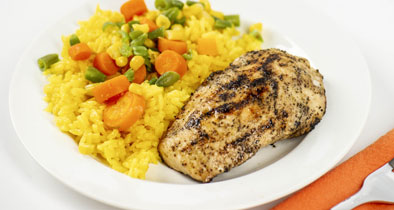 The Apopka Woman's Club published What's Cookin'? in 1963. This lovely little cookbook has recipes from women who are or were the backbone of our local community. This particular recipe is Adeline Bronson's Chicken and Yellow Rice. It is quite simple and baked for an hour at 400 degrees in a casserole dish. It is wonderful for your everyday meals or special guests.
We have an interestingly named recipe for you: Jail-House Chili. The publication, Paths of Sunshine, is from the Florida Federation of Garden Clubs. If you don't like really highly seasoned food, you might want to cut down the cayenne pepper.
Spinach Squares from The Jones-Morris Family Treasury is a treat that is not only delicious but wonderfully convenient in that you can fix it ahead of time and even freeze it and then reheat them when you need them.
From Southern Living, we have a skillet dish, Cabbage-Onion-Sweet Pepper Medley. It uses bacon, the drippings from which you use to sauté the vegetables prior to cooking.
Cooking with Foliage La Sertoma of Apopka shares a vegetable dish called Zucchini Donatone. The sauce can be prepared the day before you want to bake it.
Lillian Cleghorn shares her Grape Salad in the cookbook from Northside Baptist Church. We thank those good neighbors.
Easy gingerbread is a gift from Marie Trivento (thank you, Ma'am!) in Apopka Citizen Police Alumni Association's Sharing Our Finest Cookbook.
ADELINE BRONSON'S
CHICKEN AND YELLOW RICE
Recipe from
The Apopka Woman's Club
WHAT'S COOKIN'?
2 fryers, halved
1/2 cup olive oil
2 cups chopped onions
1 green pepper, cut up
2 cloves garlic
2-1/2 cups rice
2 cups canned tomatoes
5 cups hot water
2 bay leaves
1/2 teaspoon saffron
1 cup green peas
2 teaspoons salt
1/4 teaspoon pepper
Brown the chicken in olive oil. Remove to casserole. Brown onions, green pepper and garlic for about five minutes. Add to chicken in casserole along with all remaining ingredients. Cover and bake in 400-degree oven for one hour.
JAIL-HOUSE CHILI
Recipe from
Florida Federation of Garden Clubs,
Paths of Sunshine Cookbook
1/2 cup olive oil
3 pounds lean beef, diced
1 quart water
8 chili pods (or 6 tablespoons chili powder)
3 teaspoons salt
10 cloves garlic, finely chopped
1 teaspoon cumin
1 teaspoon oregano
1 teaspoon cayenne pepper
1 tablespoon sugar
3 tablespoons paprika (for color)
3 tablespoons flour
6 tablespoons cornmeal
1 cup water
In a 6-quart pot, heat the oil and add the meat to sear over high heat, stirring constantly until the meat is grey – not brown. Add water, cover and cook at a bubbling simmer 1-1/2 to 2 hours. Add all other ingredients except the thickening (flour and cornmeal). Cook at simmer for another 30 minutes. If much fat was left on the meat, it will rise to the top after the spices have been added. Skim fat before thickening. Mix flour and cornmeal with 1 cup water. Add to chili mixture, stirring constantly to prevent sticking. Cook 5 minutes more to determine if more water is necessary to reach desired consistency. This is fairly hot chili, above average. Serves 6.
SANDRA JOHANSEN'S
SPINACH SQUARES
Recipe from
The Jones-Morris Family Treasury
2 packages frozen chopped spinach
1 pound (or at least 10 ounces) mild cheddar cheese, grated
4 tablespoons butter
3 eggs
1 cup flour
1 teaspoon salt
1 teaspoon baking powder
1 tablespoon chopped onion (optional)
Seasoned salt
Thaw chopped spinach by letting it sit at room temperature. Put butter into 9 x 13-inch pan and place pan in oven to melt. Watch that it doesn't burn.
In large bowl, beat eggs well. Mix together dry ingredients and add to eggs all at once; mix well. Add cheese and spinach, breaking it up with your hands. Blend mixture all together. Add onion and seasoned salt at this point. Spoon into pan and smooth out with spatula. Bake in 350-degree oven for 35 minutes or until top browns (some, not too much). Let cool 45 minutes, then cut into squares like brownies.
Note: Great for buffets. These spinach squares freeze well. You can use as many or as few as you need. Simply reheat at 325 degrees for about 12 minutes. Alternatively, you can reheat in a microwave oven on a paper plate for JUST A FEW MINUTES.
CABBAGE-ONION-SWEET
PEPPER MEDLEY
Recipe from
Southern Living All-Time Favorites
1/2 small sweet red pepper
1/2 small sweet yellow pepper
1/2 small green pepper
2 slices bacon
1 onion, chopped
2 cups shredded cabbage
3 tablespoons white vinegar
1 tablespoon vegetable oil
1 tablespoon water
1-1/2 teaspoons brown sugar
1-1/2 teaspoons Dijon mustard
1/2 teaspoon salt
1/2 teaspoon pepper
Cut peppers into 2-inch long thin strips; cut bacon into 1-inch pieces.
Cook bacon in a large skillet until crisp. Add pepper strips, onion, and cabbage, tossing gently.
Combine vinegar and remaining six ingredients in a jar; cover tightly, and shake vigorously. Add to vegetable mixture in skillet, stirring gently.
Bring to a boil; cover, reduce heat, and simmer eight minutes or until cabbage is tender, stirring occasionally. Serve immediately.
Makes 3 servings.
ZUCCHINI DONATONE
Recipe from Cooking With
Foliage La Sertoma of Apopka
1 pound can Italian peeled tomatoes
1 6-ounce can tomato paste
1 tablespoon finely chopped onion
1 teaspoon celery salt
1 teaspoon sugar
1 teaspoon garlic salt
1 small jar pimento, chopped
1 green pepper, finely chopped
2 pounds zucchini
1 bay leaf
1 cup Italian bread crumbs
2 slices of Mozzarella cheese
Chop tomatoes and combine with the next nine ingredients. Simmer slowly for 1 hour. This may be done the day before and refrigerated. Wash zucchini, but do not peel. Cut into half-inch thick slices. Saute for 5 minutes in melted butter laced with garlic salt, turning once.
Drain and put into a 1-quart casserole. Remove bay leaf from sauce and pour over zucchini.
Evenly sprinkle Italian bread crumbs over top, placing slices of Mozzarella cheese over the crumbs. Bake in a 400-degree preheated oven for 30 minutes. Makes 8 servings.
LILLIAN CLEGHORN'S
GRAPE SALAD
Recipe from Northside
Baptist Church cookbook
8 ounces cream cheese
8 ounces sour cream
1 cup sugar
4 pounds grapes, washed and dried (Be careful pulling grapes from stems. Do not peel them, as they will get soft overnight.)
Mix cream cheese, sour cream and sugar until very creamy. Fold in grapes. Chill.
Topping:
1 cup toasted pecans, chopped
1/2 cup brown sugar
Mix and sprinkle over grapes just before serving. Put into long serving dish.
MARIE TRIVENTO'S
EASY GINGERBREAD
Recipe from Apopka Citizen
Police Alumni Association's
Sharing Our Finest Cookbook
1-1/2 cups flour
1 teaspoon soda
1-1/4 teaspoon ginger
1-1/4 teaspoon cinnamon
1/2 cup shortening
1/2 cup brown sugar, packed
1 egg beaten
1/2 cup molasses
1/2 cup cold tea
Sift together flour, soda and spices. Cream shortening and brown sugar until well mixed. Beat in egg and molasses. Add alternately to creamed mixture the tea and flour. Mix well. Pour batter into greased 9-inch square pan. Bake in 350-degree oven for 30 minutes. Serve hot with whipped cream, ice cream or applesauce. Makes 6 servings.