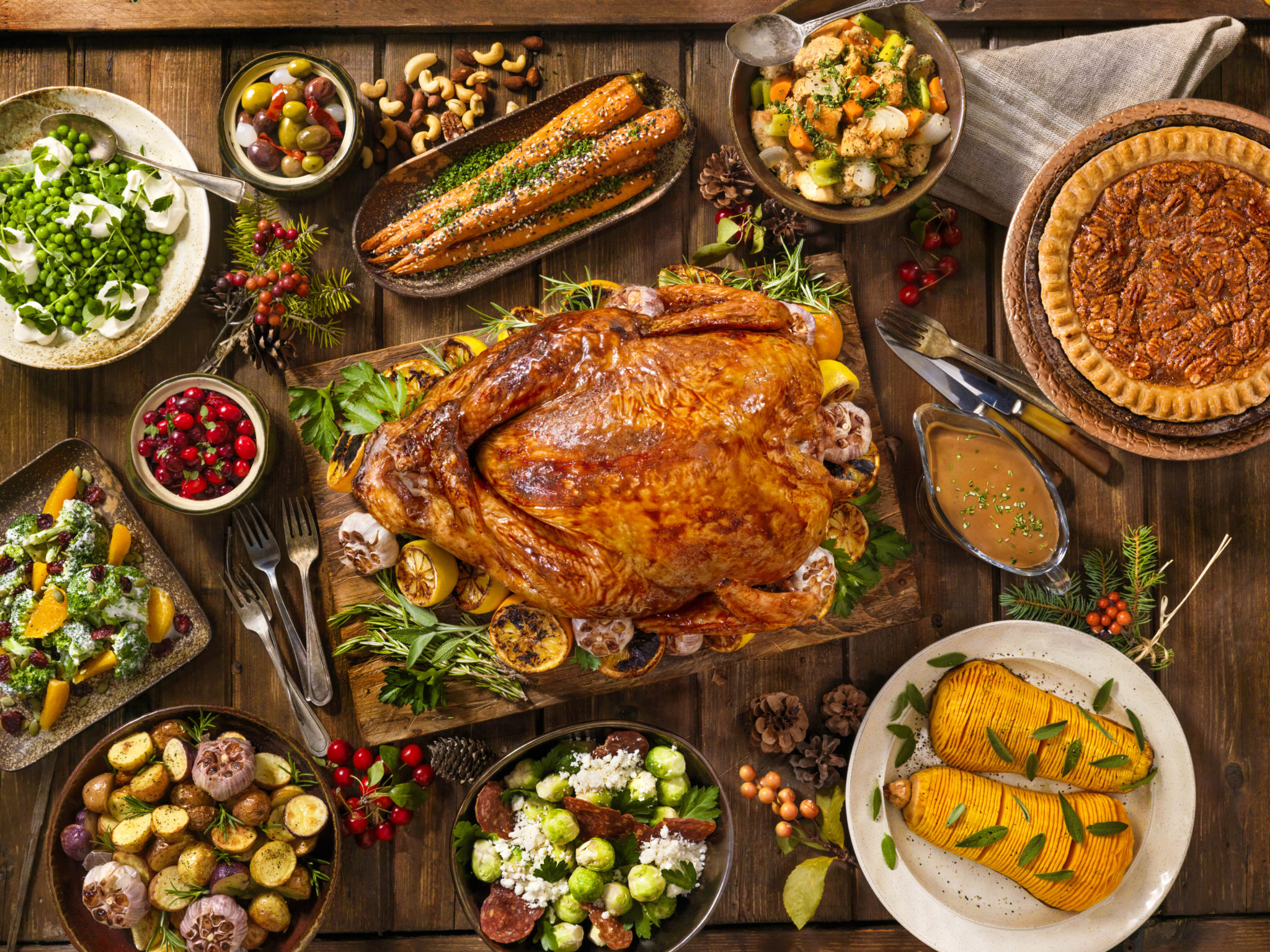 We hope all our wonderful readers will have a blessed Thanksgiving. And, as I loosen my belt a little bit… uggghh. That feels much better.
We have Sweet Potato, Applesauce and Ham Scallop from Miz Belle Gilliam. This is a recipe, or "receipt" as Miz Belle would say, that you might want to use now for some of those wonderful Thanksgiving leftovers. This recipe is from The Apopka Historical Society's Preserving the Big Potato, to which that wonderful lady lent her wealth of talents and her boundless love.
From our friends in Punta Gorda, First Presbyterian Church's A Taste of Heaven, we have Alex Blair's Chicken Alexander. It looks quite simple, has a few lovely ingredients, and uses thawed chicken breasts.
Garden Stuffed Baked Potatoes from The Apopka Historical Society's Preserving the Big Potato is twice cooked, first in the microwave and next in the oven. From the description, this dish is worth the effort.
Caesar Salad from Savannah Style will be a welcome break from all that rich Thanksgiving food!
Our friends at the Apopka Citizen Police Alumni Association have published a cookbook, Sharing Our Finest Cookbook, from which we pull many of our favorite recipes. Earl Coell's Cheese Biscuits is one we haven't printed before. It looks great and quite easy, too.
From The New York Times NEW Natural Foods Cookbook, by Jean Hewitt, we have Apple Spice Cookies. I can almost smell the spicy baking cookies just from the description! When I make these cookies, I think I will try apples in the food processor instead of grating them.
BELLE GILLIAM'S
SWEET POTATO, APPLESAUCE, AND HAM SCALLOP
Recipe from
Apopka Historical Society's
Preserving the Big Potato –
A Collection of Potato Recipes
4 medium sweet potatoes
2 cups canned applesauce
1/4 cup brown sugar
1/2 teaspoon ground nutmeg
1-1/4 pound ham slice
Pare sweet potatoes; halve lengthwise. Combine applesauce, sugar and 1/2 teaspoon nutmeg. Arrange in casserole alternating layers of sweet potatoes and applesauce mixture. Place ham slices on top. Cover and bake at 350 degrees for 1 hour or until sweet potatoes and ham are tender.
About 20 minutes before casserole is done, make a topping for the ham by combining:
1 teaspoon dry mustard
3 tablespoons brown sugar
1/2 teaspoon ground nutmeg
3 tablespoons vinegar
Spread topping over casserole and continue baking for 20 more minutes.
Yield: 4 to 6 servings.
ALEX BLAIR'S
CHICKEN ALEXANDER
Recipe from First Presbyterian Church of Punta Gorda,
A Taste of Heaven
2 frozen chicken breasts, thawed
2 tablespoons lemon juice
1/4 cup green sweet pepper, diced
1/4 cup red sweet pepper, diced
1/4 cup yellow sweet pepper, diced
Salt
Pepper
Cayenne
Olive oil
Cheese, grated finely
Marinate chicken in lemon juice and water. A few hours before cooking, damp-dry chicken breasts, coat lightly with olive oil. Sprinkle with salt, pepper and cayenne. Refrigerate. Cut peppers in tiny pieces, stir to mix colors, and place in microwave for 2 minutes to soften. Set aside. Heat oven to 350 degrees and have ready when chicken is cooked. Cook chicken on grill. Place cooked chicken in sprayed oven pan.
Top with the peppers and sprinkle liberally with grated cheese. Bake uncovered until cheese has melted. Serve with rice and vegetables. Serves two.
GARDEN STUFFED
BAKED POTATOES
Recipe from
Apopka Historical Society's
Preserving the Big Potato –
A Collection of Potato Recipes
4 russet potatoes
2 tablespoons butter or margarine
1 small onion, chopped
1 10-ounce package frozen chopped broccoli, thawed, drained
1/2 cup ranch salad dressing
1 tablespoon vegetable oil
2 teaspoon dried parsley, optional
Salt and pepper
Preheat oven to 425 degrees. Microwave pierced potatoes on high for 12 minutes; bake for 15 minutes. Slice off potato tops. Scoop out pulp keeping skins intact. Mash pulp in a bowl.
Heat a small skillet over medium heat. Add butter. Add onion and sauté until tender, about 5 minutes. Add onion, broccoli and salad dressing to potato pulp. Mix well.
Brush outside of potato skin shells with oil. Spoon potato mixture into shells, dividing evenly. Place on a baking sheet. Bake potatoes until heated through, about 15 minutes. Sprinkle with parsley, salt and pepper to taste.
NOTE: Rubbing the outside of the potatoes with oil before baking will help them absorb more heat and allows the potatoes to cook more quickly, reducing cooking time by a few minutes. It also makes the skins crisp and nicely brown.
CAESAR SALAD
Recipe from Savannah Style,
a Cookbook by The Junior League
of Savannah, Inc.
Romaine salad greens
1 clove garlic, minced
Generous amount salt and pepper
Pinch of thyme and oregano
2 teaspoons lemon juice
1 tablespoon German mustard
1/2 tablespoons steak sauce
1/2 tablespoon Worcestershire sauce
1 egg
6 tablespoons olive oil
1 tablespoon wine vinegar
1/2 cup Parmesan cheese, grated
1 cup croutons
1 ounce anchovies
Rinse lettuce and dry leaves well. Mix next 10 ingredients; pour over lettuce and toss. Top with Parmesan cheese, croutons and anchovies.
EARL COELL'S CHEESE BISCUITS
Recipe from Apopka Citizen Police Alumni Association,
Sharing Our Finest Cookbook
1/2 cup self-rising flour
1/4 pound grated cheese
1/4 pound butter
Salt to taste
3 tablespoons ice water
Mix quickly. Roll thin. Cut with cookie cutter. Bake at 500 degrees for 10 minutes.
APPLE SPICE COOKIES
THE NEW YORK TIMES NEW
NATURAL FOODS COOKBOOK
Copyright 1982 by Jean Hewitt
1-3/4 cups whole wheat flour
1 cup quick rolled oats
1/2 teaspoon baking powder
1/2 teaspoon baking soda
1/4 teaspoon salt
1/2 teaspoon ground cinnamon
1/2 teaspoon ground cloves
1/2 cup butter, softened
3/4 cup honey
1 teaspoon pure vanilla extract
2 eggs
1-3/4 cups grated unpeeled eating apples (6 or 7 medium)
1/2 cup raisins
1/2 cup snipped pitted dates
1/2 cup chopped walnuts
Preheat the oven to 350 degrees. Mix the flour, oats, baking powder, baking soda, salt, and spices in a large bowl. Cream the butter and honey until well blended. Beat in the vanilla and eggs. Stir in the apples and dry ingredients. Add the raisins, dates, and nuts. Drop by teaspoons 2 inches apart onto oiled baking sheets. Bake for 12 to 15 minutes, or until well browned. Remove to racks to cool. Yield: 3-1/2 to 4 dozen cookies.