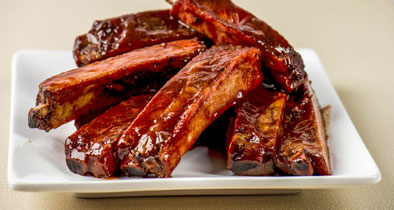 Our editor's wife's mom gifted Savannah Style to us. This is a wonderful cookbook published by The Junior League of Savannah, Inc. We found Sauteed Chicken Livers that they say to serve over toast points. I won't poke fun at their recommendations to serve over toast points (this is a pretty old cookbook), however, I will probably go with RICE! I'll take the chance I will be labeled a country bumpkin! I love rice, it is easy to fix and delicious. And rice will probably guarantee I won't blow away with the first stiff breeze that comes along… which is one of my constant fears, don'tcha know!
We have a recipe for oven-roasted spare ribs found in Charleston Receipts, submitted by the wife (Elizabeth Cauthen) of Frank B. Gilbreth Junior, the son of Frank Senior, a main character in the book, "Cheaper by the Dozen." This is a hilarious and heart-warming story about a family with twelve children. As an adult, Frank Junior was an editorial writer for the Post and Courier in Charleston, SC, with the nom de plume of Ashley Cooper. Frank Junior and his sister Ernestine wrote this wonderful book that was released in 1948 and later made into a movie. I was captivated by my mother's copy and read it several times as a child and again as an adult. If you haven't read it, do yourself a favor and find it at the library or on the internet. My daughter, who had dropped my copy in a mud puddle as a kid, found one at Salvation Army store and bought it for me.
We have Anne Paxson's Mushroom Soup Oriental from Cooking with Foliage La Sertoma of Apopka for you. We thank the ladies of the Sertoma Club for their lovely recipes.
Jeanne Heckman's Sausage Biscuits is terrific for partying game watchers or brunch. This is a simple mix of sausage, Bisquick and cheese to put together, roll up in little balls, and bake for a very tasty treat. These are more little baked balls than biscuits.
From Savannah Style, try the black bean soup. They instruct us to "use only a wooden spoon for stirring." I don't know why and have tried looking it up. Does anyone out there reading this know why they say to "use only a wooden spoon for stirring"?
Mrs. Clanton shares her Best Ever Pie in Plains Pot Pourri, copyrighted 1977 by the community of Plains, Georgia. Most of the ingredients are probably already in your kitchen. This is a one-crust pie.
Barbara Hatch's recipe for Creamy Blue Cheese Dressing yields a wonderfully rich dressing. It doesn't skimp on the blue cheese.
SAVANNAH STYLE'S
SAUTEED CHICKEN LIVERS
Recipe from Charleston Receipts, America's Oldest Junior League
Cookbook in Print,
a Cookbook by The Junior League of Charleston, Inc.
1/2 pound chicken livers
1 cup flour
1/8 teaspoon pepper
1 small onion, finely chopped
4 tablespoons butter
1 cup fresh mushrooms, sliced
Juice of 1 lemon
1/4 teaspoon salt
1/4 cup red wine
Toast points
1 tablespoon fresh parsley, chopped
Roll chicken livers in peppered flour. Saute livers with onion in butter (5 minutes maximum). Add mushrooms, lemon juice and salt. Stir in the wine and serve on toast points. Garnish each serving with chopped parsley.
MRS. FRANK B. GILBRETH JR's 'CHEAPER BY THE DOZEN'
SPARE RIBS
Recipe from Charleston Receipts, America's Oldest Junior League
Cookbook in Print,
a Cookbook by The Junior League of Charleston, Inc.
3 or 4 pounds spare ribs
2 onions (sliced)
2 teaspoons vinegar
2 teaspoons Worcestershire sauce
1 teaspoon salt
1 teaspoon paprika
1/2 teaspoon red pepper
1/2 teaspoon black pepper
1 teaspoon chili powder
3/4 cup catsup
3/4 cup water
Select meaty spare ribs. Cut into servings or leave uncut. Sprinkle with salt and pepper. Place in roaster and cover with onions. Combine remaining ingredients and pour over meat. Cover and bake in moderate oven (350 degrees) about 1-1/2 hours. Baste occasionally, turning spare ribs once or twice. Remove cover last 15 minutes to brown ribs. Serves 6.
ANNE PAXSON'S
MUSHROOM SOUP ORIENTAL
Recipe from Cooking with
Foliage La Sertoma of Apopka
1/2 pound fresh mushrooms, or… 1 can (6 to 8 ounces) sliced mushrooms
2 cans (10-1/2 ounces each) condensed beef broth
2 soup cans water
3 tablespoons domestic soy sauce
1 cup diagonally sliced celery
1 cup thinly sliced carrots
1/2 cup sliced onion rings
1 package (10 ounce) frozen leaf spinach, thawed
Rinse, pat dry and slice fresh mushrooms or drain canned mushrooms. Set aside. In a large saucepan, bring broth, water and soy sauce to boiling point. Add celery, carrots and onions. Reduce heat; cover and simmer for 5 minutes. Add spinach and reserved mushrooms. Return to boiling point. Reduce heat; cover and simmer for 5 minutes or until vegetables are crisp-tender. Yield: 8 portions.
JEANNE HECKMAN'S
SAUSAGE BISCUITS
Recipe from Apopka Citizen Police Alumni Association,
Sharing Our Finest Cookbook
8 to 10 ounces sharp cheese, grated
1 pound hot bulk pork sausage
2 cups Bisquick
1 teaspoon sage
1 teaspoon Maggi seasoning (a liquid seasoning)
1 teaspoon poultry seasoning
Dash of Tabasco
Combine all ingredients. Mix with your hands. Shape into small balls. Bake at 400 degrees in ungreased pan until done (10 to 15 minutes). These biscuits can be frozen before and after baking to use as needed.
BLACK BEAN SOUP
Recipe from Savannah Style, a
Cookbook by The Junior League
of Savannah, Inc.
1 pound black beans
2 tablespoons olive oil
1 medium ripe tomato
1 bay leaf
1/2 medium onion
1/2 medium green pepper
1 garlic clove, unpeeled and crushed
…
1/2 cup olive oil
1/2 medium onion, chopped
1/2 green pepper, chopped
1 garlic clove, minced
1 level teaspoon crushed oregano
1/4 teaspoon cumin
2 tablespoons wine vinegar
1 tablespoon salt
…
1/2 teaspoon hot sauce
2 tablespoons dry sherry
Wash beans and discard imperfect ones. Place in a deep bowl and cover with water 2 inches above beans. Soak overnight.
Next day, pour beans into a 3 to 4 quart kettle with the same soaking water. If necessary, add more water so that beans will be covered one inch above. Add to the beans: 2 tablespoons olive oil, whole tomato, bay leaf, 1/2 onion, 1/2 green pepper, crushed garlic clove. Bring to a boil, then lower heat to moderate, cover and cook until beans are tender, about 1 hour. Use only a wooden spoon for stirring. Remove the bay leaf and what is left of the half onion, tomato, pepper and garlic.
In a skillet, heat 1/2 cup olive oil and sauté the chopped onion and green pepper until transparent. Add the garlic, crushed oregano, cumin, wine vinegar and salt. Stir to mix well and cook 2 minutes longer, then add to beans. Stir in hot sauce, cover and cook for a good half hour. Correct seasonings, and add sherry. Serve hot with cooked long grain white rice and raw chopped onions.
MRS. RALPH CLANTON'S
BEST EVER PIE
Recipe from Food Favorites of Plains, Georgia Plains Pot Pourri
1 partially baked 8-inch pie shell
2 eggs, separated
1 cup sugar
1 teaspoon cloves
1 teaspoon cinnamon
1/2 cup pecan halves
1/2 cup seedless raisins
1 tablespoon melted butter
1 tablespoon vinegar
Beat egg yolks until light and thick. Add one cup sugar gradually which has been sifted with cinnamon and cloves. Add pecans, raisins, and melted butter.
Beat egg whites until stiff but not dry.
Fold gently into egg yolk mixture (do not beat). As you fold in, add 1 tablespoon vinegar.
Bake in pie shell at 450 degrees for 10 minutes. Reduce heat to 350 degrees and bake for 25 minutes. The crust and top should be nicely browned. Cool and serve with unsweetened whipped cream. Serves six.
BARBARA HATCH'S
CREAMY BLUE CHEESE DRESSING
Recipe from New Vision
Community Church's
Feeding the Flock
1 pound crumbled blue cheese
2 cups mayonnaise
1 teaspoon finely chopped parsley
1/2 teaspoon black pepper
1/3 cup white wine vinegar
Beat half of the blue cheese with electric mixer to remove lumps. Add other ingredients and beat together well until thick, smooth and creamy. Stir in remainder of cheese. Refrigerate; serve cold as dressing or as vegetable dip. Can be refrigerated for up to two weeks.