Healthy hearts is our theme for this week's Kitchen Kapers. It's all about veggie recipes for healthier hearts, rather than our usual annual Valentine's Day columns' sweet treats.
Focusing on foods for healthier hearts is not a totally unrealistic goal, not really as impossible as it might at first seem, despite our currently being so surrounded by irresistibly luscious heart-shaped cookies and other traditional Valentine's Day sugary concoctions this time every year.
We could start out on Saturday, February 14, with a nutritionally balanced big breakfast and then close out that Valentine's Day evening with an equally healthful supper.
Somewhere in between those mega-healthful meals, as some famous historical figure a long time ago ruled with her now historically famous quote, "Let them eat cake!" or maybe it will be our Valentine's Day pie or heart-shaped sweetly iced colorful red-and-white-frosted cookies or other holiday-inspired sweet treats which strike our fancy as our preferred Valentine's Day Specials.
To make that plan work, all this week's Kitchen Kapers recipes are good healthful foods we might want to fill our plates and ourselves with, health-sustaining foods before enjoying all our delicious distractions like the usual red heart-shaped boxes of Valentine's Day chocolates and our own other home-cooked celebrative sweet holiday desserts and sweet snacks.
Enjoy the all-healthful veggie recipes below and have a very happy Valentine's Day 2015!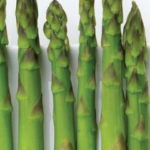 HABITAT FOR HUMANITY'S 
EASY ELEGANT ASPARAGUS
Recipe from Habitat For Humanity's Simple Decent Cooking
1 pound fresh asparagus, trimmed
1-1/2 tablespoons pine nuts
2 tablespoons melted butter
1 tablespoon balsamic vinegar
Salt and pepper, amounts to your taste
Rinse asparagus and discard tough ends. Steam or cook the asparagus, covered, in a small amount of boiling water in a steamer or saucepan
for 3-6 minutes or until tender crisp. Drain.
Spread pine nuts in single layer on baking sheet. Toast at 350 degrees for 5 minutes. Whisk butter and balsamic vinegar in bowl until blended. Arrange asparagus on serving platter. Drizzle with butter mixture. Sprinkle with pine nuts. Serve immediately with salt and pepper.
TRUDY SHEPPARD'S 
CARROT CASSEROLE
Recipe from Episcopal Church of the Holy Spirit's 
Let's See What's Cookin'
6 cups cooked carrots, mashed
1-1/2 cups butter
9 eggs, beaten well
3 teaspoons baking powder
Pinch of salt
3 cups sugar
9 tablespoons flour
Dash of cinnamon
Mix together the mashed carrots, salt, sugar, baking powder, cinnamon, flour and sugar. Add well-beaten eggs. Mix well. Place mixture in 9- by 13-inch baking dish. Bake for 45 minutes at 400 degrees and then reduce heat to 350 degrees and cook for an additional 30 minutes. Test with a knife for doneness. Recipe serves 8-10.
ALLISON CHASE'S 
BROCCOLI-STUFFED SHELLS
Recipe from 
New Vision Community Church's Feeding The Flock
1 tablespoon olive oil
2 cups low-sodium tomato sauce
20 large pasta shells
1 large head broccoli, cut into small pieces
1 cup reduced-fat ricotta cheese
2 tablespoons chopped fresh basil or 1 teaspoon dried basil
1/2 cup grated low-fat mozzarella cheese
Salt and ground pepper, amounts to your taste
Preheat oven to 350 degrees. Lightly grease 9- by 13-inch baking pan with olive oil. Coat bottom of pan with about 1/4-inch of tomato sauce.
In large pot of salted water, boil pasta shells according to directions on package, until almost tender. Drain off that water and then add cold water to the pot. Let shells sit in cold water until ready to stuff them.
For the stuffing, steam the broccoli until tender, for about 5-8 minutes, then plunge it into cold water; then drain. Place cooked broccoli in food processor along with the ricotta, basil, salt and pepper. Puree until smooth.
Remove each shell from pot, then gently drain off any remaining water and spoon in generous portion of filling.
Place stuffed shells in baking pan and pour remaining tomato sauce over them. Sprinkle with grated Mozzarella and bake, uncovered, for about 30 minutes. Recipe yields four to six servings.
EARLYNE WOODWARD'S 
SPICY FIVE-BEAN 
VEGETARIAN CHILI
Recipe from Episcopal Church of the Holy Spirit's 
Favorites for all Seasons
2 teaspoons olive oil
2 medium yellow onions, chopped
5 cloves garlic, pressed
1 red and 1 yellow bell pepper, chopped
12 ounces lentils
16 ounces frozen black-eyed peas
3 tablespoons chili powder
2 teaspoons oregano
1/2 teaspoon cumin
1/4 teaspoon white pepper
1/4 teaspoon black pepper
28 ounces crushed tomatoes
84 ounces water
1 (16-ounce) can black beans, drained
1 (16-ounces) can garbanzo beans, drained
1 (16-ounces) can dark red kidney beans, drained
1/2 teaspoon salt
In large kettle, heat the olive oil over medium heat. Add onions,
garlic and red and yellow peppers. Cook, stirring occasionally, for 8-10 minutes, until vegetables are soft and fragrant.
While the vegetables are cooking, pour the dry lentils into a colander
and rinse thoroughly. Add lentils and black-eyed peas to the kettle. Add all remaining ingredients. Bring to a
boil and reduce heat to a simmer.
Cook for 30-40 minutes, stirring occasionally.
Flavor improves if made a day in advance. Recipe makes 16 servings.
THELMA WOODRING'S 
PEA SALAD
Recipe from 
Calvary Church of the Nazarene's 
A Harvest of Recipes
10 ounces frozen peas
1 cup diced celery
1 cup cauliflower, chopped into florets
1/4 cup diced green onion
2 tablespoons chopped pimentos
1/4 cup crisp bacon, crumbled
1/2 cup sour cream
1 cup buttermilk ranch dressing
1/2 teaspoon Dijon mustard
1 small clove garlic, minced
Rinse peas in hot water. Combine vegetables, bacon and sour cream. Mix dressing, mustard and garlic together. Pour mixture over salad. Toss gently, then chill the salad.
CHRIS RUCKER'S AND 
JAN HOFFMAN'S 
SPINACH FALAFEL
Recipe from 
The Seventh Day Diet
1 bunch of fresh spinach, washed and stemmed, freshly chopped
1/2 cup chopped black olives
1/2 cucumber (peeled only if waxed), chopped
1/2 green bell pepper, cored, seeded and chopped
1 bunch green onions, chopped
1/2 cup chopped fresh mushrooms
1/2 cup cooked garbanzo beans
2 cups chopped tomatoes
1 cup chopped avocado
Cashonnaise*
Salt (amount to your taste)
Whole wheat pita breads
Alfalfa sprouts for garnish
Lightly mix together all ingredients except pita bread and sprouts, using enough Cashonnaise to moisten. Stuff mixture into pita pockets and garnish with alfalfa sprouts. (Recipe fills four to six pita pockets.)
*Cashonnaise is a healthful mayonnaise substitute sold at health food stores.
Kitchen Kapers can be found every Friday in The Apopka Chief and every Thursday in The Planter.