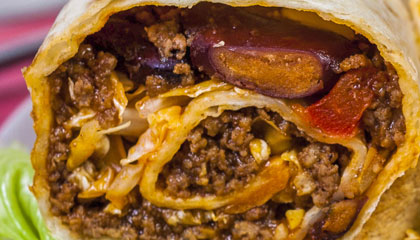 As many local recipes as can fit into this Kitchen Kapers space is this week's goal as always, all from our Apopka area local cookbooks.
No specific theme this time, just a pleasant quick trip through as many of those cookbooks as can fit into this space seeing what looks good and interesting this week.
As always, this column's first interest is to again express a huge thanks to all the hard-working folks who worked so diligently years ago to collect such an abundance of recipes from so many local kitchens and, then, to dedicate so much time and diligence to creating so many so very beautiful cookbooks. Volunteers came from this town's abundance of local churches, schools, clubs, other community groups, and a lot of local homes, to work together on this huge Apopka project.
"Feeding The Flock," created by the Mary & Martha Ministry at New Vision Community Church in the year 1998, is this week's starting point.
Meanwhile we'll see how many more great local recipes from as many as possible of these community culinary treasures, our Apopka area's community cookbooks, can be fit into this column space for this week in May.
For nearly two decades now, this wonderful gift to the community of so many local cookbooks has been providing local home chefs with recipes from the heart of Apopka and that's something to treasure.
Keep on enjoying the recipes, this week starting off with a traditional New Year's favorite food, Hoppin' John, here at nearly halfway already through 2016, just as a reminder of how fast time flies, so we should make it a point to enjoy every minute of it we can while it lasts.
Let's enjoy some good foods along the way, starting with some of your Apopka-area neighbors' best and favorite recipes from a few of our so many local cookbooks!
EVELYN FLUSCHBEIN'S HOPPING JOHN SQUARES
Recipe from New Vision Community Church's 
Feeding The Flock
1/2 cup chopped green pepper
1 tablespoon finely chopped onion
2 tablespoons margarine
2 tablespoons flour
3/4 teaspoons chili powder
1/4 teaspoon ground cumin
1-1/4 cups milk
2 eggs, beaten
1 cup shredded Cheddar cheese, divided
1 (15-ounce) can black-eyed peas, rinsed and drained
1 cup cooked brown rice (instant is OK)
3/4 cup diced cooked ham
Cook the green pepper and the onion in margarine until tender. Stir in flour, chili powder and cumin. Mix well and, then, stir in the milk. Cook and stir until bubbly, then, remove from heat. Stir in remaining 3/4 cup of cheese and all remaining ingredients.
In a greased 8-inch by 8-inch pan or baking dish, bake at 350 degrees for 30 minutes or until heated through. Top with remaining cheese and let stand for five minutes or so before serving. Cut into squares.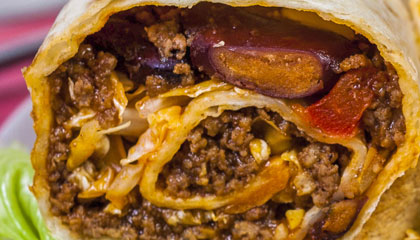 INEZ McDANIEL'S 
CHEESY BURRITOS
Recipe from Grace United Methodist Church's 
Treasured Recipes
1-1/2 pounds lean hamburger, crumbled and cooked
1 large onion, chopped and browned
2 cans green chiles, minced
1 can Campbell's Cheddar cheese soup
Mexican shredded cheese combination
8 flour tortillas
Brown and crumble the meat. Brown the chopped onion and green pepper and add garlic, amount to your taste. Combine and heat everything except the cheese and tortillas. Lay out the tortillas, one at a time, and fill each tortilla with the browned meat, onion and garlic mixture, and roll up the filled tortilla. Pour any of the remaining meat combination on top of the filled and rolled tortillas and spread it. Cover very generously with the shredded cheese. Heat thoroughly. (Heating can be done in microwave if you wish.)
LUCILLE CAMPBELL'S 
BACON POTATO PIE
Recipe from Grace United Methodist Church's 
Treasured Recipes 
8 eggs
1 pound bacon, cooked and cut into one-inch squares
1 medium yellow onion, finely chopped
1 pound potatoes, peeled and grated
1/2 pound Cheddar cheese, grated
Preheat the oven to 350 degrees. Grease a 9-inch by 13-inch shallow baking dish. Beat the eggs in a large bowl and slowly add the other ingredients. Mix well. Pour the mixture into the baking dish and bake for about 45 minutes or until the eggs are cooked. Recipe serves four and may be served hot, warm or at room temperature.
EPISCOPAL CHURCH OF THE HOLY SPIRIT'S APPLE RAISIN BREAD PUDDING
Recipe from 
Let's See What's Cookin'
1 cup (8 ounces) cholesterol-free and fat-free egg substitute
1 cup skim milk
1 cup non-fat vanilla yogurt
1/4 cup packed light-brown sugar
2 tablespoons reduced-fat margarine or spread, melted
1 teaspoon vanilla extract
1/2 teaspoon apple pie spice or pumpkin pie spice 
10 slices cinnamon-raisin bread, cut into half-inch cubes (four cups)
1 pound (3 cups) apples, peeled and finely chopped  
Heat oven to 350 degrees. Lightly grease a 1-1/2 quart baking dish or deep-dish pie plate with non-stick cooking spray. In large bowl, whisk the egg substitute, milk, yogurt, sugar, margarine, vanilla and spice until blended. Stir in bread cubes and apples until evenly distributed and the bread is soaked. Pour into prepared bowl. Bake for 40-45 minutes, until a knife inserted in center comes out clean and the bread pudding's top is lightly browned.
GLADYS CLEMENS' 
QUICK APPLE DESSERT 
IN MICROWAVE
Recipe from Grace United Methodist Church's 
Treasured Recipes
4 large McIntosh apples or any other tart cooking apples, peeled and sliced thin
1/8 teaspoon nutmeg
1/2 teaspoon cinnamon or more if you like
1/4 cup quick cooking rolled oats
1/4 cup packed light brown sugar
1/4 cup raisins (optional)
Pinch of salt
2 tablespoons water
Put all contents in a two-quart microwavable pan in layers mentioned here. Add two tablespoons water and cover pan with its lid or aluminum foil pressed down tightly on the pan. Microwave for four to five minutes, depending on how well done you like the apples and the wattage of the microwave. "This dessert is excellent served warm or at room temperature with Cool Whip, French vanilla ice cream or coffee cream," the cookbook says.
LISA SIMEK'S CHEESE PUFFS
Recipe from Grace United Methodist Church's 
Treasured Recipes
1/4 pound Cheddar cheese, grated
1/4 cup butter
1/2 cup flour
1/8 teaspoon salt
Blend with fingers until smooth. Refrigerate for half an hour. Form into half-inch balls and place on cookie sheet. Refrigerate until serving time. Bake at 350 degrees for 15 minutes.
AMANDA HIGGINS' BAKED PINEAPPLE CASSEROLE
Recipe from Grace United Methodist Church's 
Treasured Recipes
3 eggs, beaten
1/2 cup sugar
3 tablespoons flour
1 (15 ounces) can crushed pineapple with juice
5 slices white bread, crusts removed and bread cut into cubes
1 stick butter
Mix together eggs, sugar and flour, then add pineapple with juice. Stir well and pour into buttered one and a half quart casserole dish. Top with slices of bread. Smooth down a little bit into the liquid. Melt butter and pour over the bread cubes, Cover and bake at 350 degrees for 40 minutes, then uncover and bake for 20 minutes longer.