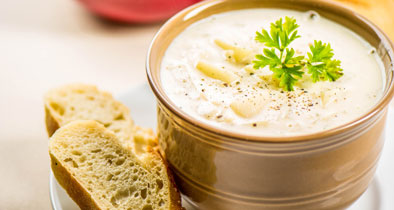 From Greta Howard in Cooking with Foliage La Sertoma of Apopka, we have Chicken Divan. We appreciate the ladies of the La Sertoma of Apopka.
From Field to Feast, we have Zellwood Sweet Corn Chowder. Long & Scott Farms in Zellwood, begun in 1963 by Billy Long and Frank Scott, childhood friends from Virginia, is the location of Scott's Country Market. "You can see the stuff growing as you drive up," says Hank Scott, Frank's son, who is a third generation farmer. Hank manages the farm, the lone holdout from the lucrative north Orange County vegetable farm days. This is their recipe for the most delicious corn chowder you ever put in your mouth.
One of our favorite recipe books is Treasures and Pleasures, put out by First Presbyterian Church of Apopka. Therein we find Catherine Parten's Okra and Tomatoes. While Catherine doesn't suggest this, I would venture a guess that this dish served with rice would be a match made in heaven.
Marie Trivento's Buttermilk Pie looks very interesting. I hate to admit this, but I've never had Buttermilk Pie. Or at least not since I've been an adult and know what I am eating. I plan to rectify this oversight very soon.
This recipe comes to us from Sharing Our Finest Cookbook put out by the Apopka Citizen Police Alumni Association.
We found Mrs. Murray's Dill Pickles in Plains Pot Pourri, put out by our Plains, Georgia, friends who share their lovely recipes with us.
With this hot weather we are having, it is a good time to concentrate on salads.
We have three salads for you: two vegetable salads and one fruit salad. The Seven Fruit Salad is Perry Walker's own from the pages of New Vision Community Church's Feeding the Flock.
Val Smith's Super Salad is from Northside Baptist Church's recipe book. And Nana Morris' Lettuce Salad is from our friend Susan's personal family compilation of recipes and interesting stories titled The Jones-Morris Family Treasury.
GRETA HOWARD'S
CHICKEN DIVAN
Recipe from Cooking with Foliage La Sertoma of Apopka
2 packages chopped broccoli
2 cups cooked chicken, sliced
2 cans cream of chicken soup
1 cup Hellmann's mayonnaise
1/4 teaspoon curry powder (optional)
1 teaspoon lemon juice
1/2 cup cheddar cheese, grated
1/2 cup bread crumbs
1 tablespoon butter, melted
Cook broccoli according to package directions. Arrange broccoli in 9 x 13-inch pan. Place chicken on top. Combine soup, mayonnaise, curry powder, and lemon juice; pour over chicken. Sprinkle with cheese. Combine bread crumbs with 1 tablespoon butter. Sprinkle over cheese. Bake at 350 degrees for 30 minutes. Serves 6.
LONG & SCOTT FARMS'
ZELLWOOD SWEET CORN
CHOWDER
Recipe from Field to Feast
4 slices bacon, finely diced
1/2 cup diced onion
1/2 cup diced red bell pepper
2 cups sweet corn kernels cut from cob, cobs reserved
3 tablespoons flour
3 cups chicken or vegetable stock
1 cup medium-diced russet potatoes
1 cup heavy cream
1 tablespoon chopped fresh parsley
Coarse salt and freshly ground black pepper, to taste
1. Cook bacon in a large saucepan over medium-high heat until crisp. Add onion, peppers, and corn, stirring for 2 minutes. Add flour, stirring 1 minute.
2. Add stock and stir until smooth. Bring to a boil and add potatoes and corncobs. Simmer 25 to 30 minutes, or until soup reaches desired consistency.
3. Add cream and simmer 2 minutes. Season with parsley, salt, and pepper. Remove corncobs before serving.
CATHERINE PARTEN'S
OKRA AND TOMATOES
Recipe from First Presbyterian Church of Apopka,
Treasures and Pleasures
1 15-ounce can tomato sauce
1/2 pound smoked sausage, sliced
1 16-ounce can tomatoes, undrained
1 large bag frozen okra
1 large onion, chopped
Zatarain's Creole seasoning, to taste
Put all ingredients in saucepan and pour in 1-1/2 to 2 cups of water. Stir and cook until done.
MARIE TRIVENTO'S
BUTTERMILK PIE
Recipe from Apopka Citizen Police Alumni Association's
Sharing Our Finest Cookbook
1-3/4 cup sugar
1/4 cup flour
1/2 cup buttermilk
1/2 cup butter, melted
3 eggs
2 tablespoons lemon juice
1 teaspoon vanilla
Pinch of salt
1 pie shell (9-inch, unbaked)
Combine all ingredients in the order given. Mix well and pour into pie shell. Bake at 350 degrees for 1 hour or until brown. Filling is set when a tight crust forms on top. Serves 8.
MRS. WAYNE MURRAY'S
DILL PICKLES
Recipe from Food Favorites of Plains, Georgia Plains Pot Pourri
Directions:
Into each jar, put:
1 head of dill… or … 2 teaspoons dill seed
1 slice of onion
2 teaspoons mustard seed
1 clove of garlic
1 pod of hot pepper
Bring to a boil:
3 quarts water
1 quart vinegar
1 cup salt
Pour this mixture over cucumbers. Seal jars. Do not use for 6 weeks.
PERRY WALKER'S
SEVEN-FRUIT SALAD
Recipe from New Vision Community Church's Feeding the Flock
1/2 cup lime juice
1/2 cup water
1/2 cup sugar
2 medium nectarines, thinly sliced
1 large firm banana, thinly sliced
1 pint blueberries
1 pint fresh strawberries, sliced
1-1/2 cup watermelon balls
1 cup green grapes
1 kiwi fruit peeled and chopped
In a bowl, combine lime juice, water and sugar. Stir until sugar is dissolved. Add nectarines and banana, toss to coat. In a 2-1/2 quart glass bowl, combine the remaining fruits. Add nectarine mixture and stir gently. Cover and refrigerate for 1 hour. Serve with a slotted spoon.
VAL SMITH'S SUPER SALAD
Recipe from Northside Baptist Church's cookbook
Spring mix salad greens (Costco) to fill bowl
4 tomatoes, Roma preferred, cut into pieces
6 marinated artichoke hearts, rinsed and cut into pieces
4 large hearts of palm sliced about 1/2-inch thick
1 Haas avocado peeled and cut into pieces
1/2 cup each of red and green sweet peppers, chopped 1/4-inch
1/2 cup Feta cheese, crumbled (optional)
Green and black olives, coarsely chopped
DRESSING:
Olive oil
Balsamic vinegar
Oregano
Rosemary
Garlic powder
Onion powder
Put all dressing ingredients in shaker or jar and shake to combine. Pour over salad and toss to coat greens.
NANA MORRIS'
LETTUCE SALAD
Recipe from
The Jones-Morris Family Treasury
1 head of lettuce, rinsed and dried well, then broken up
2 stalks celery, chopped
1/3 whole green pepper (optional)
4 hard cooked eggs, sliced
2 medium onions sliced thin
6-7 cooked slices bacon (optional)
1 package frozen peas (don't cook)
1/2 cup grated Parmesan cheese
Mayonnaise or salad dressing, amounts to your liking
In a 9 x 13-inch pan or large serving dish make layers as follows:
Line dish, bottom and sides, with half of the lettuce. Add celery, green pepper, onion, egg, and half the bacon (crumbled). Then add remaining lettuce and all of the frozen (separated) peas. "Frost" with mayonnaise or salad dressing over all. Sprinkle cheese over the top and add the rest of the bacon pieces. Cover tightly with plastic wrap. Refrigerate 24 to 48 hours before serving.