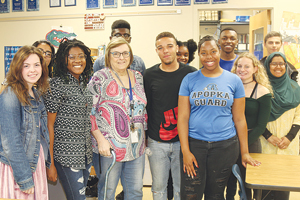 Even though she was in her 30s, longtime Apopka High School teacher Sue Beechum, who will direct her final Apopka High graduation on Friday, May 25, and then retire at school year's end, had a very specific reason for going back to school for a master's degree and changing careers.
"I found out my kid's friends didn't like to read, which I thought was the most appalling thing in the world because my children are voracious readers," Beechum said. "So, I thought, 'OK, I'll take care of this.' My mother always said, 'You've got to take care of the problem.'
"I went back to UCF and got a master's (degree) in English. I decided at the very last minute that, even though I didn't have to by law, I ought to do an internship. I wanted to do it to make sure it was the right decision."
When she began her internship at Apopka High, little did Beechum know at that time that the teacher she was interning for was Apopka High legendary senior class sponsor and senior English teacher Myrtle Hubbard.
An institution at Apopka High, Hubbard, who retired from teaching in 1993 and died in 2015, took Beechum under her wing.
"They sent me out here to be Myrt's intern," Beechum said. "I started off as her intern and at the end of that first semester, they had a teacher leave and shifted a teacher around and made me a spot in the English department and I never left. I've been here forever.
"I am so glad UCF placed me here as an intern because Myrt was the most amazing mentor anyone could have."
Senior Class sponsor
Hubbard must have taught Beechum well because she has continued in the same role as her mentor, teaching senior English and being the Senior Class sponsor at Apopka High, which means, among other duties, she organizes and coordinates the school's graduation ceremony, which will be held this year on Friday, May 25, at the UCF Arena.
"Because I was her intern, she fully expected me to carry on in that role," Beechum said. "I helped her with graduation for all those years. It was fairly seamless, although I called her at the end of the first year when I had done it by myself and said, 'I just have to apologize to you.' She said, 'For what?' I told her, 'I had no idea how much work it was.'"
Coordinating the Apopka High graduation ceremony has changed through the years, especially with the growth of the school and community.
When Beechum began, the graduating seniors at AHS numbered a little below 300. There was a time in the early 2000s when that number tripled as Apopka High was bursting at the seams.
"We were up to 900 (graduates). It was huge," Beechum said.
But the opening of two nearby high schools gave some relief to Apopka High. "When they split to Ocoee and then split to Wekiva, it's kept us now to about 650-750, in that range, for the last few years," she said.
This year's class will have about 675 graduates, Beechum said.
Even though she understands the reason for the change, Beechum said she laments the move of the Apopka High graduation ceremony from the school's football field to arenas in Orlando.
Florida's late May and early June heat, humidity, and propensity for thunderstorms chased the graduation ceremony indoors several years ago.
"That's really the reason we moved to the arenas, but it was so much more personal when the seniors would begin here and end here, and it kept us in town," Beechum said.
The full story appears on page 1A of the Friday, May 18, issue of The Apopka Chief.