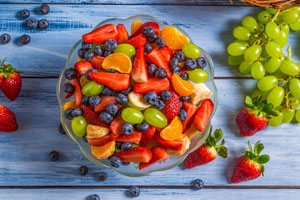 This week, there are many different recipes we have for you. Chicken. Lots of salads, both fruit and vegetable. A marinated mushroom recipe, and a dill pickle recipe.
We start with Jennifer Broussard's Honey Glazed Chicken from Treasures and Pleasures cookbook.
Next is Chicken Cranberry Salad from Paths of Sunshine Cookbook published by Florida Federation of Garden Clubs.
In New Vision Community Church's Feeding the Flock, we found Perry Walker's Seven-Fruit Salad that uses all fresh fruit. Lovely! And nutritious.
We found the pot of gold with Northside Baptist Church's cookbook. We have four recipes from these wonderful folks who really know their way around the kitchen.
First is Carolyn Cartmill's My Favorite Fruit Salad. Next is Jeanne Ustler's 'Johnny Edmonds' Bean Salad'. Margaruite Nowell's Broccoli Salad looks scrumptious! Make it the day before you want to serve it. And Val Smith's Super Salad is teriffic!
We have Marinated Mushrooms from Susan Nethercote, a wonderful friend and long-time reader who has shared her family's The Jones-Morris Family Treasury with us. Prepare the mushrooms the day before and serve them cold as an appetizer.
From Plains, Georgia's Plains Pot Pourri, we have a Dill Pickle recipe for you.
It is so simple and quick. You must try this one, even if you are new to the art of pickling.
JENNIFER BURGUST
BROUSSARD'S
HONEY GLAZED CHICKEN
Recipe from
1990 Presbyterian Women, First Presbyterian Church of Apopka,
Treasures and Pleasures cookbook
1 whole chicken, cut up
1/2 cup butter, melted
1/4 cup mustard
1/2 cup honey
Mix butter, mustard and honey. Pour over chicken in baking dish. Cover and bake at 350 degrees for one hour. Bake uncovered for an additional 15 minutes.
CHICKEN CRANBERRY SALAD
Recipe from Florida Federation of Garden Clubs
Paths of Sunshine Cookbook
3 cups cooked chicken, diced
1-1/2 cups diced celery
2 tablespoons chopped fresh parsley
1 teaspoon salt
1/2 teaspoon fresh ground pepper
1/2 cup heavy cream
1 cup mayonnaise
2 tablespoons fresh lemon juice
1/2 cup almonds, toasted
1 envelope unflavored gelatin
1/4  cup cold water
1/4 cup hot water
Topping:
1 (8 ounce) can jellied cranberry sauce
1 (3 ounce) package lemon gelatin
3/4 cup boiling water
1 (6 ounce) can frozen orange juice
Grease 8- or 9-inch square pan with mayonnaise. Combine chicken, celery, parsley, salt, pepper, cream, mayonnaise, lemon juice and almonds in large mixing bowl. Refrigerate for one hour. Combine gelatin with cold water and let stand for five minutes. Add hot water; stir to dissolve gelatin. Add to chicken mixture. Press into prepared pan and refrigerate until set. Beat cranberry sauce in small bowl with electric mixer at high speed until fluffy. Dissolve lemon gelatin in boiling water in large bowl. Add orange juice and combine with cranberry sauce; mix well. Pour over chicken mixture. Refrigerate until set. Cut into squares and serve on lettuce leaves. Preparation time: 25 minutes. Chilling time: 6 to 8 hours, divided. Serves 6 to 8.
PERRY WALKER'S
SEVEN-FRUIT SALAD
Recipe from
New Vision Community Church's
Feeding the Flock
1/2 cup lime juice
1/2 cup water
1/2 cup sugar
2 medium nectarines, thinly sliced
1 large firm banana, thinly sliced
1 pint blueberries
1 pint fresh strawberries, sliced
1-1/2 cup watermelon balls
1 cup green grapes
1 kiwi fruit peeled and chopped
In a bowl, combine lime juice, water and sugar. Stir until sugar is dissolved. Add nectarines and banana, toss to coat. In a 2-1/2 quart glass bowl, combine the remaining fruits. Add nectarine mixture and stir gently. Cover and refrigerate for 1 hour. Serve with a slotted spoon.
CAROLYN CARTMILL'S
MY FAVORITE FRUIT SALAD
Recipe from Northside Baptist
Church's cookbook
1 can Mandarin Oranges, drained
1 can Pineapple Chunks, drained (reserve juice)
1 can Fruit Cocktail, drained
Fresh Green Grapes cut into
halves
2 to 3 bananas
1 small package Vanilla Pudding (not instant – see directions below)
1-1/2 cups saved pineapple juice plus enough orange juice to make 1-1/2 cups
Cook pudding in juice over medium heat until thickened. Cool. Fold into well-drained fruit. Chill.
This is nice on lettuce with nut bread for luncheons.
JEANNE USTLER'S
'JOHNNY EDMONDS BEAN SALAD'
Recipe from Northside Baptist Church's cookbook
1 can French-cut green beans, drained
1 can small green peas, drained
1 can white corn, drained
1 can light red kidney beans, drained
1 small can black olives, drained
1 cup chopped celery
3/4 cup chopped onion
1 cup chopped green pepper
Mix the following in a pot and bring to a boil:
1 teaspoon salt
1 teaspoon pepper
1 tablespoon water
1/2 cup vegetable oil
3/4 cup white vinegar
1 cup sugar
Mix with vegetables and marinate overnight in refrigerator.
MARGARUITE NOWELL'S
BROCCOLI SALAD
Recipe from Northside Baptist
Church's cookbook
1 large bunch broccoli florets
1 cup raisins
1 cup celery
2 cups grapes, cut in half
1 cup almonds, slivered
1 cup sunflower seeds
1 small red onion
3 or 4 slices bacon, cooked, crumbled
Dressing for broccoli salad:
1 cup mayonnaise
1/2 cup white sugar
1 teaspoon balsamic vinegar
Mix all salad ingredients together. Put in crumbled bacon. Pour salad dressing in and toss. Refrigerate 24 hours.
VAL SMITH'S SUPER SALAD
Recipe from Northside Baptist Church's cookbook
Spring mix salad greens (Costco) to fill bowl
4 tomatoes, Roma preferred, cut into pieces
6 marinated artichoke hearts, rinsed and cut into pieces
4 large hearts of palm sliced about 1/2-inch thick
1 Haas avocado peeled and cut into pieces
1/2 cup each of red and green sweet peppers, chopped 1/4-inch
1/2 cup Feta cheese, crumbled (optional)
Green and black olives, coarsely chopped
DRESSING:
Olive oil
Balsamic vinegar
Oregano
Rosemary
Garlic powder
Onion powder
Put all dressing ingredients in shaker or jar and shake to combine. Pour over salad and toss to coat greens.
SUSAN NETHERCOTE'S
MARINATED MUSHROOMS
Recipe from
The Jones-Morris Family Treasury
8 ounce package fresh mushrooms
1 cup oil (not Crisco)
1/3 cup vinegar
1 teaspoon salt
1/2 teaspoon each: pepper, garlic powder, oregano, basil and parsley
2 teaspoons sugar
Wash and slice fresh mushrooms. Put mushrooms in container or food saver with tight cover. Mix all other ingredients together. Pour over mushrooms. Cover and refrigerate. Stir or turn upside-down every few hours and marinate at least 12 hours for best flavor. Serve cold. Best used as appetizer with other hors d'oeuvres.
MRS. WAYNE MURRAY'S
DILL PICKLES
Recipe from Food Favorites of Plains, Georgia Plains Pot Pourri
Directions:
Into each jar, put:
1 head of dill… or … 2 teaspoons dill seed
1 slice of onion
2 teaspoons mustard seed
1 clove of garlic
1 pod of hot pepper
Bring to a boil:
3 quarts water
1 quart vinegar
1 cup salt
Pour this mixture over cucumbers. Seal jars. Do not use for 6 weeks.