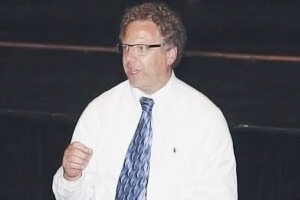 As a former math teacher, Lyle Heinz, the new Apopka High School principal, said he likes to look at the numbers in determining how the students are performing in the classroom, but that those numbers can be driven by relationships formed between school administrators and teachers, and the students.
"We are data driven. I am data driven. I was a math teacher. I like data. I like to look at numbers and see how the kids are performing," Heinz said. "I like to see how they're behaving and you always want to see those numbers improve."
Heinz, who served as an assistant principal at Apopka High for three years until spending the past two years at Windermere High School, said bringing those numbers up, however, must be done by faculty members getting to know the students and investing in their lives.
"The numbers improve by building relationships and getting that pride in the school. When they get there, they want to do well because they're at Apopka High School. I think when you build those relationships with the kids and with the staff, you get that feel to make it grow," said Heinz, who began his time as AHS principal on Wednesday, June 13.
Most often, Apopka High has been given a 'B' grade by the Florida Department of Education based on test scores and other data. It has also landed 'C' grades and was an 'A' school for one year.
"I was there when we hung the 'A' on the side of the building. To be an 'A' school is a big deal in Florida. For high schools, it's hard to do," Heinz said. "Ultimately, that's my goal. As the principal of any school, that should be the goal as well as a graduation rate of 100 percent. Right now, we're a little below 90 (percent). We've got to get it up there. Get as many kids across that stage and get them ready for life."
Heinz, 43, said getting students to be motivated to attend school is key to getting them to do well in their studies.
"We have to get them to want to be there and once you get them to want to be there and make it interesting, they'll perform. They're bright kids. We've just got to get them in the right situation," he said.
That right situation means evaluating members of the staff at Apopka High.
"That's coming in, looking at the staff, who's teaching what, who's where, who's responsible for what tasks, and make sure we're putting the people in the right places for them to be successful, not just the students," Heinz said.
"I think the specifics for me right off the bat are just looking at the data. I'm going to go back to that relationship. I think there is a pride in Apopka, but they have to have that pride in leadership and pride in the staff for it to work."
The full story appears on page 1A of the Friday, June 15, issue of The Apopka Chief.