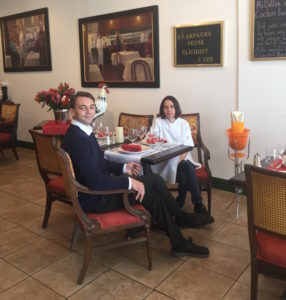 Have you ever wanted to travel to a far away place and immerse yourself in the culture?
There is no better way to experience a new culture than to enjoy some of the area's finest dining experiences.
To make the most of your experience, you would want to visit local food markets, gourmet shops, and quaint cafes during your stay. However, an adventure such as this can cause your finances to take a major hit.
If you are looking to experience a true French experience, there is no need to book an expensive flight or get your passport in order. Located between Apopka and Wekiva Springs, Le Sucré et Salé restaurant will offer you a real immersion in the French gastronome.
With over 15 years of experience at the head of the gastronomic restaurant "La Cascade" located near Lyon, France, the owners earned the French certification "master restaurateur" for more than 10 years. Recently, the owners relocated to the United States and opened their newest restaurant right here in Apopka.
If you are looking for authentic French cuisine, Le Sucré et Salé is in line with the French traditional way of cooking. Every dish is made from carefully selected, high quality fresh products and ingredients, prepared in-house and cooked to perfection. The chef has over 15 years of family experience in the French cookery.
You will find, of course, mountain touches, since the owners initially come from the Haute-Savoie area in the Alps. Haute-Savoie dishes are a reflection of Alpine cuisine; meals designed to fuel a long day on the slopes.
These dishes were originally defined by the village's isolated location, making supplies of fresh fruit and vegetables near impossible in the olden days. And so the locals learned to produce foods that could be sourced locally and stored easily, based around rustically robust ingredients such as their artisan cheeses, and locally reared meats.
The menu at Le Sucré et Salé, however, is not limited to this area of cuisine. You will also experience other gourmet French recipes, traditional and authentic from various other parts of their country, that will delight your palette.
On the dinner menu, you will find a wide variety of soups, salads, and appetizers. One of the signature dishes that can be enjoyed at Le Sucré et Salé is Fricassée de poulet fermier comme à la Cascade. This legendary recipe comes from the owners' flagship restaurant in France: "La Cascade."
This dish consists of delicate chicken breasts prepared with white wine, shallots, mushrooms, and light Béchamel sauce. Béchamel sauce is also known as white sauce and has been considered, since the seventeenth century, one of the mother sauces of French cuisine.
You will find yourself returning again and again to Le Sucré et Salé as there are so many magnificent dishes to experience, such as the Filet mignon de porc fermier Dijonnaise. This dish consists of tantalizing pork tenderloin served with a blend of two mustards, wine, cream, and a hint of honey.
And if you have room for a little more, you are invited to discover the entirely homemade dessert menu, which includes rum baba, vacherins, crème brulée and more.
For lighter fare, you will want to experience their lunch menu, which consists of succulent crepes, mouthwatering soups, and salads.
Le Sucré et Salé is located at 2171 E. Semoran Boulevard in the Wekiva Riverwalk Plaza. You may make reservations by calling 407-703-9371.
For more information, visit their website at www.frenchsucresale.com.
Advertisement