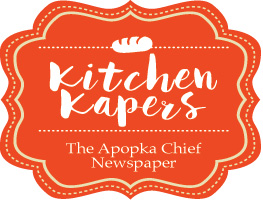 It would seem two cookbooks with identical titles might cause confusion. That rarely if ever happens here, likely due to differences in various aspects of our many local community books.
It's such a nice double pleasure whenever we do get a pair of Apopka cookbooks sharing the same name, especially when it is a very meaningful name, which is certainly the case for the local cookbooks providing this week's recipes.
Feeding The Flock was the very appropriate church cookbook name chosen by both First United Methodist Church of Apopka and the Mary and Martha Women's Ministry at New Vision Community Church in the Plymouth area.
Taste & See that the Lord is Good is the cookbook title coincidentally shared by the Women of the Holy Spirit Episcopal Church's and the
First Baptist Church of Apopka's cookbooks.
Enjoy the recipes below from those four local churches' cookbooks
with only two cookbook titles among them.
These recipes contributors and so very many other churches and other local community groups have been keeping us all well provided with Apopka-area local home chefs' best and favorite recipes for decades. That is very much appreciated. Enjoy their good home-cooking recipes below.
SANDY CHANNELL'S
EASY MASHED POTATO BAKE
Recipe from First Baptist Church of Apopka's Taste & See
5 or 6 potatoes, boiled or baked
1 tablespoon sugar
1/2 cup milk
1 tablespoon flour
1 tablespoon butter
Salt and pepper, amount to your taste
Combine potatoes, sugar, milk, flour, butter, salt and pepper. Bake at 400 degrees until brown.
CHARLEEN BAKER'S
LINGUINE WITH ZUCCHINI AND CHICK PEAS
Recipe from Holy Spirit Episcopal Church's Taste & See
12 ounces linguine
2 tablespoons olive oil
3 small zucchini, cut in half moons
1/2 teaspoon salt
1 (15-ounces) can chickpeas
2 cloves garlic
1/4 teaspoon red pepper, crushed
1/2 cup Parmesan cheese
Cook pasta as package directs. Reserve half cup of pasta water. Drain pasta and return to pot. Heat the oil in skillet over medium heat. Add zucchini and half-teaspoon salt. Cook, tossing often, for four to five minutes, until tender. Add chickpeas, garlic and red pepper. Cook two to three minutes until heated. Toss pasta with reserved pasta water and add one-fourth cup Parmesan. Divide pasta among bowls and top with zucchini mixture and remaining one-forth cup Parmesan. Recipe yields four servings.
BARBI EBERLE'S
GRANDMA DOROTHY'S
SUMMER MACARONI SALAD
Recipe from First United Methodist Church's Feeding The Flock
1 box of macaroni (rainbow, twists or bows, etc.)
2 tomatoes, chopped after scooping out seeds
1 peeled cucumber, chopped into bite-size pieces after scooping out seeds
1 small Spanish yellow onion, chopped in food processor
1 small can sliced black olives
Sauce:
1 cup white vinegar
3/4 cup white sugar
1/2 teaspoon garlic powder
1/2 teaspoon garlic salt
Dash of salt and pepper
1/4 cup canola oil
Cook macaroni as directed on box and cool in large Tupperware bowl in refrigerator for at least 30 minutes, then add chopped tomatoes, cucumber, onion and olives after cooling the cooked macaroni.
For the sauce, stir into small pot the white vinegar, sugar, garlic powder, garlic salt, salt and pepper. Bring to a boil. Remove from heat and cool for 30 minutes. Stir canola oil into cooled ingredients and pour over chilled macaroni salad. Chill in refrigerator until needed. Can be made two to three hours before needed.
ALLISON CHASE'S POTATO PIE
Recipe from New Vision Community Church's Feeding The Flock
3 large baking potatoes, peeled and thinly sliced
1 prepared nine-inch pie crust
3/4 cup grated Swiss, Gruyere, Cheddar or Parmesan cheese
1 large egg
1-1/2 cups low-fat milk
1 tablespoon chopped fresh (or 1 teaspoon dried) thyme or basil
Salt and ground pepper (amounts to your taste)
Preheat oven to 350 degrees. Layer the potatoes in the crust, sprinkling with cheese between layers. Mix in a bowl the egg, milk, thyme, salt and pepper. Pour egg mixture over the potatoes and cheese and bake for 45-60 minutes or until potatoes are tender and golden brown. Recipe yields four to six servings.
MAYA COFFEY'S
DELICIOUS BROCCOLI
From New Vision Community Church's Feeding The Flock
2 packages Jiffy corn meal mix
1 (8-ounce) container cottage cheese
1 (16-ounce) package broccoli
1 cup chopped onions
3 eggs
1 stick margarine
Melt margarine in 13- by 9-in. pan. Mix remaining ingredients and pour over margarine. Bake at 350 degrees for 35-45 minutes.
ANN WILSON'S CARROT BREAD
Recipe from Holy Spirit Episcopal Church's Taste & See
2 cups flour
1 teaspoon salt
1 teaspoon baking soda
1-1/2 teaspoons cinnamon
3 eggs, beaten
2 cups granulated sugar
1 cup vegetable oil
1 cup grated carrot
1 (8-ounce) cup crushed pineapple
2 teaspoons vanilla
1 cup pecans, finely chopped
Combine dry ingredients and set aside. In large bowl, mix the eggs, sugar and oil. Combine the egg mixture with the carrot and crushed pineapple with juice and the vanilla. Stir the dry ingredients and the nuts into the batter and mix well.
Bake at 350 degrees for 1 hour, 10 minutes. Recipe yields two nine-inch loaves.
CHURCH COOKBOOK COMMITTEE'S
HUNTSVILLE HUSH PUPPIES
From First United Methodist's Feeding The Flock
2 cups corn meal
1 tablespoon flour
1/2 teaspoon baking soda
1 teaspoon baking powder
1 teaspoon salt
3 tablespoons minced onion
1 cup buttermilk
1 egg, beaten
Combine dry ingredients and add onion. Add milk, then egg. Drop by spoonsful into pan or kettle in which fish is being fried. Fry to golden brown. If deep kettle is being used, hush puppies will float when done.
NUTTY BUDDY YAM BAKE
Recipe from First Baptist Church of Apopka's Taste & See
3 large yams or three pounds canned yams
1 cup milk
1 egg
1/2 stick butter or margarine
1/2 teaspoon nutmeg
1/2 teaspoon allspice
1/2 teaspoon cinnamon
1/3/4 cup light brown sugar
Boil, peel and mash yams. (If using canned yams, drain and mash them.) Mix in butter, milk, egg, brown sugar and seasonings. Smooth out in medium baking dish. Mix topping ingredients, except butter, in a separate bowl. Sprinkle on top of yams and dot with butter.
Bake at 350 degrees for 30 minutes or until topping looks brown and crunchy.