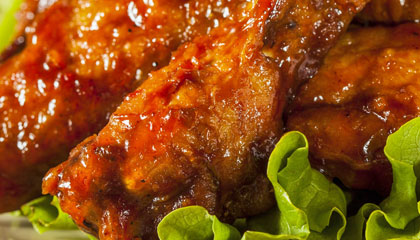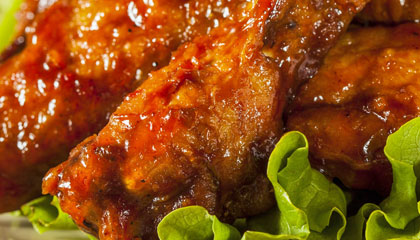 We can thank Connie Polanshek, one of our readers (sister of, actually), for a chicken recipe that has a hint of Hawaii! She uses coconut and pineapple and some vegetables in the cooking of it and serves it over hot rice. It sounds delicious.
Abby Jo Land contributed her Meat Loaf I recipe to the Treasures and Pleasures cookbook years ago. Is there anything better than good old-fashioned meat loaf? Served up with mashed potatoes? Oh my goodness! I'll bet this recipe is as good today as it was when she first served it up.
There is another meat loaf recipe from reader Amanda Thomas-Henke, twice removed (from Apopka to to NJ to Atlanta!), who shares a meat loaf recipe she found on Food.com. She has made a couple of changes to it but attributes it to Nita Holleman, its originator, from Food.com. And for you hunters out there, this meat loaf recipe can be adapted for venison or other game meat. It is explained in the instructions below exactly how to make delicious meat loaf from venison or other game.
Lorraine Setliff is treating us to a lovely asparagus dish, oven roasted, of course, so it is healthy as well as delicious. She contributed this recipe to New Vision Community Church's Feeding the Flock cookbook, and we are taking full advantage of it!
We have a recipe for Super Bread from Mary Lee Herro whose recipe we found in the Apopka Citizen Police Alumni's Sharing Our Finest Cookbook. Using a couple loaves of frozen bread, we end up with a panful of hot delicious bread. It's as if we mixed it up in our own kitchen, threw a little garlic and Parmesan on top, baked it and served it up hot and smelling great. Yummm!
Northside Baptist Church is contributing mightily to our Kitchen Kapers column this week with three recipes from their cookbook.
First, we have Val Smith's Super Salad, which seems as if it could be a meal in itself! It uses avocado, hearts of palm and artichokes along with Feta cheese and olives. And she tells you how to make a homemade dressing for the salad.
Then we have Doris Conduff's Taco Dip. This dip combines ground beef and refried beans with salsa. It seems to be quick and easy, served up hot, and just right for company or other celebration. Or maybe an evening's treat for the family? (Where are my chips?)
And last, Louise Ustler is delighting us with her Swedish Cake. (I wish. I would love some!) She uses pineapple and pecans and has a cream cheese icing on top. Thank you, Ma'am!
Please email your recipes to: news@theapopkachief.com or mail them to The Apopka Chief, P.O. Box 880, Apopka, 32704-0880. And send us not only your recipes but ideas for future recipe columns as well.
CONNIE POLANSHEK'S 
HAWAIIAN CHICKEN
Recipe from Reader of The Apopka Chief and The Planter newspapers
1 broiler size chicken, quartered… OR… 4 boneless chicken breasts
1 onion, diced
1 garlic clove
1 can pineapple chunks
3 tablespoons light soy sauce
1 bay leaf
1/2 cup coconut
1 cup water
2 tablespoons cornstarch
1/4 cup cold water
1 diced green pepper
1/2 cup diced celery
2 medium tomatoes peeled and cut up
Rice
Fry chicken in small amount of oil. Remove from pan. Add onion and garlic. Fry until cooked. Drain syrup from pineapple chunks. Add syrup to onion and garlic. Return chicken to pan. Add soy sauce, bay leaf, coconut and water. Cook 30 minutes.
Mix cornstarch with 1/4 cup water. Stir quickly into chicken mixture. Finally, stir in pineapple chunks and vegetables. Simmer 10 minutes.
Serve over rice.
ABBY JO LAND'S MEAT LOAF I
Recipe from 1990 Presbyterian Women First Presbyterian Church of Apopka
Treasures and Pleasures
2 pounds ground beef
2 stalks celery, chopped
1 medium onion, chopped
A little chopped parsley
1/2 cup melted margarine
1 cup (plus) whole wheat bread crumbs
1 scant cup milk ('scant' means 1 to 2 tablespoons less than a full cup)
3 eggs, well beaten
Salt and pepper to taste
1 tablespoon Worcestershire sauce
1 small can chopped mushrooms (optional)
Mix together thoroughly. Place in greased loaf pan. Bake at 350 degrees for 1-1/2 hours. Serves 8. Good hot or cold. Makes good sandwiches.
Recipe submitted by 
AMANDA THOMAS-HENKE,
Reader of The Apopka Chief and The Planter newspapers
Originally from 
NITA HOLLEMAN of Food.com
Meat loaf:
1-1/2 pounds ground beef OR ground shoulder roast OR venison or other game meat… 
see below for game meat loaf instructions
1 slice bread, broken or chopped finely
1 egg
1 small Vidalia onion or sweet onion, chopped finely
1 teaspoon table salt
1/4 teaspoon black pepper
4 tablespoons ketchup
1/2 to 2/3 cup whole milk OR Half & Half
Sauce:
4 tablespoons apple cider vinegar
2 to 4 tablespoons dark brown sugar, packed firm (or amount to taste)
1/2 cup ketchup
Sauce instructions:
Combine meat loaf ingredients and place into a loaf baking dish. Smooth out top.
Combine sauce ingredients and pour on top and sides of meat loaf.
Bake at 350 degrees about one hour to an hour and 15 minutes or until done. Nita Holleman, the originator from Food.com, says the addition of 1 or 2 teaspoons of Kitchen Bouquet makes this recipe very good. Recipe should be 'plump' from the addition of the milk or Half & Half. It should not be runny.
If you are using game meat such as deer, which is a very dry meat, it is wise to add some fat to the deer meat. For instance: for one pound of ground venison, add about 1/2 pound of deer sausage for the fat content. Otherwise, your results will be poor for lack of fat.
Preparation time for the meat loaf is 20 minutes, baking takes one hour or a little more.
Amanda, the contributor of the recipe, says she adds some garlic to hers and sautés the sweet onion and garlic prior to mixing it into the meat loaf. Her family loves it.
LORRAINE SETLIFF'S 
OVEN ROASTED ASPARAGUS, 
Recipe from 
New Vision Community Church's,
Feeding the Flock cookbook
1 large bunch asparagus, trimmed
2 tablespoons olive oil
1/2 teaspoon salt
Freshly ground pepper to your taste
1/4 cup Parmesan cheese, shredded (optional)
Heat oven to 400 degrees. Toss asparagus with olive oil in a shallow baking dish. Roast asparagus, turning once, until crisp-tender and slightly browned, about ten minutes. Sprinkle with freshly shredded Parmesan cheese, if desired.
MARY LEE HERRO'S SUPER BREAD
Recipe from Apopka Citizen Police Alumni Association's
Sharing Our Finest Cookbook
2 loaves frozen bread, 1 white and 1 wheat
6 tablespoons butter
3 garlic cloves, crushed
3/4 cup Parmesan cheese
3 tablespoons dry parsley
Thaw bread. Cut each loaf into thirds. Twist into 16-inch to 24-inch twists. Wrap all twists inside a greased Bundt pan. Let bread rise. Mix remaining ingredients. Spread over raised bread. Bake at 400 degrees for 20 minutes.
VAL SMITH'S SUPER SALAD
Recipe from Northside Baptist Church
Spring mix salad greens (Costco) to fill bowl
4 tomatoes, Roma preferred, cut into pieces.
6 marinated artichoke hearts, rinsed and cut into pieces
4 large hearts of palm sliced about 1/2-inch thick
1 Haas avocado peeled and cut into pieces
1/2 cup each of red and green sweet peppers, chopped 1/4-inch 
1/2 cup Feta cheese, crumbled (optional)
green and black olives, coarsely chopped
Dressing:
Olive oil
Balsamic vinegar
Oregano
Rosemary
Garlic powder
Onion powder
Put all dressing ingredients in shaker or jar and shake to combine. Pour over salad and toss to coat greens.
DORIS CONDUFF'S TACO DIP
Recipe from Northside Baptist Church
1 package Taco seasoning mix
1 pound ground beef, browned and drained
1 15-ounce can refried beans
3/4 can salsa
1 8-ounce package shredded cheddar cheese
Layer meat and seasonings on bottom of baking dish. Layer beans and salsa next with cheese on top. Bake at 350 degrees until cheese is melted throughout. Serve warm with chips.
LOUISE USTLER'S SWEDISH CAKE
Recipe from Northside Baptist Church
2 cups sugar
2 eggs
20 ounces pineapple crushed, undrained
2 teaspoons baking soda
2 cups all-purpose flour
1 teaspoon vanilla
1 teaspoon rum extract
1/2 cup pecans
Combine all ingredients in bowl and hand mix. Spray 13-inch x 9-inch pan with Pam. Pour in batter. Bake 350 degrees for 30 to 35 minutes. Cool.
Icing:
8 ounces cream cheese, soft
1/2 stick butter, soft
1-3/4 cups powdered sugar
1 teaspoon rum extract
1/2 cup pecans
Combine all ingredients except nuts in a bowl and mix until creamy. Add nuts. Spread on completely cooled cake.