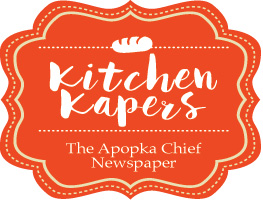 Learning about community groups who compiled and published the Apopka area's large collection of local cookbooks is as much a joy as trying out area residents' favorite recipes.
The Old Timers Athletic Association is one of the most interesting cookbook creators. There's plenty of fascinating local history to learn as well as good cooking secrets in that local group's cookbook, the Old Timers Athletic Association's Best Recipes.
That cookbook's third page tells the group's story via its Articles of Organization of Old Timers Athletic Association, which describes the group as a Florida unincorporated non-profit organization.
"The assembling and formation of this unincorporated non-profit group of former athletes, managers, coaches, umpires, sponsors and supporters of athletics, culminated at the funeral of the late Freddy Chance in November 1985, with the following being present: Champ Williams, Walter Hudson, Jimmy Isbell, Kenny Hicks, Billy Hicks, Rex Williams, Sherman Byrd, Hugh Hendrix and John Barrington.
"The name of this unincorporated non-profit group shall be as indicated in the title of this instrument and shall hereinafter be referred to as the Association.
"The purpose and objectives for which the Association is organized are the following: To celebrate, transmit, enhance and perpetuate to present and future generations the history and honor of good clean athletic programs within the Greater Orlando area, to provide occasions for re-experiencing the sheer enjoyment of past achievements and to continue the warm and friendly fellowship that has existed and been cherished over the years, to assist in every way possible the City of Orlando Recreation Department's officials and leadership in the expansion and enjoyment of their various athletic programs, to support a variety of other than athletic programs that will enhance the Association's image in the community, to establish and maintain a repository, library or museum to hold, protect and preserve the priceless memorabilia within the Association."
Enjoy these Old Timers Athletic Association members' favorite recipes below. Next week's Kitchen Kapers will provide a few more of this Apopka-area community cookbook's recipes and some information about the cookbook committee who created this excellent Apopka community cookbook project.
DIANE BROWN'S BANANA/PEANUT SALAD
4 tablespoons cornstarch
2 cups evaporated milk
1 cup sugar
2 tablespoons lemon juice
1/2 of a small jar marshmallow cream
2 cups or so of Cool Whip
Sliced bananas
Spanish peanuts
Put cornstarch in evaporated milk and stir to mix. Add sugar and start mixture cooking on medium heat. Add lemon juice and cook until thick. Stir in half of a small jar of marshmallow cream and cook until thick.
Cool mixture to room temperature, very important. Fold in Cool Whip. In large glass bowl, make layers of mixture between layers of sliced bananas and Spanish peanuts.
IRIS WILLIAMS' OLIVE NUT SPREAD
1 three-ounce package cream cheese
1/4 cup chopped ripe olives
1/4 cup chopped walnuts
2 tablespoons milk
Mix all ingredients until blended. Serve on crackers.
BETTY BROOME'S DOE'S OLD-FASHIONED HOE CAKES
1 cup self-rising meal
1/4 cup self-rising flour
Buttermilk (amount as needed for thin mix)
Add enough buttermilk to make a thin mixture. Stir well. Have the frying pan hot and add enough cooking oil to prevent from sticking. Make small cakes or large cakes, but be sure to spoon the mixture into pan as very thin cakes. Fry on one side and then turn to brown on other side as you would a pancake. This is best eaten with butter while still hot.
The story on pancakes: The cookbook's footnote to this recipe explains that "True or false, it is said that many years ago farm workers carried cornmeal to the fields along with a hoe and drinking water.
"They built a fire, then added a little water to the corn meal. The hoe was heated over the fire and a cake of the mixture was placed on the hoe to cook a hot meal. They are much better today when fried in a well-greased hot skillet or frying pan."
NINA MOFFET'S MOIST CORNBREAD
1 cup cornmeal
3 teaspoons baking powder
1 cup creamed corn
2 eggs
1 teaspoon salt
1 cup sour cream
1/2 cup corn oil
Mix ingredients. Bake until brown on top. Cornbread can be reheated and served next day.
DIANE BROWN'S HAWAIIAN BANANA NUT BREAD
3 cups flour
1 teaspoon baking soda
1 teaspoon cinnamon
2 cups sugar
1 teaspoon salt
1 cup chopped nuts
3 beaten eggs
2 cups mashed bananas
8 ounces crushed pineapple, drained
1-1/2 cups oil
2 teaspoons vanilla
Combine flour, baking soda, cinnamon, sugar and salt. Add chopped nuts and set aside. Combine eggs, bananas, pineapple, oil and vanilla. Add wet ingredients to dry ingredients and stir batter only until well mixed. Do not beat.
Place batter into two loaf pans, greased and floured. Bake for one hour at 350 degrees. (Test with toothpick for doneness.) Cool bread for 10 minutes before turning out on racks to cool.
MARILYN DIAGOSTINO'S MICROWAVE PEANUT BUTTER FUDGE
1 (12 ounce) jar peanut butter, crunchy or smooth
1 (12 ounce) package chocolate chips
1 can condensed milk
Heat the peanut butter and chocolate chips in microwave for six minutes. Stir until thoroughly melted. (If not melted, return mixture to microwave oven for several minutes.) When chocolate chips are smooth, stir in condensed milk. Blend well. Pour mixture into 8- by 8-in. pan which has been buttered. Set in refrigerator for several hours. "Yummy!" reports the recipe provider in a footnote.
DIANE BROWN'S PEANUT BUTTER CAKE
1/2 cup butter
1-1/3 cups sugar
1/4 cup peanut butter (crunchy or regular)
1 teaspoon vanilla
2 eggs
2 cups flour
2 teaspoons baking powder
1 teaspoon salt
1 cup milk
Cream together the butter and sugar. Beat well, then add the peanut butter, vanilla and eggs. Add to this creamed mixture the flour, baking powder, salt and milk. Pour into greased and floured 9- by 13-in. pan. Bake at 350 degrees for 30 to 35 minutes. (See frosting recipe below for this cake.)
FROSTING FOR PEANUT BUTTER CAKE
1/4 cup butter
1/4 cup peanut butter
1 teaspoon vanilla
1/2 teaspoon salt
2-1/2 cups powdered sugar
2 or 3 tablespoons milk
Cream together the butter and peanut butter. Blend in vanilla and salt. Add powdered sugar and milk. Beat until fluffy. Spread on warm cake. This cake is best served while still warm with tall glass of ice cold milk. "Yummy," this recipe's contributor wrote.