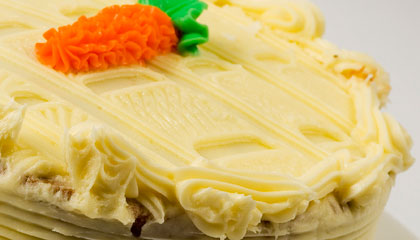 Well, hello all of our Kapers' loyal readers. Please remember to send us your favorite recipes so that we can include them here. Even if they are not already part of a book of recipes put out by one of our local organizations, we would love it if you would share an especially favored recipe, maybe an old family recipe that has been handed down for generations.
JAN WILLIAMS' 
TANGY CHICKEN
Recipe from Food Favorites of Plains, Georgia
Plains Pot Pourri 
1 chicken, cut up
2 teaspoons salt
1/4 cup melted butter
1/4 cup lemon juice
1/4 cup apple cider vinegar
1 teaspoon onion salt
1/2 teaspoon pepper
Mix all ingredients together. Dip chicken into sauce, place in baking dish with skin side up. Pour remaining sauce over chicken. Bake at 350 degrees for one hour.
MRS. MAE HEWETT'S 
GOLDEN GLOW RELISH
Recipe from Food Favorites of Plains, Georgia
Plains Pot Pourri 
2 quarts cucumbers, peeled and seeds removed, then ground
2-1/2 cups ground carrots
1 cup ground red sweet peppers
1-1/2 cups ground green sweet peppers
3 cups apple cider vinegar
1 teaspoon dry mustard
3 cups water
2 teaspoons plain salt
2 cups sugar
1/2 teaspoon turmeric
Grind cucumbers, combine with next four ingredients. Let stand three hours. Drain off brine and discard. Combine remaining ingredients, bring to a boil, simmer 10 minutes. Seal in jars.
MARY FRANCIS MANCUSO'S
NEW POTATOES 
IN SOUR CREAM
Recipe from Apopka Historical Society, Apopka, Florida
Preserving the Big Potato –
A Collection of Potato Recipes
1 cup butter, melted
10 to 12 small red potatoes, scrubbed
8 slices bacon, cooked crisp and crumbled
2 tablespoons snipped chives
Salt and pepper to taste
2/3 cup sour cream
Slice unpeeled potatoes thin and cook in butter over low heat until tender (approximately 15 to 20 minutes), stirring occasionally. Add crumbled bacon, chives, salt, pepper, and sour cream. Heat slowly for one minute. Do not boil or sour cream will curdle.
MARY LEE WELCH'S FUDGE
Recipe from The Apopka Woman's Club, Apopka, Florida
What's Cookin'
3 each 1-ounce squares bitter chocolate
2/3 cup milk
2 cups sugar
1/4 teaspoon salt
1 teaspoon salad oil
2 tablespoons butter
1 teaspoon vanilla
1 cup chopped pecans
Melt chocolate in milk. Add sugar, salt and oil. Cook slowly, stir until sugar dissolves. Bring to boil. Cover and cook three minutes. Uncover and cook until it forms a soft ball when put in water. Stir frequently. Remove from heat, add butter and cool. Add vanilla and beat until it loses its gloss. Add nuts and pour into a buttered 8- or 9-inch square pan.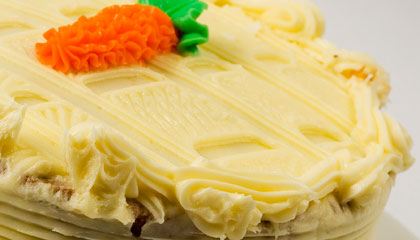 MRS. RANCE FOSTER'S COLONIAL CARROT-PECAN CAKE
Recipe from Food Favorites of Plains, Georgia
Plains Pot Pourri 
1-1/4 cup vegetable oil
2 cups sugar
2 cups flour
2 teaspoons baking powder
3 cups grated carrots
1 teaspoon baking soda
1 teaspoon cinnamon
1 teaspoon salt
4 eggs
1 cup chopped nuts
Combine oil and sugar. Mix well. Sift together remaining dry ingredients. Sift half of the dry ingredients into the oil/sugar mixture. Sift in remaining dry ingredients alternately with eggs, one at a time. Add carrots and mix well. Then mix in pecans. Bake in three greased pans. Bake at 325 degrees for about 25 minutes.
Frosting for Carrot Cake:
1 stick butter or oleo
1 8-ounce package cream cheese
1 cup finely chopped pecans
1 box confectioners sugar
1 teaspoon vanilla extract
Combine butter (or oleo), cream cheese, sugar, vanilla. Add nuts. Spread over cake.
BETTY MOSS' 
MEXICAN CORNBREAD
Recipe from Food Favorites of Plains, Georgia
Plains Pot Pourri 
1 cup cornmeal
1/2 cup evaporated milk
1/2 cup vegetable oil
1 teaspoon baking soda
2 eggs
1 can cream style corn
1/2 to 1 teaspoon salt
1 medium onion
1-1/2 cups cheddar cheese
Mix all ingredients together except for onion and cheese. Place half of this batter in well-greased baking dish. Slice onion and half of the cheese on top of batter. Bake 45 minutes to one hour in 350-degree oven.
EVELYN FLEISCHBEIN'S 
SPEEDY SPINACH SCALLOP
Recipe from New Vision Community Church
Feeding The Flock
2 each 10-ounce packages frozen chopped spinach
1 can cream of mushroom soup
3/4 teaspoon seasoned salt
1 teaspoon minced onion (instant)
1/3 cup milk
1/4 to 1/2 cup grated cheddr cheese (your taste)
Cook spinach as directed for microwave; drain well. Blend soup, salt, onion and milk. Combine with spinach; blend well. Spoon into greased 1-quart casserole dish. Sprinkle with cheese. Bake at 350 degrees for 25 minutes or until bubbly around edges.