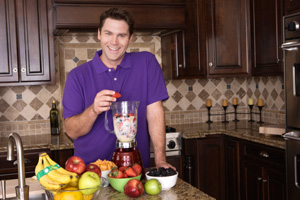 Pat Ariotta's Pot Roast for Crock-Pot is simple. Just get it ready, put everything in the pot, turn it on low, and 10 or 12 hours later, serve it up, hot and delicious. We thank Apopka Citizen Police Alumni Association and their wonderful Sharing Our Finest Cookbook for this recipe.
Apopka Historical Society shares a wonderful recipe for slicing and seasoning potatoes for the broiler. You use butter with this recipe, but you can adjust it if you like to olive oil if you prefer.
Do you have a garden? Or a friend with a garden? Or a farmer's market? And fresh black-eyed peas? We have a great recipe for cooking fresh peas from The Progressive Farmer's SOUTHERN Cookbook… the same wonderful cookbook that Miz Belle Gilliam loaned to us… and that I loved so much I found a couple of used books online (different places) and bought one for myself and one for my daughter!
Carrots with country bacon is a dish your family will love. Use fresh carrots. We thank Southern Living's All-Time Favorites who published this recipe.
Mrs. Hagerson shares her shrimp mold with us in Plains Pot Pourri. You would use cooked shrimp for this appetizer and serve it with crackers.
For a delicious dessert or snack, try Sharon McDonald's fruit dip with fresh fruit from New Vision Community Church's Feeding the Flock.
From The Jones-Morris Family Treasury, Nana Morris shares her recipe for Bran Muffins. This compilation of memories and recipes from family members is a wonderful tradition, and we appreciate Susan, our friend of many years, sharing hers with us. Nana Morris is Susan's mother. You stir up the batter, put it in the fridge overnight, DON'T stir it again, and bake the mixture in muffin tins.
Also from The Jones-Morris Family Treasury, Betty Ann Vakauza (Susan's sister) shares her Blender Pie. It sounds quite interesting and certainly simple.
PAT ARIOTTA'S
POT ROAST FOR CROCK-POT
Recipe from Apopka Citizen Police Alumni Association,
Sharing Our Finest Cookbook
2 or 3 potatoes, pared and sliced
2 or 3 carrots, pared and sliced
1 to 2 onions, peeled and sliced
Salt and pepper to taste
3 to 4 pound brisket, rump or pot roast
1/2 cup water or beef consomme
Put vegetables in bottom of crock-pot. Salt and pepper meat. Place meat in pot on top of vegetables. Add liquid. Cover and cook on low for 10 to 12 hours or high for 4 to 5 hours. Remove meat and vegetables with spatula or wide spoon. Serve hot.
BROILED PARMESAN POTATOES
Recipe from
Apopka Historical Society's
Preserving the Big Potato –
A Collection of Potato Recipes
2 medium potatoes, thinly sliced about 1/4-inch thick
1/4 cup grated Parmesan or Romano cheese
Combine:
2 tablespoons melted butter
1 teaspoon dried crushed basil
1/2 teaspoon paprika
1/4 teaspoon garlic powder
1/8 teaspoon pepper
Place potato slices in a single layer on the unheated rack of a broiler pan. Brush butter mixture over both sides of potato slices,. Broil about 5 inches from the heat for 8 to 9 minutes or till potatoes begin to brown. Turn potatoes and sprinkle with cheese. Broil for 4 to 6 minutes more or till potatoes are tender. Makes 4 servings. 142 calories each.
FRESH BLACK-EYE PEAS
The Progressive Farmer's
SOUTHERN Cookbook
Boiling water as needed to cover peas
1/2 pound smoked meat
1 quart shelled, washed black-eye peas
1 teaspoon salt
1/4 teaspoon black pepper
1/4 teaspoon cayenne pepper
Cover a half-pound thin-sliced smoked meat with boiling water, cover tightly and boil 15 minutes. Add 1 quart shelled, washed black-eye peas, salt, black pepper and cayenne pepper. Add more boiling water to cover. Cover tightly and bring to a boil. Reduce heat and simmer about 1-1/2 hours or until peas are tender and just slightly green tinted. Add seasonings to taste. Yield 10 to 12 servings.
CARROTS WITH
COUNTRY BACON
Recipe from
Southern Living All-Time Favorites
4 thick bacon slices
2 pounds carrots, peeled and diagonally sliced into 1-inch pieces
2 cups water
1/4 cup firmly packed light brown sugar
2 tablespoons butter
2 teaspoons chopped fresh thyme
Cook bacon in a large skillet over medium heat until crisp. Drain, reserving 1 tablespoon drippings in skillet. Crumble bacon, and set aside. Add carrots and next three ingredients to skillet. Bring to a boil. Cook over medium-high heat 30 to 35 minutes or until liquid is reduced to a glaze and carrots are tender. Sprinkle with thyme and reserved bacon.
Makes 6 to 8 servings.
MRS. MILTON HAGERSON'S SHRIMP MOLD
Recipe from Food Favorites
of Plains, Georgia,
PLAINS POT POURRI
2 pounds frozen shrimp, finely chopped
1/2 cup butter
1-1/3 tablespoon onion, grated
2 tablespoons lemon juice
1 tablespoon horseradish
Mix together shrimp and butter. Add onion, lemon juice and horseradish. Mix well and pour into greased mold and chill thoroughly.
SHARON MCDONALD'S FRUIT DIP
Recipe from New Vision
Community Church's
Feeding the Flock
8 ounces cream cheese
1 can condensed milk
1 8-ounce bowl Cool Whip
Finely chopped pecans (optional)
Beat cream cheese until smooth. Beat in condensed milk. Fold in Cool Whip. Serve with fresh fruit.
NANA MORRIS'
REFRIGERATED BRAN MUFFINS
Recipe from The Jones-Morris Family Treasury
1-1/2 cup sugar
1/2 cup shortening
2 eggs
2 cups buttermilk
2-1/2 cups flour
2-1/2 teaspoons baking soda
1/2 teaspoon salt
1 cup boiling water
1 cup 100% Bran Buds
2 cups ALL BRAN
Raisins (optional)
Pour boiling water over Bran Buds. Set aside. Cream sugar and shortening. Add eggs, then buttermilk. Sift dry ingredients and stir in BY HAND. Stir in ALL BRAN and moistened Bran Buds. Stir in raisins as desired. Cover tightly and put in refrigerator overnight. NEVER stir after placing in refrigerator. Spray muffin tins with PAM. Fill with mixture. Bake 20-25 minutes at 400 degrees.
BETTY ANN VAKAUZA'S
BLENDER PIE
Recipe from The Jones-Morris Family Treasury
1/2 cup butter
1/2 cup sugar
1/2 cup Bisquick
1-1/2 cups milk
4 eggs
1 can pie filling (any kind) (1-1/2 cups)
Put all ingredients in blender. Mix. Pour into deep dish pie plate or 8-inch square pan. Bake at 350 degrees for 40 minutes.