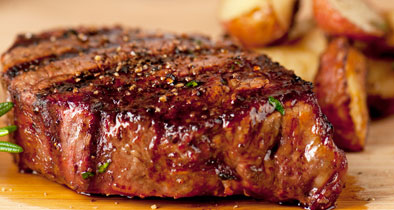 This week, you have your choice of two sirloin steak recipes, both from Paths of Sunshine Cookbook. The first is Harry's Marinated Sirloin Steak that is for cooking on the grill, and the second is simply Sirloin Steak Roast for roasting in the oven. Both recipes look simple, and the ingredients in the marinades should tenderize the meat.
If you like scallops, try Scallop Oriental from Cooking with Foliage La Sertoma of Apopka. The recipe calls for broccoli including florets and stalks. Regarding the broccoli stalks, if you cut off the florets, then peel the stalk with a potato peeler, you have a good bit more of that wonderful vegetable, tender, moist, and tasty, that you might otherwise throw away.
Red-Skinned Potato Chips with olive oil and rosemary sounds divine. This one little potato in the recipe might be an appetizer for one… (me). We thank the Apopka Historical Society for sharing this recipe with us from their Preserving the Big Potato.
Cooking with Foliage La Sertoma of Apopka shares a vegetable dish called Zucchini Donatone. The sauce can be prepared the day before you want to bake it.
Cucumber season is coming soon, so you can be ready with Ann Hlinak's recipe for making Crispy Pickle Slices. This tasty recipe is found in Sharing Our Finest Cookbook, kindly shared by Apopka Citizen Police Alumni Association.
We have Bran Muffins from The New York Times NEW Natural Foods Cookbook, by Jean Hewitt.
HARRY'S
MARINATED SIRLOIN STEAK
Recipe from Florida Federation of Garden Clubs,
Paths of Sunshine Cookbook
2/3 cup soy sauce
Juice of one lemon
1/2 teaspoon black pepper
1/2 teaspoon dry mustard
1/3 cup red wine
1 tablespoon cooking oil
3/4 teaspoon garlic powder
1-1/2 teaspoons flavor enhancer
1-1/2 inch thick sirloin steak
Mix all ingredients. Place sirloin in plastic bag. Pour marinade over sirloin and seal bag. Place on flat surface. Marinate in refrigerator for 2-1/2 to 3 hours, turning every 30 minutes. Remove steak and grill to your taste. Remove from grill and cut into serving portions.
SIRLOIN STEAK ROAST
Recipe from Florida Federation of Garden Clubs,
Paths of Sunshine Cookbook
1 clove garlic
5 to 7 pounds sirloin steak, 4 inches thick, boned and tied
1 cup beef stock
1 cup catsup
1/2 cup steak sauce
1/2 cup Worcestershire sauce
Sliver garlic clove and insert in roast in several places. Sear meat on both sides in roasting pan. Combine remaining ingredients. Pour over roast. Baste the roast several times during cooking in a 375-degree oven for 1 to 1-1/2 hours.
SCALLOP ORIENTAL
Recipe from Cooking with
Foliage La Sertoma of Apopka
1 pound calico or bay scallops, fresh or frozen
2 tablespoons lemon juice
2 tablespoons soy sauce
1/2 teaspoon garlic powder
2 tablespoons vegetable oil
1 cup thinly sliced broccoli (florets and stalks)
1 cup thinly sliced cauliflower
1 cup thinly sliced fresh mushrooms
1/2 cup green onions, cut into 1-inch lengths
1 tablespoon vegetable oil
2-1/2 tablespoon vegetable oil
3/4 cup water
1 teaspoon salt
1/2 teaspoon pepper
3 cups chow mein noodles
Thaw scallops if frozen. Rinse scallops with cold water to remove any remaining pieces of shell particles. Cut large scallops in half. Combine lemon juice, soy sauce and garlic. Pour over scallops. Let marinate while preparing vegetables. In wok, heat oil and add broccoli, cauliflower, mushrooms and green onions. Stir fry 4 minutes at 300 degrees. Remove vegetables to a warm platter. Add remaining tablespoon of oil to wok, if necessary. Drain scallops; reserve marinade. Place scallops in wok. Stir fry for 1 to 2 minutes or until scallops are opaque. Add vegetables to scallops in wok. In a small bowl, combine corn starch with water, salt, pepper and reserved marinade; mix well. Add to scallops and vegetable mixture and stir only until broth is thickened. Serve over chow mein noodles. Makes 4 to 6 servings.
RED-SKINNED POTATO CHIPS WITH ROSEMARY
Recipe from
Apopka Historical Society's
Preserving the Big Potato –
A Collection of Potato Recipes
1 red potato, about 3 ounces
Rosemary to taste
Olive oil cooking spray
Scrub potato, and then pierce several times with fork. Microwave on high for two minutes. Potatoes will still be firm. Slice thinly. Mist with olive oil cooking spray. Spread across grill, overlapping as little as possible. Grill 6-7 minutes. For moister fries, skip microwave. Slice potato a bit thicker, and grill 27-30 minutes.
ZUCCHINI DONATONE
Recipe from Cooking with
Foliage La Sertoma of Apopka
1 pound can Italian peeled tomatoes
1 6-ounce can tomato paste
1 tablespoon finely chopped onion
1 teaspoon celery salt
1 teaspoon sugar
1 teaspoon garlic salt
1 small jar pimento, chopped
1 green pepper, finely chopped
2 pounds zucchini
1 bay leaf
1 cup Italian bread crumbs
2 slices of Mozzarella cheese
Chop tomatoes and combine with the next eight ingredients. Simmer slowly for 1 hour. This may be done the day before and refrigerated. Wash zucchini, but do not peel. Cut into half-inch thick slices. Saute for 5 minutes in melted butter laced with garlic salt, turning once. Drain and put into a 1-quart casserole. Remove bay leaf from sauce and pour over zucchini. Evenly sprinkle Italian bread crumbs over top, placing slices of Mozzarella cheese over the crumbs. Bake in a 400-degree preheated oven for 30 minutes. Makes 8 servings.
ANN HLINAK'S
CRISPY PICKLE SLICES
Recipe from Apopka Citizen Police Alumni Association,
Sharing Our Finest Cookbook
10 medium cucumbers
4 cups vinegar
8 cups sugar
5 tablespoons salt
2 tablespoons pickling spice
Well worth the effort!! Place whole cucumbers in large pot. Use stainless steel, glassware, or unchipped enamel; other metals may react and cause color and taste changes. Cover cucumbers with boiling water. Let stand until following day. Repeat this procedure three more days. On fifth day, slice cucumbers. Combine and boil the vinegar, sugar, salt and spices. Pour over sliced cucumbers. Stir. On sixth day, simply stir cucumbers two or three times. On seventh day, separate cucumbers from liquid; drain liquid into pot. Bring liquid to a boil. Add pickles. Bring to boil. Remove from heat. Bottle. Best to use thin, dark-skinned cucumbers.
BRAN MUFFINS
THE NEW YORK TIMES
NEW NATURAL FOODS
COOKBOOK
Copyright 1982 by Jean Hewitt
1 cup whole bran cereal
2 cups whole wheat flour
1/4 cup non-fat dry milk powder
3 tablespoons baking powder
1/4 teaspoon salt
1 cup milk
1/3 cup honey
1/4 cup vegetable oil
1/2 cup raisins
1. Preheat the oven to 400 degrees. 2. Combine the bran, flour, dry milk, baking powder, and salt in a large bowl. Mix together the milk, honey, and oil and stir into the dry ingredients until just moistened. 3. Stir in the raisins and spoon into well oiled 2-1/2 inch muffin tins until two-thirds full. Bake for 12 minutes or until browned. Cool on a rack. Yield: Eighteen muffins.