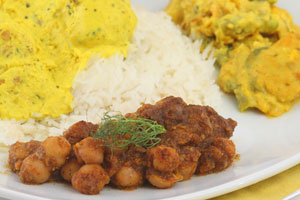 Dimple Sharma, friend of one of our readers, says she has modified this Chicken Masala traditional Indian cuisine recipe a little bit to make it simple for us. And she has promised more Indian cuisine recipes if we would like to have them. I believe the answer to that is, "Yes, please!"
From one of our readers, Nancy Thomas, we have pinto beans. She used ham for flavoring but says a smoked turkey leg would work well.
From the Apopka Woman's Club, we have Vera Lester's Eggplant Casserole. It is wonderful and your family will love it.
Eva Hall's Macaroni Salad from The Apopka Woman's Club's What's Cookin'? looks quite simple and appealing to the palate.
Beer bread is a very simple bread to bake and it is also tasty. We can thank the Jones-Morris Family Treasury, Betty Ann Vakauza specifically, who extols Beryl Harrison for this lovely bread.
Mary Stewart of the Apopka Woman's Club tells us how to make her acclaimed (by me!) Molasses Cookies in What's Cookin'?
DIMPLE SHARMA'S
CHICKEN MASALA
Recipe from Reader of The Apopka Chief and The Planter
1-1/2 pounds chicken, cleaned and washed well
12 to 15 cashews
3 to 4 tomatoes, chopped
2 tablespoons oil
4 onions, finely sliced
Salt to taste
2 small cinnamon sticks and 2 cloves
1 teaspoon ginger and garlic paste
1/2 teaspoon turmeric powder
1 teaspoon red hot pepper powder OR finely chopped green hot pepper
1/2 teaspoon roasted coriander (cilantro) seeds powder (optional)
1/4 teaspoon garam masala powder
1/4 teaspoon black pepper powder
1/2 cup chopped cilantro leaves
Use a blender, add cashews and make a fine powder. Into the cashew powder, add chopped tomatoes and puree them finely. Put aside this cashew-tomato puree to rest.
In large frying pan, heat 2 tablespoons oil. Add sliced onions and cook them until soft. Add salt according to your taste, cinnamon sticks and cloves, mix and cook until the onions turn slightly brown in color. Add ginger garlic paste and sauté for a few minutes to get rid of the raw smell. Add the washed chicken and roast the chicken until the color of the chicken changes. Into the mixture, add turmeric powder, hot red pepper powder OR chopped green hot pepper, coriander (cilantro) seeds powder, and mix well. Roast the chicken by stirring on medium flame for a few minutes. Reduce the flame and cook the chicken for a few minutes until oil starts separating. Into this mixture, add the cashew-tomato puree that you set aside earlier. Mix well. Add garam masala powder, black pepper powder, mix and cook the chicken gravy for a few minutes until oil starts separating on low flame. Garnish it with freshly chopped coriander (cilantro) leaves and enjoy.
Note: This chicken masala recipe is a semi-dry and semi-gravy chicken curry. Enjoy it with rice or naan (which is an oven-baked flatbread). If you feel that the curry is too dry, then add some water to get a gravy and cook for a few minutes by covering it with a lid. Makes 4 servings.
NANCY THOMAS' PINTO BEANS WITH HAM OR TURKEY LEG
Reader of
The Apopka Chief and The Planter
1 pound (half a bag, or 2 cups) dried pinto beans soaked all night, drained, washed, or any dried beans you like.
Use food processor or grater for carrots and potato:
Celery probably three stalks, chopped
A big sweet onion, chopped large
One big red sweet Bell pepper, chopped large
Three carrots, peeled and grated
One big red potato, peeled and grated
Ham slice, edges and excess fat trimmed off, sliced and diced. Put bone in for cooking.
You can use a smoked turkey leg if you prefer.
1 tablespoon minced (jarred) garlic
1 tablespoon salt
1/4 teaspoon black pepper
1/8 teaspoon cayenne (more if you like)
1/2 tablespoon granulated garlic
1 quart water
Add more HOT water during cooking if beans look like they need it.
Put ingredients in Instantpot and set to slow cook (4 hrs). You can use a Crockpot or a pot on the stove if you choose.
Four hours into cooking, add a can of diced tomatoes and a can of tomato sauce, stir, and continue cooking for 3 or 4 more hours, until tender. Near end of cooking, taste and correct seasoning if needed.
VERA LESTER'S
EGGPLANT CASSEROLE
Recipe from
The Apopka Woman's Club,
What's Cookin'?
1 onion
1 green pepper
1 eggplant
1 can tomatoes
Salt and pepper to taste
Ritz crackers, crumbled
Peel eggplant, slice and dip in flour. Fry in cooking oil and then place in casserole dish. Fry chopped onion and green pepper until clear. Pour can of tomatoes in frying pan and cook just a minute or two. Pour this mixture over the eggplant and put cracker crumbs on top. Bake in 325-degree oven for 25 minutes.
EVA HALL'S MACARONI SALAD
Recipe from
The Apopka Woman's Club,
What's Cookin'?
3/4 cup macaroni cooked until tender in salted water
1/2 cup cheese
4 sweet pickles, chopped
1 small onion, cut finely
3 medium-size tomatoes
Salad dressing to taste
Parsley
When macaroni is cool, add cheese, cut in small pieces; sweet pickles, chopped; onion, cut finely, and 3 medium sized tomatoes, cut bite size. Add salad dressing to taste. Sprinkle chopped parsley over the top.
BETTY ANN VAKAUZA'S
(FROM BERYL HARRISON)
BEER BREAD
Recipe from
The Jones-Morris Family Treasury
3 cups self-rising flour
3 tablespoons sugar
1 can beer – any kind
1/4 pound (1 stick) butter (melted)
Mix first three ingredients together well and put in small greased loaf pans. Bake 30 minutes at 350 degrees. Then pour melted butter over top and bake 30 minutes more.
MARY STEWART'S
MOLASSES COOKIES
Recipe from
The Apopka Woman's Club,
What's Cookin'?
1 cup sugar
1 cup molasses (dark)
1 cup shortening
2 eggs
1 teaspoon ginger
1/8 teaspoon salt
5 cups sifted flour
2 level teaspoons soda
1 cup hot coffee
Mix together sugar, shortening, molasses and eggs. Sift flour, salt and ginger and add to mixture. Dissolve soda in hot coffee and mix thoroughly with other ingredients. Drop with teaspoon on greased cookie sheet. Bake about 12 minutes. Makes about 4 dozen cookies.