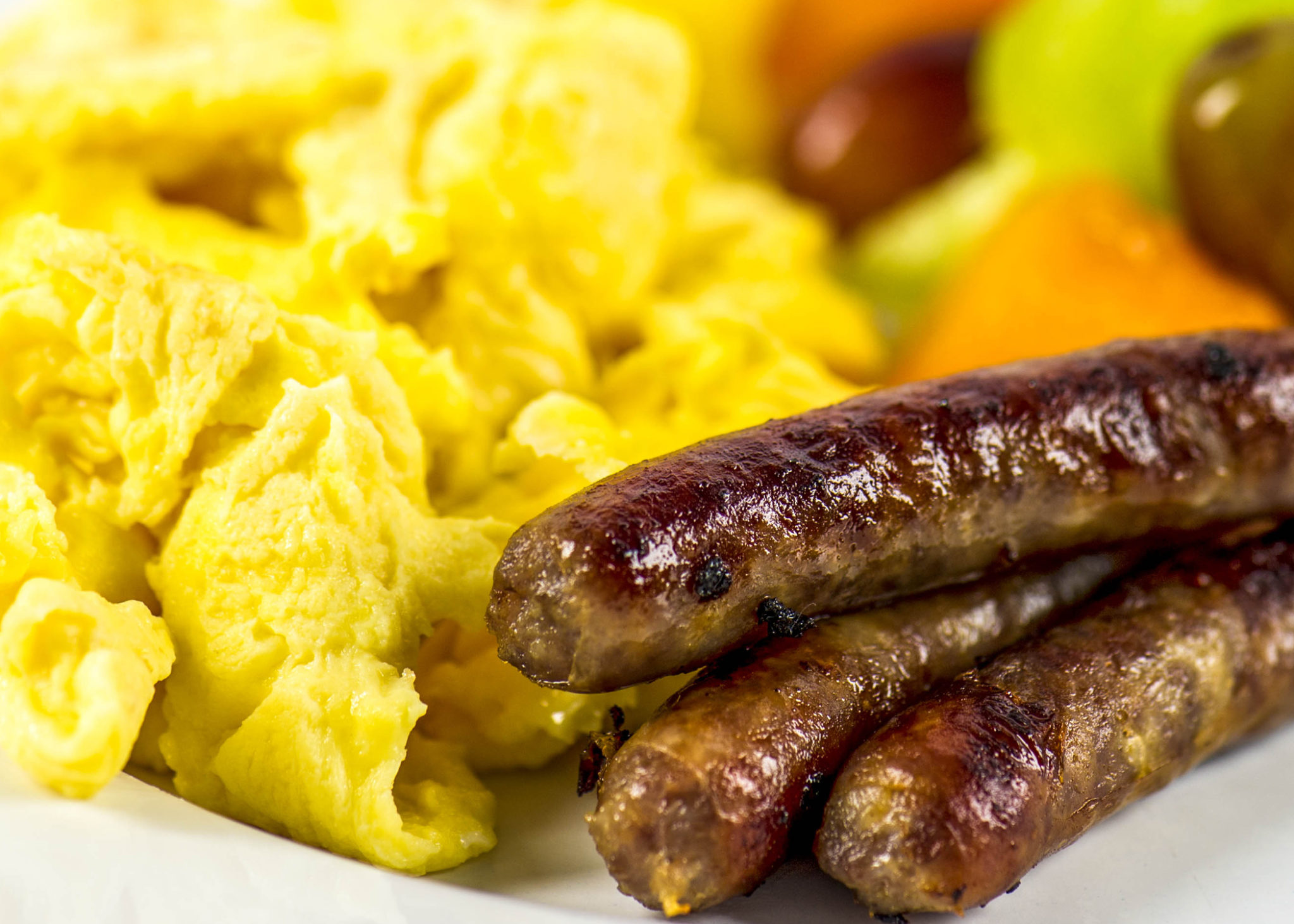 Phyllis Gass' chicken dish looks to be a wonderful main dish. Serve it with the biscuits that follow, and you will have a very happy peanut gallery.
Charleston Receipts shares with us Mrs. John Laurens' Biscuits. A scant cup of milk (called for in the recipe) is just short of the top of a cup.
Bruncheon Eggs from Savannah Style uses eggs, sausage, cheese and French bread. You layer the ingredients and refrigerate overnight. Then bake it for a little under an hour at 350 degrees.
Blue Cheese Potatoes from Preserving the Big Potato looks to be a great recipe for potato lovers, which I am. I would use regular old raw potatoes, and peel and cut into chunks. I must confess, though, I have never been accused of being a sophisticated cook.
From The New York Times NEW Natural Foods Cookbook, by Jean Hewitt, we have Squash-Nut Muffins and Cranberry Crunch.
From Field to Feast, copyrighted in 2012 by Pam Brandon, Katie Farmand, and Heather McPherson, we find a recipe for Florida Swamp Cabbage, an "old-timey Florida favorite." You can't substitute canned hearts of palm here, but you can find fresh swamp cabbage in specialty markets or fish camps.
PHYLLIS GASS'
LOVE-THIS-STUFF
MAIN DISH CHICKEN
Recipe from First Presbyterian Church of Punta Gorda,
A Taste of Heaven
8 ounces Linguine
1 cup sliced fresh mushrooms
1/2 cup sliced celery
1 tablespoon margarine or butter
2 tablespoons cornstarch
1 cup Campbell's chicken broth
1/3 cup dry white wine
1 teaspoon lemon juice
1/4 teaspoon dried thyme, crushed
Tabasco sauce, a few dashes
1/2 cup shredded Mozzarella cheese
1-1/2 cups cooked chicken, cut into strips
4 ounces fresh spinach, chopped
Freshly ground Parmesan cheese
1. Prepare linguine according to package directions except omit salt. 2. Drain linguine and keep warm. Set aside. 3. Cook mushrooms and celery in margarine or butter until tender. Stir in cornstarch, broth, white wine, lemon juice, dried thyme, and Tabasco. Cook and stir until bubbly. 4. Stir in cheese until melted. Stir in chicken and spinach. Cover and cook one minute or until heated through. Serve over linguine. Sprinkle with Parmesan cheese. YIELD: four servings.
MRS. JOHN LAURENS' BISCUITS
Recipe from Charleston Receipts, America's Oldest Junior League Cookbook in Print,
a Cookbook by The Junior League of Charleston, Inc.
1 cup all purpose flour
1 heaping teaspoon baking powder
1/2 teaspoon salt
2 heaping tablespoons shortening
1/2 (scant) cup milk
Sift flour, then measure, add baking powder and salt. Sift into bowl. Cut in shortening with a fork until fine meal. Add milk slowly until right consistency, not too sticky. Take a good forkful of dough, roll between floured hands quickly to oblong shape two inches long. Prick with fork. Put on ungreased sheet in oven 500 degrees Fahrenheit for 12 to 15 minutes. Makes a dozen biscuits.
BRUNCHEON EGGS
(Sausage, Eggs, Cheese)
Recipe from Savannah Style,
a Cookbook by The Junior League
of Savannah, Inc.
6 eggs
2 cups milk
1 teaspoon salt
1 teaspoon dry mustard
1 pound sausage, mild or hot
3 or 4 slices French bread, cubed and sautéed in melted butter
1 to 1-1/2 cups sharp cheese, grated
Beat eggs, milk, salt and mustard. Saute and drain sausage. Layer bread, cheese and sausage in greased 9 x 13-inch dish. Pour milk and egg mixture over all. Refrigerate overnight. Bake at 350 degrees for 45-50 minutes.
BLUE CHEESE POTATOES
Recipe from
Apopka Historical Society's
Preserving the Big Potato –
A Collection of Potato Recipes
1 package (1 pound, 4 ounces) refrigerated new potato wedges
1 tablespoon olive oil
1/2 cup blue cheese dressing
1/4 teaspoon black pepper
1/4 cup crumbled blue cheese
Drizzle potatoes with oil, tossing to coat. Place potatoes evenly in 13 x 9-inch baking dish. Bake at 450 degrees for 25 minutes. Transfer potatoes to a serving bowl. Toss with dressing and pepper. Sprinkle with blue cheese.
FETA CHEESE POTATOES:
Substitute Ranch dressing for blue cheese and crumbled Feta cheese for crumbled blue cheese. Yield: 4 servings.
SQUASH-NUT MUFFINS
THE NEW YORK TIMES NEW
NATURAL FOODS COOKBOOK
Copyright 1982 by Jean Hewitt
1-1/2 cups whole wheat flour
2 teaspoons baking powder
1/2 teaspoon salt
1 teaspoon ground cinnamon
1/4 teaspoon ground cloves
1/4 teaspoon grated nutmeg
1/3 cup brown sugar
3/4 cup chopped nuts
1 egg, lightly beaten
1/3 cup vegetable oil
3/4 cup cooked mashed winter squash or thawed frozen squash
3/4 cup undiluted evaporated milk
1. Preheat the oven to 400 degrees. 2. Combine the flour, baking powder, salt, spices, sugar, and nuts. 3. Add the egg, oil, squash, and milk and mix only until dry ingredients are moistened. 4. Spoon batter into oiled muffin tins, filling two-thirds full. 5. Bake for about 25 minutes. Cool on a wire rack. Yield. Twelve 2-3/4 inch muffins.
CRANBERRY CRUNCH
THE NEW YORK TIMES NEW
NATURAL FOODS COOKBOOK
Copyright 1982 by Jean Hewitt
1 pound fresh cranberries
Honey to taste
1 cup rolled oats
1/2 cup whole wheat flour
1 cup brown sugar
1/2 cup butter
Homemade vanilla ice cream or plain yogurt
Preheat the oven to 350 degrees. Put the berries in a saucepan and cook until they pop and then a minute or two longer. Do not let them get mushy. Sweeten very lightly with honey. Cool slightly. Put the oats, flour, and sugar in a bowl. Cut in the butter with two knives or a pastry blender until the mixture is crumbly. Put half the oat mixture in the bottom of a buttered 8-inch square baking pan. Cover with the cranberry mixture. Top with the remaining oat mixture. Bake for 45 minutes or until done. Serve warm with ice cream or yogurt. Yield: Six to eight servings.
FLORIDA SWAMP CABBAGE
Recipe from Field to Feast
4 tablespoons unsalted butter
2 cups diced sweet onions
Coarse salt, freshly ground black pepper, to taste
1 tablespoon chopped garlic
3 cups water
3 pounds fresh swamp cabbage (hearts of palm)
1 cup white wine
1/4 cup finely chopped fresh basil
2 tablespoons chopped chives
1. Melt butter in a large saucepan over medium heat. Add onions and season with salt and pepper. Cook, stirring often, until onions are translucent, about 5 minutes. Add garlic and sauté for 1 minute. Add water and bring to a boil. Add swamp cabbage. 2. Reduce heat to medium-low. Simmer until swamp cabbage is tender, about 1 hour. Remove from heat and stir in the wine, basil, and chives. Season to taste with salt and pepper, if needed.
Serves: 8 to 12.