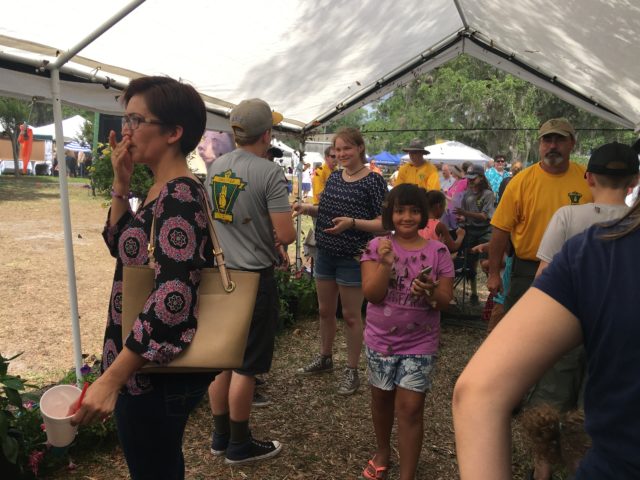 The Apopka Art and Foliage Festival is returning with several favorites and highlights so festival attendees can enjoy all that Apopka, the "Indoor Foliage Capital of the World," has to offer: nearly 75 art and craft vendors, 18 Apopka nurseries, live music, food, bus tours to local nurseries, to name a few.
Artists and crafters will showcase their paintings, pottery, jewelry, sculptures, and much more at the two-day annual outdoor festival: Saturday, April 28, 9 a.m.-5 p.m. and Sunday, April 29, from 10 a.m.-4 p.m. Kit Land Nelson Park is located at 35 S. Park Ave., Apopka.
About 100 members of the Apopka Woman's Club, who organized the yearly festival, will wear green shirts and be on hand to be of assistance on the premise, including man vendor booths while artists and crafters take breaks.
Festival co-chair Sharon Fisher, an Apopka Woman's Club member, thought of the Art and Foliage Festival as a "down-home" one.
"When the women in the club put on the green shirt, they take it to heart, and we take it all to heart –maybe more than some people do," she said.
Fisher added that participating in the festival takes dedication that requires familiarity of it and volunteering in various sections.
"For three days, you dedicate – Friday you set up; Saturday, and Sunday, you're there. We specify at our meetings in a polite way to not go on vacation."
Apopka nurseries will have their foliage for sale at wholesale prices. Plant doctors – master gardeners – will answer questions. Guests are invited to bring in a plant or flower or a photograph of it so they can advise how to care for it.
Plant sitters will also be available to look after the plants once customers purchase them, so customers are free to further explore the festival.
Live entertainment, at the park gazebo, will include musical performances by local elementary schools, dance studios, vocalist and "The X Factor" television show contestant Sophia Manning, and the band Still Kickin', which plays 1950s, 1960s and country music.
For more information, visit www.apopkaartandfoliagefestival.org.
The full story appears on page 3A of the Friday, April 13, issue of The Apopka Chief.